Jason Mraz has an odd collection
June 30th, 2021 under Jason Mraz. [ Comments: none ]
Some people collect Beanie Babies. Others are obsessed with all things Star Wars. There are those who like to leave their stamp with stamps. Many don't want to strike out, so they make sure to have all of the baseball cards that are available.
However, Jason Mraz collects something completely different. He has kept every key from every hotel room he has ever stayed at since he was in high school.
This is a warning to any hotel he books a stay in. You might want to watch out for this key bandit before he takes one from your fine establishments.

---
Hot Links!
June 30th, 2021 under Hot Links!. [ Comments: none ]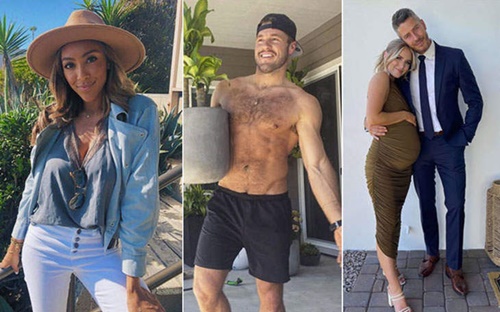 A Bachelor Nation scandal – Dlisted
Prince Harry talks about his mom – Celebitchy
Do we really need another Fletch movie? – Pajiba
Would we survive a world with no bugs? – Grunge
Rihanna models her see-thru undies – Drunken Stepfather
Judd Apatow turned down a 2nd season of Freaks & Geeks – Screen Rant

---
Meghan McCain is such a pain in the a$$, she gave Whoopi Goldberg Sciatica
June 30th, 2021 under The View. [ Comments: none ]
Whoopi Goldberg has been missing from The View for the last few days, and now we know why. The Oscar winner recently woke up with a Sciatica and has been in the hospital.
She is on the mend, but she will be walking with a walker, her "new best friend", for the foreseeable future.
Joy Behar says that is caused by stress. Therefore, the 65-year-old needs to avoid it. I guess they will have to get rid of Meghan McCain because she is Goldberg's biggest stress factor.

---
BTWF: Noah Wyle in Crooked Hearts
June 30th, 2021 under Before They Were Famous. [ Comments: none ]
Before patients would ask Noah Wyle medical questions on ER, he played Ask in Crooked Hearts. He looks the same now as he did when he was 19 in that 1991 movie.

---
TLC is no longer counting on Counting On
June 30th, 2021 under DIscovery Networks/Discovery+. [ Comments: none ]
The Duggars are some of the biggest names on TLC. However, not anymore. That is because Discovery decided to part ways with the fertile family.
"TLC will not be producing additional seasons of 'Counting On,'" the network said in a statement to Variety. "TLC feels it is important to give the Duggar family the opportunity to address their situation privately."
The family is dealing with the fact that the oldest son was arrested for suspicion of owning child pornography. He is currently awaiting trial for the allegations.
This is the second time he has led to one of their shows being cancelled. After it was revealed that he molested his sisters, who were minors at the time, TLC yanked 19 and Counting.
I am sure the Duggars will be back. However, it won't be until Josh Duggar's fate is decided. I wouldn't be surprised if his wife gets a show on what life is like after her husband goes to prison as she raises their six kids on her own.

---