The McRib is back…nationwide!
October 30th, 2020 under Fast Food. [ Comments: none ]

2020 isn't all bad. That is because for the first time since 2012, McDonalds is bringing back the McRib to all of its store in the United States. If there is a Mickey Ds in your hometown, then starting on December 2nd, you can get the mystery meat covered in BBQ sauce, onions and pickles.

"The McRib has been a beloved menu item at McDonald's since its inception nearly 40 years ago," said Vice President of Menu Innovation, Linda VanGosen. "There's nothing quite like the taste of the McRib. To our customers, it's become more than a delicious, saucy moment… it's a season, and it's taking the internet by storm. That's why this year, we're proud to serve the McRib nationwide for everyone to enjoy."

I can already taste that yummy sandwich now! Tell me; I am not the only one.

---
This is what happens when rats in NYC eat too much pizza
October 30th, 2020 under Animals. [ Comments: none ]

Have you ever wondered what happened to Pizza Rat? Well, now we know, and I wish we didn't. He is as big as us, and we look like pizza.
Therefore NYC, be afraid, be very afraid. Because the biggest threat since King Kong is there, and he is there to stay.

---
Judge Judy Sheindlin takes her gavel to IMDB.TV
October 30th, 2020 under FreeVee, Judge Judy. [ Comments: none ]

Back in March, Judge Judy Sheindlin announced that she was ending her show. However, in the same breath, she revealed she would be doing a new one.

Now, we know where it is going to air. Her new courtroom series is taking its case to IMDB.TV. "I'm over the moon to be in business with Amazon Studios and continuing this incredible journey with them on a new platform is so exciting," Sheindlin said.

As of now, that is all we know. I am sure it will be just as good as her old series, if now even better than that.

Congrats to IMDB.TV for getting such a good get. The same place where I binged LA Law and Murder, She Wrote for the first time.

At this point, that is all we know.

---
Hot Links!
October 30th, 2020 under Hot Links!. [ Comments: none ]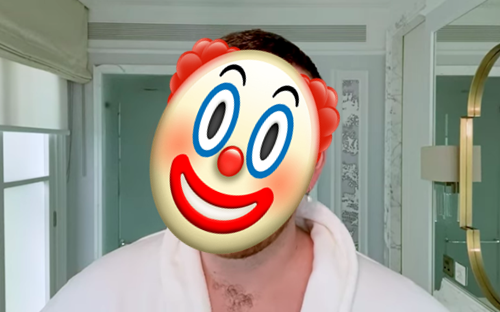 Who got a hair transplant? – Dlisted

Scarlett Johansson and Colin Jost finally got married – Pajiba

Kanye West spent a lot of money on Kim Kardashian – The Cut

Vanessa Hudgens' sexy Halloween costume – Drunken Stepfather

How much did Kim Kardashian spend on her birthday? – Celebitchy

---
The CW announced when their shows will be back
October 30th, 2020 under The CW. [ Comments: none ]

Due to the coronavirus pandemic, production was delayed for the fall season. Therefore, The CW decided to wait until winter to debut their shows. Today, they revealed when they will be back. Therefore, mark your calendars because you are not going to want to miss their lineup.

FRIDAY, JANUARY 8
8:00-8:30PM WHOSE LINE IS IT ANYWAY? (Cycle 9 Premiere)
8:30-9:00PM WHOSE LINE IS IT ANYWAY? (Encore Episode)
9:00-10:00PM PENN & TELLER: FOOL US (Season Premiere)

TUESDAY, JANUARY 12
8:00-8:30PM TWO SENTENCE HORROR STORIES (Season Premiere)
8:30-9:00PM TWO SENTENCE HORROR STORIES (Original Episode)
9:00-10:00PM TRICKSTER (U.S. Series Premiere)

SUNDAY, JANUARY 17
8:00-9:00PM BATWOMAN (Season Premiere)

MONDAY, JANUARY 18
8:00-9:00PM ALL AMERICAN (Season Premiere)

WEDNESDAY, JANUARY 20
8:00-9:00PM RIVERDALE (Season Premiere)
9:00-10:00PM NANCY DREW (Season Premiere)

THURSDAY, JANUARY 21
8:00-9:00PM WALKER (Series Premiere)
9:00-10:00PM LEGACIES (Season Premiere)

SUNDAY, JANUARY 24
8:00-9:00PM BATWOMAN (Original Episode)
9:00-10:00PM CHARMED (Season Premiere)

MONDAY, FEBRUARY 8
8:00-9:00PM ALL AMERICAN (Original Episode)
9:00-10:00PM BLACK LIGHTNING (Season Premiere)

TUESDAY, FEBRUARY 23
8:00-9:00PM THE FLASH (Season Premiere)
9:00-10:00PM SUPERMAN & LOIS (Series Premiere)

---