D.L. Hughley says Nashville hotel kicked him out when he tested positive for COVID-19
June 30th, 2020 under Coronavirus. [ Comments: none ]

A little over a week ago, D.L. Hughley was performing in a comedy club in Nashville when he suddenly passed out. After spending a night in the hospital, he found he tested positive for coronavirus even though he had no other symptoms.
He made a video from the hospital and said that he was going to spend the next two weeks quarantining in the hotel he was staying at in the city. That was ten days ago, so he is still there? He told Billy Bush on Extra, "You know what, actually, when I passed out, I went to the hospital. Once I got tested, and it went viral, and I went back to the hotel. They're like, 'If you don't get your a$$ out of here…'"
He did not say where he has been hiding out. However, he did say he is like a Typhoid Mary because his son and several people from his radio show also tested positive for COVID-19 since he did.
In fact, the comedian thinks everyone should get tested because he did not know he had it until he passed out, and spread it to people he knows.
So we should all get tested and wear a mask. You don't want to be a D.L. Hughley and unknowingly spread the virus to people you know or don't know.

---
RIP Carl Reiner
June 30th, 2020 under Obits. [ Comments: none ]









Carl Reiner passed away yesterday at the age of 98 from natural causes according to Vanity Fair.
He had an illustrious career in Hollywood that lasted over 70 both in front of and behind the camera. He is best known for creating The Dick Van Dyke Show. However, he did so much more.
In front of the camera, we saw him on the show he created as Alan Brady. However, he was in movies like It's a Mad, Mad, Mad World, The Jerk, and Oh Gd!. He also guest-starred on so many great series like Mad About You, Ally McBeal, The Bernie Mac Show, House, Two and a Half Men, Hot In Cleveland, Young & Hungry, and Angela Tribeca. He was acting up until he died.
That was not his only facet. He was also a comedy writer during the Golden Age of television, and his words helped to inspire a lot of today's sitcom writers. The things that he and Mel Brooks did together was comedy gold. Which is probably why they had a friendship that lasted 70 years. In fact, Reiner's last Instagram was to celebrate his best friend's 94th birthday on Sunday.
Reiner had two partners in life, Brooks and his wife of 65 years, Estelle Reiner. Together, they had three children, Lucas, Annie, and Rob. Rob Reiner wrote this about his father's passing, "As I write this my heart is hurting. He was my guiding light."
Together, the father and son spent the last few years bashing Donald Trump. I have a feeling Trump won't be getting rest anytime soon because, you know, Reiner is going to be haunting it.
Today, remember Reiner, as he lived, with laughs. Discover the great things he did for comedy by watching some of his genius work. There was no one like him. Well, maybe Mell Brooks, but no one else. Maybe Sid Caesar, but that is it. Wait, I will stop there because he truly was a legend.

---
Nathan Fillion grows a stache
June 30th, 2020 under Nathan Fillion. [ Comments: 1 ]

Nathan Fillion is still a few weeks away from filming the new season of The Rookie, so he is trying out a new look. Like a lot of cops, he grew out the hair above his lip.

Will he be able to keep it? I hope not because I am not a fan of mustaches in general. What do you think of it?

Now, let's move on past the copstache, let's talk about how much more toned he has been this last year. He is looking great!

---
Hot Links!
June 30th, 2020 under Hot Links!. [ Comments: none ]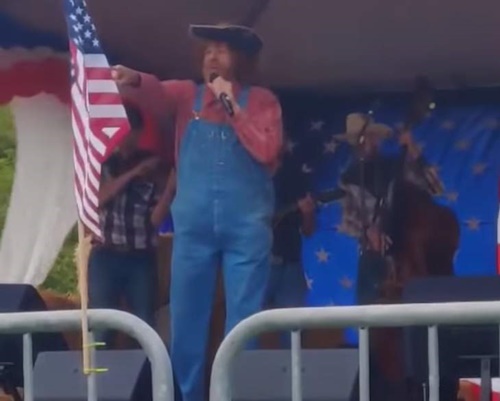 Watch Sacha Baron Cohen prank right-wingers – Dlisted

Kylie Jenner's bra has like no fabric – GCeleb

Which serial killer was finally caught? – Pajiba

Which song did John Lennon hate singing? – Grunge

Khloe Kardashian looks ever more different – Celebitchy

The Kardashians finger each other? – Drunken Stepfather

---
If Jason Voorhees can wear a mask, so can you
June 30th, 2020 under Ads, Coronavirus. [ Comments: 3 ]

Back in 1989, Jason Voorhees took Manhattan, and then Manhattan took him after he took a lot of people. No matter how many times people tried and successfully killed him, he always wore his mask.
Therefore, it makes sense that New York would ask him to be their face…covered by a mask to prevent the spread of coronavirus, to get people to wear one.
While Jason can get killed and come back to life, people cannot. You don't want to be a Jason and kill people because you didn't wear a mask, so wear one.
Let's stop the spread of COVID-19 and wear a mask! They are fashionable. They have different designs now. You don't have to brush your teeth. Men don't have to shave, and women don't have to wear a mask. What is the downside?
I don't know why people say wearing a mask will kill you. Jason Voorhees, Michael Myers, Leatherface, and Ghostface all wear masks, and they never die. No matter how many times they get killed. And they have been killed a lot of times in a lot of different ways!
On a side note, I wish they would have used a different voice actor. They should have gone with Jon Bon Jovi because he's from New Jersey too. That and I always pictured Jay, Jay, Jay, Jay, son, son, son, son with a raspy voice like Bon Jovi's.

---