Justin Bieber finally did it!
February 17th, 2020 under Justin Bieber. [ Comments:

none

]

For months, Justin Bieber has been trying to grow a mustache, and his fans were not fans of it. So much so, they begged him to shave it off. He told them it was here to stay.
The singer lied to them. Yesterday, he shaved it off. Don't get used to his baby, babyface, because he says that Mustashio will be back. Let's see what Mrs. Bieber has to say about that. She is the end-all to all of his decisions.
---
Hot Links!
February 17th, 2020 under Hot Links!. [ Comments:

none

]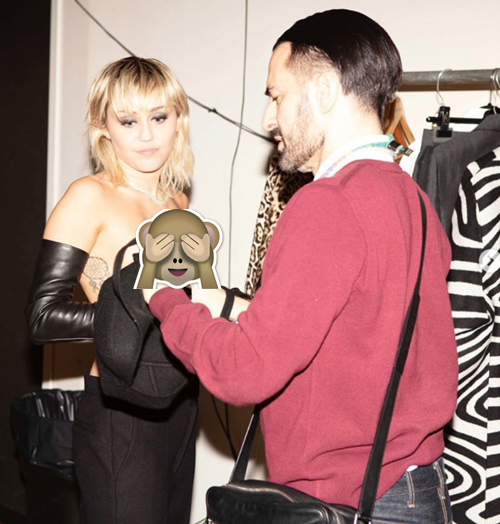 Want to see Miley Cyrus' nipple? – Drunken Stepfather

Would you wear Apple sneakers? – Grunge

Who got a misspelled tattoo? – Celebitchy
Nicki Minaj destroyed a marriage – Dlisted
Which Netflix show got canceled – Screen Rant
---
The Good Girls are back in business
February 16th, 2020 under Christina Hendricks, NBC. [ Comments:

none

]

When Good Girls ended its second season, Beth (Christina Hendricks) shot and killed crime boss Rio (Manny Montana) in front of FBI Agent Turner (James Lesure). Turner told her to run, and she did.
Tonight at 10p on NBC, it has been a few months after the shooting, and Beth, her sister, Annie (Mae Whitman), and Ruby (Retta) are ready to get back into the business of making money…illegally. They now have legitimate jobs, and their new occupations will help them get back into the biz. As with everything, Annie keeps screwing up, so Beth comes up with another way to get things done.
The fix cannot come soon enough because they all need money. No one more than Ruby. Her husband, Stanley (Reno Wilson), has a job that is making things awkward at home because it is the only one he can get after being arrested for the Good Girls' crime. However, one of the people he works for taught me how perfect my gag reflex. Think you know what he does for a living now?
Anyways, the girls are finally ready to get back into action. What is the worst that can happen? Especially since Turner is back in the picture, and he is letting Beth know that he is still watching her.
Good Girls is a female-empowering show because it shows us that moms and housewives can still be bad. Plus, the chemistry between the three leads makes me wish I had friends like them. Who doesn't need the money, even if it is counterfeit?
Good Girls is like Oceans 8, but much better and wittier.
---
Zoey's Extraordinary Playlist will bring out the music in us
February 16th, 2020 under NBC, Ted Danson Mary Steenburgen. [ Comments:

none

]

Ever since NBC introduced us to Zoey's Extraordinary Playlist a few weeks ago, we have been waiting for the second episode to air. Tonight at 9p (after a repeat of the series premiere), it is finally airing and you better get ready to sing and dance.
The episode starts off with Zoey (Jane Levy) waking up and having the music in her. Now, that she knows what her day has in store for her, it is time for work. Things are tough because her team is not accepting her as their boss. While she is trying to get them to focus on the job, her BFF Max (Skylar Astin) starts to sing the Jonas Brothers' Sucker to her.
She is not into him like that, so she brings her confidante and neighbor Mo (Alex Newell) to the coffee shop, which is her haunt with Max, to try and see if the barrister in interested in her good friend. While they are there, the coffee shop breaks out into song and Mo tries to see and hear what Zoey is experiencing. Mo does not, and is no closer to understanding what is happening to Zoey.
While they are at a loss for understanding what is going on, Zoey's family has a better understanding of what is going on in her dad's head. Mitch's (Peter Gallagher) new medicine is giving him some more mobility and her brother, David (Andrew Leeds), has found a way to help him communicate. David gave his dad a buzzer to buzz once for yes and twice for no. It seems like a great idea until his wife (Mary Steenburgen) needs more than a yes or no answer from, and he cannot give it to her. However, he can give it to Zoey in a song. What does that song mean, something no daughter wants to know about her parents.
In a time when shows are all dark and gloomy, Zoey's Extraordinary Playlist finds a way to bring us joy. It is an endearing show with characters you root for and sing along with. So much so, I want a Mo in my life. Everyone needs a Mo. Alex Newell is the brightest star among several shining stars. I cannot get all of the heartfelt acting and singing that is done on this show. There are plenty of surprise singers on it like Gallagher and Steenburgen. You could not ask for a better cast than the one they got for ZEP.
Fall in love with all of them tonight at every Sunday at 9p. Or every day because I cannot stop watching this show. It is that freaking amazing!
---
Elton John walks off the stage with walking pneumonia
February 16th, 2020 under Elton John. [ Comments:

none

]

Elton John is on his Farewell Tour, and yesterday in New Zealand, he had to say farewell to the audience way before the curtain went down. The 72-year-old singer explained what happened on social media.
I want to thank everyone who attended tonight's gig in Auckland. I was diagnosed with walking pneumonia earlier today, but I was determined to give you the best show humanly possible. I played and sang my heart out, until my voice could sing no more. I'm disappointed, deeply upset and sorry. I gave it all I had. Thank-you so much for your extraordinary support and all the love you showed me during tonight's performance. I am eternally grateful. Love, Elton xx
Talk about the show must go on. Now, Elton needs to put his health first and get better. He still has a bunch of concerts to play. The Rocketman is not going to be able to do that until he is healthy. He needs to listen to his doctors and do what he says. Things like rest up next to the love of his life, not his husband, but his Oscar! Hey Oscar, is the new man in his life. Would anyone blame him if it is his preference for a little while.
---