Krispy Kreme and Hershey's are giving us heart-shaped donuts for Valentine's Day!
January 30th, 2023 under Junk Food. [ Comments: none ]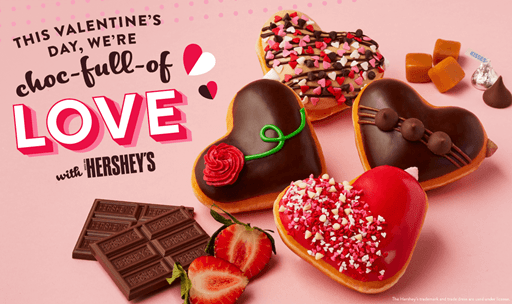 Valentine's Day is just over two weeks away, and Krispy Kreme is already celebrating. They teamed up with Hershey's to release four heart-shaped donuts in honor of the holiday of love!
HERSHEY'S Chocolate Chip Caramel KREME™ Doughnut – an unglazed heart-shaped doughnut filled with KREME™ dipped in HERSHEY'S caramel flavored icing, covered in a semi-sweet chips, heart sprinkles, and HERSHEY'S chocolate icing drizzles.
HERSHEY'S Double Chocolate KISS Doughnut – a heart-shaped doughnut filled with HERSHEY'S milk chocolate filling, dipped in HERSHEY'S chocolate icing, and covered in HERSHEY'S mini milk chocolate KISSES®.
HERSHEY'S Strawberry Dream Doughnut – a heart-shaped doughnut filled with HERSHEY'S strawberry flavored KREME™ dipped in red icing and covered in a white chip and heart sprinkle blend.
HERSHEY'S I Pick You Doughnut – a heart-shaped doughnut filled with KREME™, dipped in HERSHEY'S chocolate icing, and decorated with a buttercream and icing rose.
If you are a Horror movie fanatic like me and love biting into heart-shaped things that ooze, then run to your local Krispy Kreme because they are only available until February 14th.

---
The one where Friends gets its own Candy Hearts
January 18th, 2023 under Junk Food. [ Comments: none ]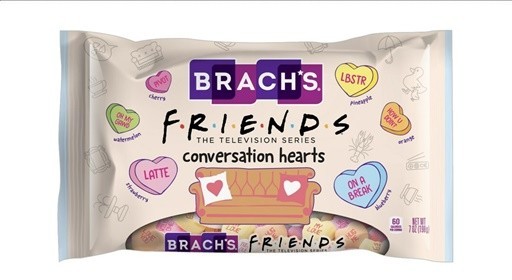 People love the show Friends, and Valentine's is the day that is all about love. So it makes sense that Brach's would combine the two and give fans Conversation Hearts with different sayings from the TV show.
The Watermelon, Strawberry, Blueberry, Pineapple, Cherry, and Orange flavored hearts have 26 different phrases on them like "pivot," "on a break," "how u doin'?" and "moo point."
So if this something that you have to have, you better run to the store and get them while you can.

---
Would you eat brisket or Caesar salad flavored candy canes?
October 27th, 2022 under Junk Food. [ Comments: none ]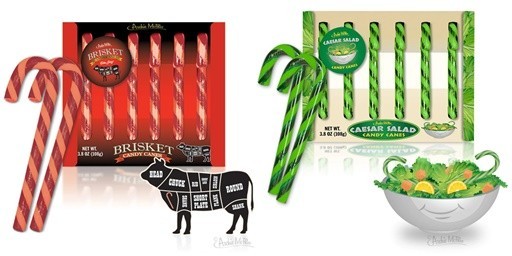 Archie McPhee has some interesting flavored candy canes like pickles, bacon, sardines, butter, and ketchup, to name a few. This year, they are adding two new flavors that can be a meal because they are Caesar salad and brisket.
Sound delicious? Then you can buy a box for yourself for $6.95. Or you can buy a box for your carnivore friends who should eat a salad, or you can finally get your vegan friend to suck on some meat. Whatever works best. It is up to you!

---
Krispy Kreme has launched its Halloween treats and this is no trick
October 11th, 2022 under Junk Food. [ Comments: none ]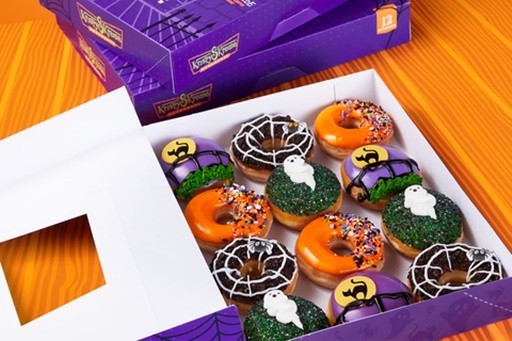 It is not Halloween quite yet, but that isn't stopping Krispy Kreme from releasing their four scary doughnuts now.
Spooky Spider Doughnut​: An Original Glazed® Doughnut dipped in chocolate icing and topped with cookie pieces, an icing spider web, and a spider sugar piece. ​
Scaredy Cat Doughnut​: A shell doughnut filled with Kreme™, dipped in purple icing and decorated with green buttercream and chocolate icing, and topped with a cat chocolate piece.
Boo Batter Doughnut​: A shell doughnut filled with delicious cake batter, topped with neon green icing, spooky sugar sprinkles, buttercream and a ghost sugar piece.​
Neon Orange Sprinkle Doughnut​: An Original Glazed doughnut with neon orange icing and topped with a Halloween sprinkle blend. ​
If that is not enough for you to enjoy with your witch's brew, they also have a chilling drink for the holiday season. The Freaky Frozen Chiller is a mix of green apple and wild grape flavors along with green apple drizzle. That sounds as yummy as eye of newt. What is eye of newt?
It is not about that. So, if you want to try their spooktacular snacks, then you have until October 31st. After that, they will go away until next Halloween.

---
Butterfinger creates a mascot scarier than the Burger King
October 6th, 2022 under Junk Food. [ Comments: none ]
Let's be honest. We have all had a nightmare about the Burger King at least once. Well, he is no longer going to be the subject of our scary dreams, thanks to Butterfinger. That is because the chocolate bar created a new mascot called Robin Fingers, who is even more frightening.
Robin Fingers is a mix of Jigsaw and Squid Game Guard all rolled into one, and he goes around robbing us of our Butterfinger bars. The bandit won't stop until he gets them all.
So this Halloween, just say no to anyone who wants to give you a Butterfinger while you are trick or treating. And if you don't catch it in time, then make sure to hurl them out of the bag as soon as you see one.
My nieces will hate me because it is their favorite candy, but I am doing it for their own protection. That, and because they never share them with me.
Anyways, now that I think about it. This advertising campaign might have been a mistake. Because instead of making us want to buy a Butterfinger, it makes us want to throw them all away. Whoops. I am going to post the ones that I have on my Buy Nothing group and give them to that person I don't like.

---