Who knew that Lucky Charms was a fan of Stephen King's It?
September 6th, 2022 under Junk Food. [ Comments: none ]
Lucky Charms has added a new marshmallow to its cereal, and it is a red balloon.
They say, "Up up and away 💫 Our magical red balloon charms have magic floating power to help Lucky fly, where do you think he's off to next? 🎈"
I say they are going to give kids nightmares because it is going to remind them of Pennywise from Stephen King's It. Did they not think of that when they chose the color of the balloon?
And if they didn't consider that, then they could think of all of the Gen Xers who are looking at the cereal and counting 99 Red Balloons. We are thinking there is a nuclear war coming.
Thanks, Lucky Charms. I will not be sleeping anytime soon, and it is all your fault.
Can someone hold me? I am scared.

---
Is lasagna a cake?
August 16th, 2022 under Junk Food. [ Comments: none ]
Stouffer's has a question for us, "Lasagna = cake"? What do you think?
According to the Merriam-Webster Dictionary, a cake is "a breadlike food made from a dough or batter that is usually fried or baked in small flat shapes and is often unleavened." So, according to that definition, the answer is yes.
But that is all technical; we want the emotional answer. And I say yes because it makes me as happy as a cake does. It has layers like a cake; the pasta is the cake, the meat and ricotta are the filling, the cheese is the frosting, and the tomato sauce is the fruit topping.
So if Shepperd's Pie is a pie, then lasagna is a cake.
What do you say? And who else is craving lasagna???

---
The Girl Scouts are getting a new cookie!
August 16th, 2022 under Junk Food. [ Comments: none ]
Do you look forward to Girl Scout Cookie season? Well, in 2023, you will have a new cookie to enjoy. The only problem is you will not see the Girl Scouts selling them in person.
What? The Raspberry Rally, which is being described as the sister cookie to Thin Mints, will only be available online. However, you will still have to get a Girl Scout to order it for you.
Are they any good? The Today Show anchors tried them out today. To see if they liked them, then click here!

---
Would you try Ketchup or Mustard Doritos?
August 10th, 2022 under Junk Food. [ Comments: none ]
Up in Canada, ketchup potato chips are a huge deal. But here in America, they are nonexistent.
However, for a limited time, we can get Doritos that either taste like ketchup or mustard on Snacks.com for $5.59 a bag. Does that sound yummy to you?
Of the two, I am curious about the mustard ones. But I don't think I am curious enough to try it.

---
Pumpkin Spice season is coming to Dunkin' Donuts next week
August 10th, 2022 under Junk Food. [ Comments: none ]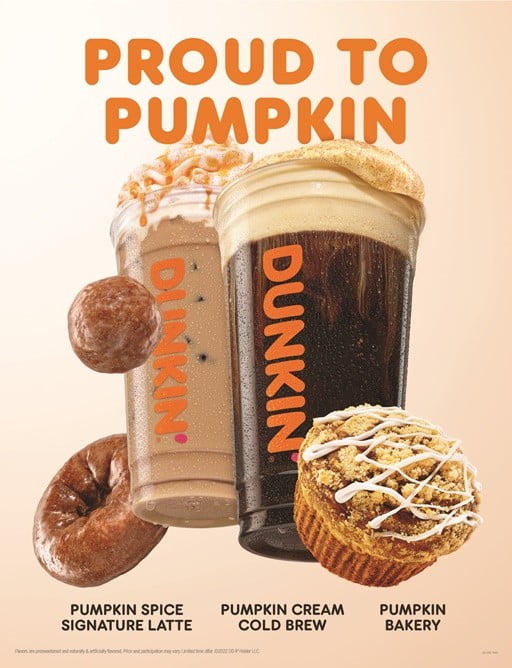 Since Oreo and Krispy Kreme started their Pumpkin Spice season early, Dunkin' Donuts is doing the same.
From August 17th-September 13th, you will be able to order glazed Pumpkin cake donuts, Pumpkin MUNCHKINS® Donut Hole Treats, and Pumpkin muffins, along with Pumpkin Cream Cold Brew, Pumpkin Spice Signature Latte, Blood Orange Dunkin' Refresher, Nutty Pumpkin Coffee, Maple Sugar Bacon Breakfast Sandwich, and Maple Sugar Snackin' Bacon.
Now that I think about it, maybe starting the season early isn't such a bad thing. Hopefully, it will bring the Fall temperature sooner because this heat is killing me!
To read about the new drinks, then click here!

---