Jon Bon Jovi is slippery when wet
March 30th, 2012 under Bon Jovi. [ Comments:

none

]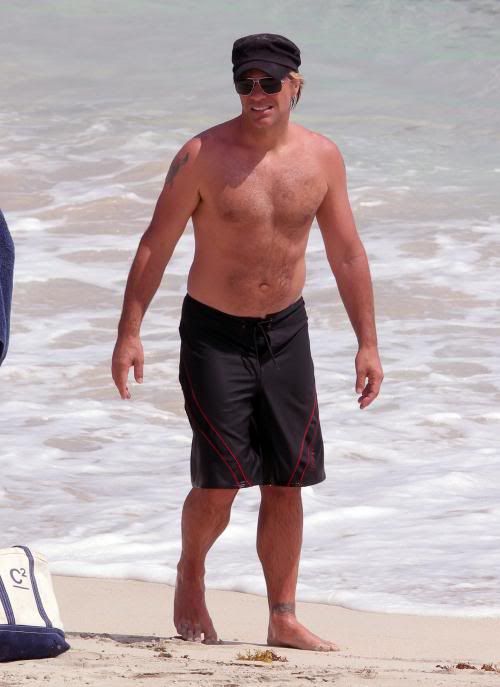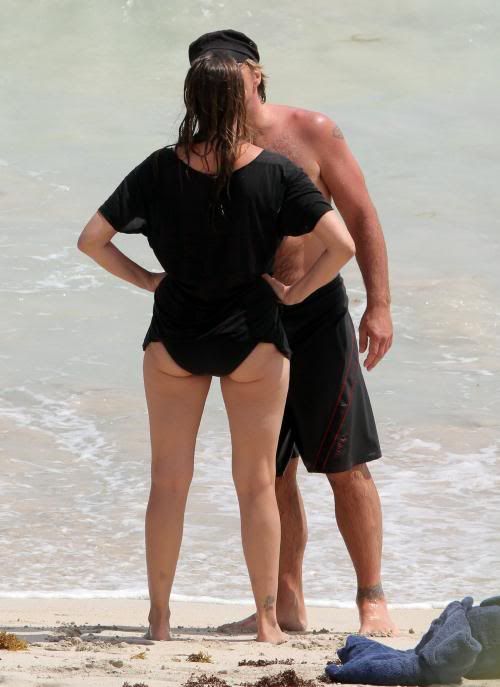 Fame Flynet Pictures
Jon Bon Jovi is in St Barths on vacation and the rocker has a rockin' body. Seriously doesn't he shoot your body temp up to 7800° Fahrenheit in those trunks? I just want to lay down in a Bed of Roses with him. Especially because he butt looks so good in that bathing suit.
---
Jon Bon Jovi isn't sleeping because he isn't dead!
December 19th, 2011 under Bon Jovi, Not Dead. [ Comments:

none

]

Someone Wanted Jon Bon Jovi Dead, but I am happy to report he is very much Alive! So to whoever thought that they could kill him with a Shot Through the Heart online, I can tell you that your Bad Medicine didn't work. Thankfully he hasn't gone out in a Blaze of Glory as you can see in the picture above that his record label UMG posted on Twitter today after the rumors surfaced.
BTW as a New Yorker if heaven is New Jersey, then what must hell be like?
Finally if you don't know the Bon Jovi song I'll Sleep When I'm Dead, listen to it below.
---
The many faces of Jon Bon Jovi
March 15th, 2011 under Bon Jovi, The Many Faces of. [ Comments:

none

]

WireImage
Jon Bon Jovi is filming scenes for the upcoming Garry Marshall movie New Year's Eve and his face really got into the action. He looks as happy to wear that red scarf as I am to seeing him wear it. Even though that red scarf is not my style, I still think he looks so sexy in those pictures!
BTW I wonder what he is playing in the movie???
---
I want to be Jon Bon Jovi's left hand?
March 3rd, 2011 under Bon Jovi. [ Comments:

none

]

WireImage
Jon Bon Jovi turned 49 yesterday and he spent his birthday night playing to a sold out crowd in Philadelphia. When it comes to who got the biggest birthday gift, I say it was me finding this picture of him touching his muscle of love! Seriously I so want to be his left hand after looking at that picture. Is that wrong?
---
Jon Bon Jovi takes a licking and keeps on ticking!
July 12th, 2010 under Bon Jovi. [ Comments:

none

]

Jon Bon Jovi was playing the Meadowlands on Friday when he sustained a torn calf muscle towards the end of the show; but did he let that stop him…no way. He was more than Livin' on a Prayer, because he Wanted to finish that show Dead or Alive. So I guess instead of the doctor giving him some Bad Medicine, he gave him some really good sh!t because he went on and did the encore. In fact he is not going take it by laying in a Bed of Roses, but instead Keep The Faith ticket holders because he is going on with the tour and played Saratoga Springs yesterday! I guess when Bon Jovi sang "I'll Sleep When I'm Dead", he meant it!
BTW if Bon Jovi is going to be playing a stadium near you and there are tickets still available, you should go! I saw them here in LA thanks to my friend Denise and they f*cking rocked! Jon Bon Jovi gets a Jazzercise/aerobics workout during each show that I can't believe he is going on with the show after tearing his calf muscle like that! My hat is off the man with the best a$$ in Rock'n'Roll for not letting an injury disappoint his fans. Hopefully he get better soon and not be in that much pain during each performance!!!
---
A Bon Jovi family picture!!!
June 29th, 2010 under Bon Jovi. [ Comments:

3

]

WireImage
Jon Bon Jovi has been seen out many times with his wife Dorothea of 21 years, but it is very rare that you see with him with any of his four children. So not only was it cool to see them with their two oldest kids Stephanie Rose, 17 and Jesse James Louis, 15 at the 12th Annual White Tie and Tiara Ball To Benefit The Elton John AIDS Foundation, but it was even nicer to see them all dressed up to the nines like that. Seriously aren't they such a beautiful family?
So maybe The Osbournes spoiled me, but the Bon Jovis don't look like a Rock'n'Roll family. Not saying that that is a bad thing, but Jesse is such a clean cut boy and you would expect him to have his dad's gorgeous mane.
BTW doesn't Jesse look just like actor Josh Feinman?
---
Just because I love Jon Bon Jovi's butt!!!
May 27th, 2010 under Bon Jovi. [ Comments:

1

]

Yesterday Bon Jovi was performing in their home state of New Jersey at Meadowlands Stadium and the WireImage photographer took some behind-the-scenes photos of the singer's behind. I am so glad that they did because I have always said that Jon Bon Jovi has the Best a$$ in Rock'n'Roll and I am glad I got to share it with you. Ever since I had the behind-the-stage tickets to see the band, I have admired that bum that is like two half cantaloupes. So much so my friend actually told him that. I wonder if both sets of cheeks blushed when she told him that!
BTW he is not bad looking from the front either!
---
Jon Bon Jovi still looks good in swimming trunks!
April 21st, 2010 under Bon Jovi. [ Comments:

2

]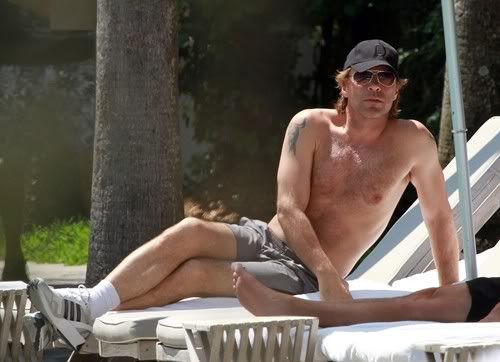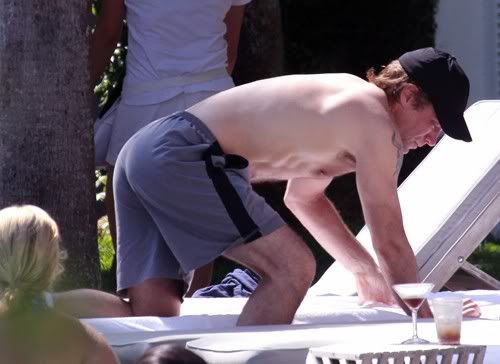 Bauer-Griffin Online (front) and Fame Pictures (butt)
Jon Bon Jovi is in Miami and he showed off he still has a rocking body at 48. So much so the waitress at the pool had to stop and take a look! I have always said that he has the best a$$ in rock'n'roll and it is nice to see even though the lead singer of Bon Jovi is almost 50 he still has that rock hard butt!!!
---
Jon Bon Jovi losing his mane?
January 27th, 2010 under Bon Jovi. [ Comments:

none

]

(photo from WireImage)


Jon Bon Jovi is known for three things…his music, his hair and having the best butt in rock'n'roll. Well now he is telling Germany's Reader Digest that he losing one of them according to Bang Showbiz. The ageing rocker said, "Let me tell you, I am so worried. I look at guys like Sting and think, 'Well, he's cool about losing his hair,' but I'm already losing a bit and I'm so aware of it. Someone told me that you have to regularly massage your scalp so I do that all the time. You look like a jerk but it's got to be worth a shot." The massaging seems to be working because he still looks like he has his mane. Seriously am the only one who wants to see him massage his head? Heck I would be willing to do it for him if his hands get tired.
BTW Sting wasn't the only rocker older than him that he was comparing himself to, he also told the magazine "I find it hard to believe I'm 47 already, because I still feel like 18. I don't plan on being the next Mick Jagger and to keep on going till my late 60s. But at the moment I don't see a reason why I should stop." Yeah right, 20 years from now Bon Jovi will still be touring and I will still be going to see them. But by then he will no longer have his hair and the best a$$ in rock'n'roll.
---
Richie Sambora and his mini-Heather Locklear
November 17th, 2009 under Bon Jovi. [ Comments:

3

]

WireImage
Bon Jovi's Richie Sambora used his connections to be the coolest dad to his daughter Ava, and took her to the New Moon premiere. We haven't seen Ava in while and the preteen looks just like her mom Heather Locklear. She is even wearing a dress I could see her mom wearing! Between her mom's looks and her dad's genes, she is going to be one popular teenage girl in her high school.
---