Jenny McCarthy stopped shaving her legs
April 29th, 2020 under NKOTB. [ Comments:

none

]

All-around the world, women are forced to let their roots and nails grow out because beauty and nail salons are shut down during the coronavirus pandemic. Not only that, but they are also not wearing makeup because why? Another why, is why shave your legs.
That is exactly what Jenny McCarthy is thinking, so she proudly showed off her hairy legs. What does her husband, Donnie Wahlberg, think of her new look? His face says it all.
However, I don't think he would turn her down for sex. He might just choose a different position so he doesn't have to feel them.
In a way, she is kind of wearing a costume like they do on The Masked Singer. You know, since most of their furry.

---
Donnie Wahlberg makes a strong case to play The Tiger King
April 2nd, 2020 under NKOTB. [ Comments:

none

]

Now that we know who is still married from Love Is Blind, it is time for us to find our new Netflix obsession. It didn't take long because we found it in The Tiger King.
He is so popular that a lot of actors in Hollywood already want to play him in the movie of the week. Jenny McCarthy believes that her husband is the perfect choice, she is willing to do something that they do on The Masked Singer. She got dressed up as a tiger, and the Blue Bloods star put on a bleached blonde mullet.
Do you think the new kid on the block has the right stuff for the movie? I think McCarthy is purrfect for the tiger.

---
Donnie, are you OK? Are you OK, Donnie Wahlberg?
March 16th, 2020 under NKOTB. [ Comments:

none

]
https://www.instagram.com/p/B9wehHVAw7x/
It was a really windy day in NYC, so Donnie Wahlberg decided to take advantage of it. He opted to recreate Michael Jackson's iconic moment from Smooth Criminal. I guess you can say he was on a break from trying to catch the smooth criminals on the set of Blue Bloods.
When it comes to if he Donnie is OK, I think we all know the answer to that. That is why we love the New Kid on the Block!

---
Blue Bloods gets a Treat for their 200th dinner scene
July 24th, 2019 under NKOTB, Treat Williams. [ Comments:

none

]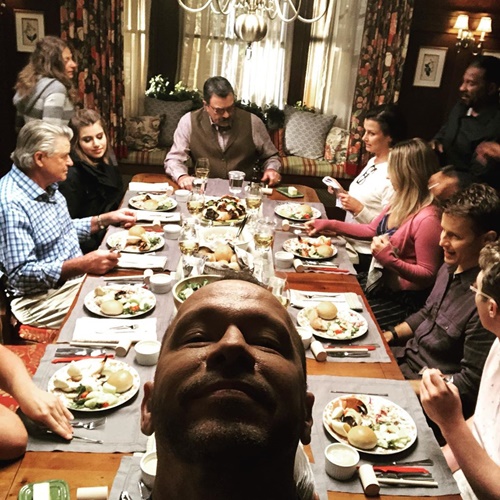 Blue Bloods season premiere will be its 200th episode and they are changing things up at the dinner table for the milestone. Treat Williams, who was Tom Selleck's old partner, is for some reason breaking bread with the Reagans.
We don't know why he is there and grandpa (Len Cariou) is not, but Donnie Wahlberg said this about the scene, "Shooting Family Dinner Scene number 200 today on the set of @bluebloods_cbs! Hard to believe we've been doing this for 10 seasons! #Blessed #Thankful #BlueBloods200
💙🙌🏼🙏🏼👍🏼🚓👮🏼‍♂️"
Ten seasons on Friday nights and it is still one of the most-watched shows on broadcast television. For the obvious reason, it is a really enjoyable show and I don't like police procedurals.
Blue Bloods is back with new episodes September 27th on CBS!

---
New Kids on the Block give us a history lesson of Boy Bands!
March 1st, 2019 under Debbie Gibson/ Tiffany, NKOTB. [ Comments:

none

]

Back in the late '80s, New Kids on the Block was the biggest Boy Band of the time. They were not the first one and they are certainly not the last. NKOTB are very aware of that fact, so their latest single is a history of the genre.
In the music video, the Boys in the Band show us how the dances and the styles change throughout the decades. Some were better than others, but there was one thing they all have in common. Unconditional fans.
Who will always be your favorite boy band? While you are thinking of an answer to that question, can you tell me what is up with Debbie Gibson's voice?

---