Derek Hough is about to Waltz down the aisle with Hayley Erbert
June 2nd, 2022 under Dancing with the Stars, Engaged?. [ Comments: none ]
Derek Hough has six Dancing with the Stars mirror ball trophies in his collection, and soon he is going to add more bling to it. That is because he proposed to his girlfriend, Hayley Erbert, and she said yes.
And I wouldn't be surprised if we see the couple who has been together for six years say yes to someone televising their nuptials. You know, since the dancer can never say no to a television gig.

---
Eric Stonestreet is one step closer to starting a modern family of his own
August 23rd, 2021 under Engaged?. [ Comments: none ]
Eric Stonestreet had a question for his girlfriend, and it was will you marry me. Lindsay Schweitzer told him, "She'd have her people call my people." She gave them a ring, and then he gave her one, which she put on her ring finger.
The Modern Family actor and the nurse have been dating for over five years.

---
Sophia Bush said yes!
August 11th, 2021 under Engaged?, Mila Kunis, Sophia Bush. [ Comments: none ]
Sophia Bush has some really good news to share, she is engaged to her boyfriend, Grant Hughes.
The entrepreneur made it really special for the love of his life while they were on vacation in Lake Como, Italy. "A brilliantly executed surprise like this doesn't happen without the most incredibly talented secretly stationed photographers (she didn't see you @bottega53 🙌), the best classic boats in the game (@comoclassicboats), and most importantly an amazing family of friends too numerous to name that supported me through this entire process," He wrote. "It all paid off. Thank you for helping me create perfection for the most perfect woman. She felt it 🙏❤️"
While his future bride wrote, "So it turns out that being your favorite person's favorite person is the actual best feeling on planet Earth 💫 #YES"
The betrothed couple was first spotted together in May 2020.
Here is to hoping their life is like a fairy tale and may they live happily ever after.

---
Ariana Grande is engaged again
December 20th, 2020 under Ariana Grande, Engaged?. [ Comments: none ]

Ariana Grande had a very public relationship and engagement with Pete Davidson, but it didn't work out. Because of that, she has had a very private relationship with her new boyfriend, Dalton Gomez. That is why it came as a surprise today when they revealed that they are engaged. The singer shared a photo of the ring he gave her and wrote, "forever n then some."

The two have been dating since January. Hopefully, this time it will work out better for Grande.

To see the ring, then click here!

---
Melissa Benoist is engaged to another co-star
February 12th, 2019 under Engaged?. [ Comments: none ]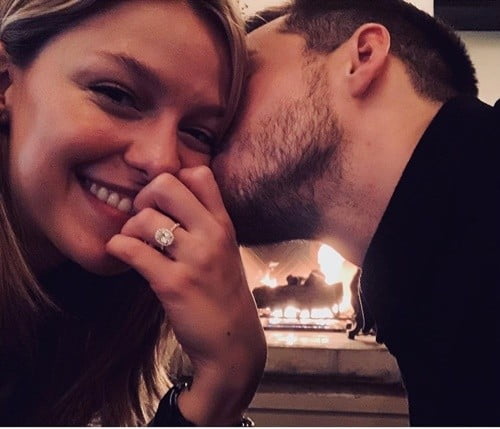 Back when Melissa Benoist was on Glee, she met Blake Jenner and the two of them got married. Then in 2017, they got divorced and she started dating her Supergirl co-star Chris Wood. On Sunday, she posted the above photo and said, "yes yes yes it will always be yes♥️." While he posted another photo of the newly betrothed couple and said that their wedding "will be soon". Hopefully, their marriage will last through her next show and beyond. What you were thinking the same thing? Luckily, The CW superhero show was picked up for another season, so they will get at least one good year in.
Sincerely, I am thrilled for them because they look so happy!

---