Fox blesses Bless the Harts with a second season
October 18th, 2019 under Fox. [ Comments:

none

]

Even though Bless the Harts has only aired 3 episodes, Fox announced today that it has picked up the animated show for a second season. Why so early? Animated shows need a longer time to get produced like a year. Bless the Harts stars Kristen Wiig, Maya Rudolph, Jillian Bell, Ike Barinholtz and Kumail Nanjiani.
Fox's only other new fall show Prodigal Son was The first new show to get a full season pickup is… a full season earlier this month.
---
Looks like Bluff City Law's case is closed
October 18th, 2019 under NBC. [ Comments:

none

]

NBC's new shows are not having a good season. Earlier this week, it was revealed that starting next Thursday the heartwarming comedy Sunnyside will air its remaining seven episodes on the NBC app, NBC.com and Hulu, but not NBC proper.
Today, Memphis' Commercial Appeal reported that Bluff City Law, which films in that city, will not be getting any additional episodes this season. They will film the 10 that were ordered and that is it. However, NBC is not saying the show that is cancelled, but it is pretty much a given.
I am sad that NBC did not give it more of a chance. The legal drama that stars Jimmy Smits had a good pilot, but each episode after that has been really strong with a lot of heart. They took on cases for people who really needed a voice. Which it made it different than all the other law shows and I really appreciated that. I am going to miss this show.
The only other new show left on NBC is Perfect Harmony and as of now its fate has not been decided. I hope the show that stars Bradley Whitford as a Church choir director is picked up for a full season. It is also a sweet show, but it could be all the Southern accents.
---
Meghan Markle says people don't ask her if she is OK!
October 18th, 2019 under The Princes of England. [ Comments:

none

]

In the last three years, Meghan Markle went from an American actress in Canada to marrying a British Prince in England. That is a lot for anyone to handle.
Ever since we found out that she was dating Prince Harry, we have not heard that much for her. We have seen her, but we have not really heard her. This Sunday on ITV in England and Wednesday on ABC in America, she gets very candid about her new life with Tom Bradby.
He wanted to know how the pressure of being the Duchess of Sussex is affecting her. Tears started to back up her eyes and she told him, "Any woman, especially when they're pregnant, you're really vulnerable. So that was made really challenging and then when you have a newborn…especially as a woman, it's really, it's a lot. So you add this on top of just trying to be a new mum or trying to be a newlywed." She took a pause and added, "Thank you for asking because not many people have asked if I'm ok. But it's a very real thing to be going through behind the scenes."
With that, he wanted to know if her perceived fairytale life is a struggle. She responded with one word and that word is, "Yes."
Watching her answer his questions made me really sorry for her. She is living a fantasy many women dreamed of since we were little girls. I guess, you can say, living the reality of a dream is far from perfect. It is still great, but there are evil stepmothers all over the place. And I am not referring to Camilla, you know since she is Prince Harry's stepmother.
In Meghan's case, the evil person seems to be her dad. Unlike in the Princess stories where the father is always the good guy.
Hopefully, people will lay off her of her for a bit so that she and Harry can live the happily ever after those books always ended with.
---
Guess who that little darling grew up to be?
October 18th, 2019 under Guess who?. [ Comments:

none

]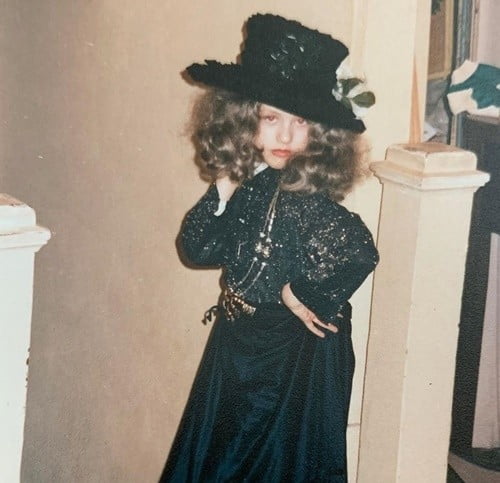 Want to see what the beautiful girl looks like now, then click here!
---
Lady Gaga falls off the stage this way
October 18th, 2019 under Lady Gaga. [ Comments:

none

]

Lady Gaga brought a fan onto the stage with her. Then she jumped on him to give him an extra big hug. He got so excited, he fell of the stage with her on top of him. Even though they took a nasty fall, she went on with the show and kept him on the stage with her.
Proving she is not only a professional, she really cares to make sure her Little Monsters are OK.
After the show, she shared some photos of her post-show routine which includes two baths. To see them, then click here!
---