The Good Place finds another way to surprise us
January 16th, 2020 under Kristen Bell, Ted Danson Mary Steenburgen. [ Comments:

none

]

Last week on The Good Place, Michael (Ted Danson) and Sean )Marc Evan Jackson) came up with a way to save Earth. They will give humans a test to determine which place they should go to. the good one or the bad one.
Now that they are on board, they need to get all the other demons to be so too. That is a lot easier said than done. However, that is not as hard as finding out who to test. Eleanor (Kristen Bell), Chidi (William Jackson Harper), Tahani (Jameela Jamil), and Jason (Manny Jacinto) have all the files to pick the best people. Yet, they are going to look at their own files first. What will they learn about themselves and each other on NBC tonight at 8:30p?
Lots of shocking things, but not as shocking as the reveal at the end. But I have said too much.
One thing I hate to say is that we only have two more episodes after tonight. Why does this show have to end? Wwwwwwhhhhhhhhyyyyyyyyy?
---
MacGruber flies the coop over to Peacock
January 16th, 2020 under Peacock. [ Comments:

none

]

As if we needed another streaming service, but it turns out we do. NBC Universal's Peacock is launching on tax day and it is free with ads for Comcast subscribers. Don't want the ads, then you can pay $5 to get rid of them. Wait, you don't have Comcast? Then it will be $5 and $10, respectively.
What do you get? A lot of their programming like the Law & Orders, One Chicago, The Office and many more of their old shows like Fraiser and Everybody Loves Raymond, and movies. You will also be able to watch their late night shows in primetime. Plus, they are rebooting Saved By the Bell. Punky Brewster, Battlestar Galactica, and MacGruber. The latter was announced today.
To read about their new shows, then click here!
---
Ryan Seacrest, Kelly Ripa and Jerry O'Connell got into bed together
January 16th, 2020 under Jerry O'Connell/Rebecca Romijn, Kelly Ripa, Ryan Seacrest. [ Comments:

none

]

It is not even February sweeps, and yet Live with Kelly and Ryan is looking to boost their ratings now. That is why they had Ryan Seacrest, Kelly Ripa, and Jerry O'Connell do a segment in a bed today.
What were they talking about? How to have better sex with your partner? Sadly, nope. Sleep Doctor Michael Breus gave some advice on how to have a better night's sleep. One of the things he said to do to sleep the whole night through is drink guava leaf tea. It helps to regulate your sugar.
OK! That is boring. What was titillating is what was going on underneath the sheets. Ripa is a creature of habit and likes to rub her husband's legs when they are in bed. She did the same thing to O'Connell. There was just one important thing she did not about Jerry, he was not wearing pajama bottoms. Thus, she was rubbing his naked leg. Now you know why he was smiling so much during the segment.
Want to see how they all reacted to the scandalous revelation, then click here!
---
Sir Patrick Stewart almost turned down Star Trek twice
January 16th, 2020 under Sir Patrick Stewart/Sir Ian McKellen, Star Trek. [ Comments:

none

]

Imagine watching Star Trek: The Next Generation without Sir Patrick Stewart as Captain Picard. Well, if his good friend Sir Ian McKellan had his way, that is what would have happened. Both actors did not understand American television at the time, so Mckellan told his buddy should stay in London and continue to do plays.
Thankfully, other people told him to do it because it is destined to fail because fans of the original will not accept the sequel. Six seasons and four movies later, all of the people in his life were wrong.
They were not the only ones, so was the studio. They wanted him to have hair just like William Shatner, so they put him in a wig. Watch the interview from This Morning today to see what a bad idea that was. Thankfully, everyone learned from their mistakes.
Everyone but Stewart. When they asked him to do Picard, he was ready to turn it down. Thankfully the producers talked him into it with their briliant idea.
To find out Stewart was right to say yes this time around, check out Star Trek: Picard on CBS All Access starting on January 23rd.
---
Why is Demi Lovato singing the National Anthem at the Super Bowl
January 16th, 2020 under Demi Lovato. [ Comments:

none

]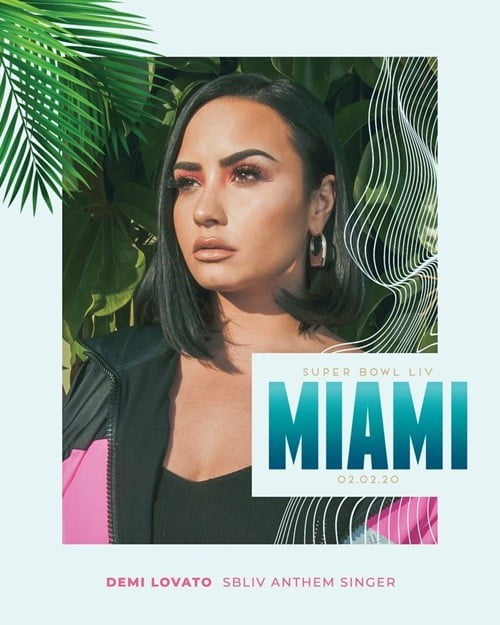 There are lots and lots of singers, who can sing, that would be perfect to sing the National Anthem at the Super Bowl, but they asked Demi Lovato to do it instead.
Why her and not Gloria Estefan. The latter is so Miami and that is where the game is being played. If not her, what about Mr. 305 aka Pitbull. But Demi Lovato. Can she even sing without being produced in a studio? I guess we will find out on February 2nd.
---