Hot Links!
September 17th, 2019 under Hot Links!. [ Comments:

none

]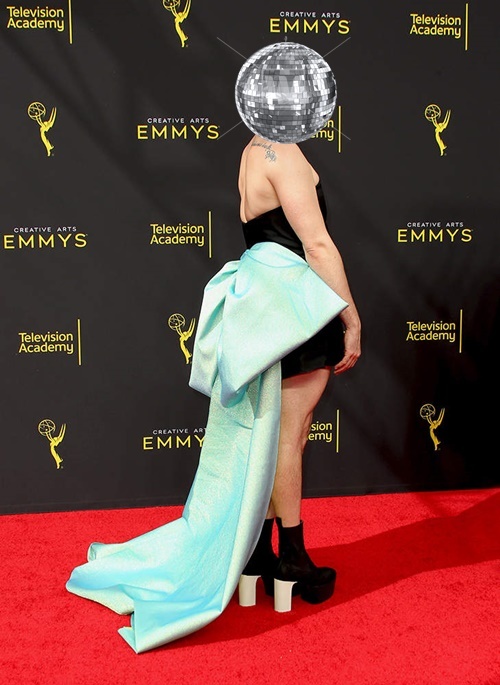 Guess who is working the red carpet? – Dlisted
Who was fired from Saturday Night Live? – Pajiba
January Jones shows off her boobies – Drunken Stepfather
Could we get another Star Wars X-Mas special? – ScreenRant
Which singer is dating a Bachelorette contestant? – Celebitchy
---
Is Mark Cuban in trouble with the law?
September 16th, 2019 under Do they have something to tell us?, Nathan Fillion. [ Comments:

none

]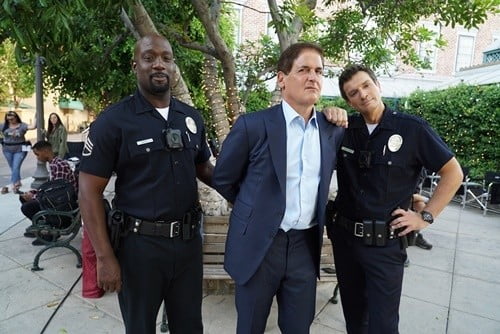 Mark Cuban was seen in handcuffs being escorted away by two police officers. Does that mean the mogul is going from the Shark Tank to the drunk tank? Nope, it was just Cuban, Nathan Fillion and Richard T. Jones having some fun behind the scenes of the season premiere of The Rookie.
You can see the Mavericks owner twice Sunday, September 29th on ABC. First on the business reality show and then on the police procedural. Where he might or might not be arrested.
---
BTWF: George Wendt in Gift of the Magi
September 16th, 2019 under Before They Were Famous. [ Comments:

none

]

Before George Wendt did whatever he did on Cheers, he was a salesman in Gift of the Magi. He looks the same now as he did when he was 31 in that 1980 short.
---
Cheers to ABC for doing some Charmed reunions!
September 16th, 2019 under ABC, American Housewife, Nathan Fillion, The Goldbergs. [ Comments:

none

]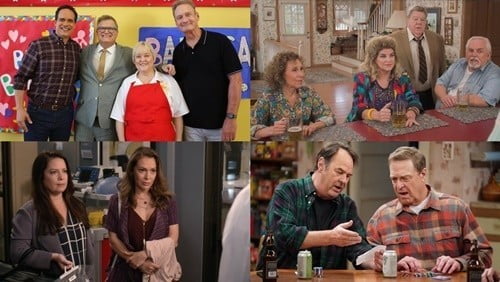 ABC found an interesting way to get us to watch their shows this season. Several of their series are staging reunions the week of October 7th.
For example, on October 9th, The Goldbergs is bringing Cheers' Kirstie Alley, Rhea Perlman, John Ratzenberger and George Wendt to a bar again. Two days later, Diedrich Bader is reunited with his castmates, Drew Carey, Ryan Stiles and Kathy Kinney, from The Drew Carey Show. That Sunday, we get a Castle reunion on The Rookie when Nathan Fillion gets to see his old pals Seamus Deaver and Jon Huertas again. I wonder where Stana Katic is? Too soon?
We also will see reunions from Girlfriends, Charmed, Blues Brothers 2000, Wet Hot American Summer and Crazy Rich Asians.
To the executive who came up with this brilliant idea, I have two words for you. They are thank and you. I can't wait to see all the reunions. Then again, I already watch most shows.
To read all about which reunions are happening on what show and what they are doing, then click here!
---
Is Lance Bass bitter he did not get the Brady Bunch house?
September 16th, 2019 under HGTV, Lance Bass, The Brady Bunch. [ Comments:

none

]

Last year, the Brady Brunch house went on sale for the first time in 45 years. Several high profile people but bids in and Lance Bass was very close to owning the house. However, HGTV was the ultimate winner.
The network brought in some of their biggest stars to renovate it. They turned it into a 4-part series about making the inside look just like it did on the show. A Very Brady Renovation airs Mondays at 9p.
Before we got to see all the hard work that they did, HGTV invited the *NSYNC singer to the home to see the transformation. Is he bummed he did not have the winning bid? Nope, he is "super excited" they got it because he knows "it's in good hands." That and he is also happy that someone else did not buy it and tear it down. Which is a very LA thing to do.
Now that he got that out of the way, it was finally time for him to tour the dream house. The first thing he said when he opened the door was, "This is incredible. This is perfect." Then when he got to Mike's den, he declared, "It looks so real that it looks fake."
As amazing as it is to see on television, it is even more incredible to see it in person. Like he said as he was checking out the groovy digs, "This is one of the happiest days of my life." I know that feeling because that is exactly how I felt.
I am happy he is not bitter about it all. It truly was bought by the right people who did the iconic home justice.
Make sure to tune into tonight at 9p to see how they were able to recreate a sound stage in a house 50 years after someone designed it on the Paramount lot. Not only do you get to see the renovation, but the Brady kids are part of it. Who doesn't love seeing Barry Williams, Maureen McCormick, Christopher Knight, Eve Plumb, Mike Lookinland and Susan Olsen together again? I love it, but then again I love everything Brady!
---