Tonight's Carter gets a thumbs up!
January 27th, 2020 under Jerry O'Connell/Rebecca Romijn. [ Comments:

none

]

Carter gets his second case on WGN tonight at 10p, and I can put my finger on why I laughed so hard watching it.
Dot (Brenda Kamino) goes to Japan to spread her late husband's ashes, and on the way back finds a case for Carter (Jerry O'Connell). She meets a man on the plane who is carrying the ashes of his mom with him. She became suspicious of him when he kept going to the bathroom and leaving the ashes on the floor. Therefore, she looks inside and finds a thumb inside of it. Whose thumb is it, and why does this mystery man have it?
Carter, Sam (Sydney Poitier Heartsong), and Dave (Kristian Bruun) are on the case. They always think they are one step ahead of him, but it turns out they are not. How is he beating them at their own game? Will they get in front of him, or will he get away with digitcide? That a thing, right?
If you have not seen Carter yet, then you are missing out on the best police procedural on television now.
---
Darren Hayes dog goes all savage when he sings
January 27th, 2020 under Darren Hayes. [ Comments:

none

]

You would think that anyone who can hear would love to hear Darren Hayes serenade them. However, there is someone who is not truly, madly, deeply in love with his vocals. That person is actually his dog Huxley.
When the Savage Garden singer was belting out the Four Tops' I Can't Help Myself (Sugar Pie, Honey Bunch), the puppy could not stop howling. You could say Hayes' singing will crash and burn in his household. Maybe if he wants Huxley to like his free concert, Hayes should sing The Animal Song. It does have animal in the title.
BTW I wonder if the first song he sang to his best friend, when they met, was I Knew I Loved You! To me, the best love is the love of a pet, and you know how much you love them before you meet them.
---
Robert Wagner cancels some appearances due to an illness
January 27th, 2020 under Uncategorized. [ Comments:

none

]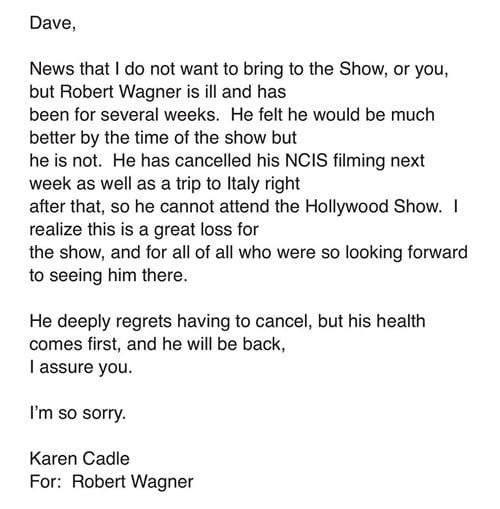 Robert Wagner was supposed to tape NCIS and then attend the Hollywood Show this weekend, but he canceled both appearances and a trip to Italy because he has been sick for several weeks.
His convention booking agent did not say what was wrong with the 89-year-old actor, but his website says he has a sinus infection.
Hopefully, he will be better soon.
---
Grease 1 meets Grease 2
January 27th, 2020 under Olivia Newton-John. [ Comments:

none

]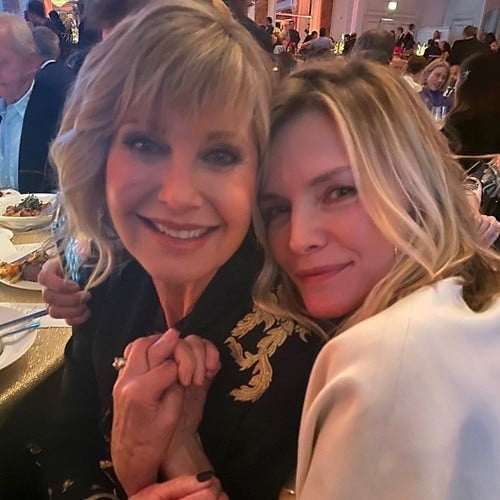 Back in 1978, everyone fell in love with Grease! However, people did not feel the same about the sequel in 1982.
That might be how the fans felt about the two movies. However, the lead actresses, Olivia Newton-John and Michelle Pfeiffer have nothing but love for each other. After seeing the two Pink Ladies together, I think that Sandy and Stephanie should get their own sequel. They can go back to Rydell High for their reunion in search of a new man for their Summer Nights.
Who wouldn't want to do the Hand Jive with the? Both of them got even more beautiful with age! Don't you agree?
---
What is in Nick Jonas' teeth?
January 27th, 2020 under Jonas Brothers. [ Comments:

none

]

Out of all of the things that could be trending after the Grammys, this is one that no one saw coming. Especially, Kevin and Joe Jonas, and Priyanka Chopra. That is because the three of them did not tell Nick Jonas that he had something green in his teeth before he performed live at the Grammys yesterday. Sadly, for Mr. Chopra, people did notice, it was just people who could do nothing about it at their homes. Therefore, they posted photos of it on social media. What a man gotta do?
Believe it or not, this is not the most embarrassing thing to happen to a Jonas brother during a live performance. Remember when Joe Jonas feel on some glass during their 2008 American Music Awards performance.
The Jonas Brothers should perform at all award shows. Whether they are nominated or not. They always bring the fun-ny.
---