[ # ] Hugh Jackman and Sir Patrick Stewart broke the same World Record!
February 20th, 2019 under Guinness World Records, Hugh Jackman, Marvel Comics, Sir Patrick Stewart/Sir Ian McKellen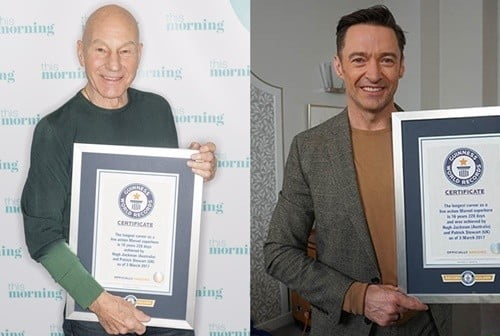 Hugh Jackman and Sir Patrick Stewart are in the Guniess Book of World Records now and they are listed for the same thing. Are they in it for breaking the longest time tied to someone without breaking loose? Nope, but I like that.
They both have the longest career as a live-action Marvel superhero. How long have they been playing Wolverine and Professor X? They have been doing it for 16 years 228 days. Both actors started playing their characters in X-Men and ended it with Logan.
You know Jackman can end the tie if he would just agree to Deadpool vs Wolverine. Is it tempting him yet? I don't think so because he has set his sites on breaking the longest marathon playing badminton, singles, record. He only has to do that for 25 hours, I think that is possible for Stewart!

---