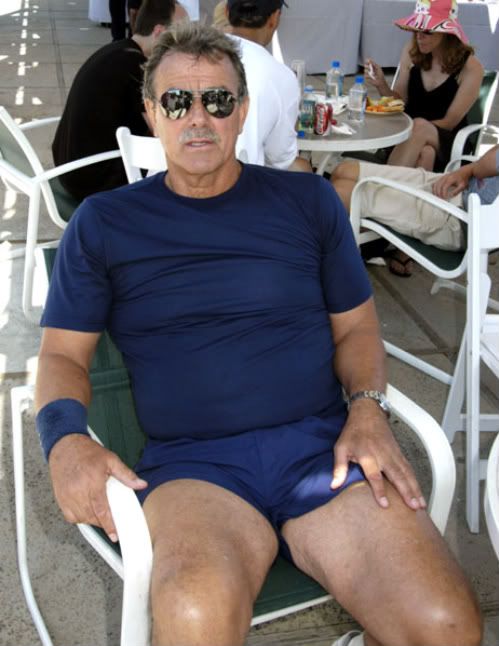 (photo from WireImage)
One of Hollywood's favorite people,
Neil Patrick Harris
, took to Twitter to bash someone and it quickly became the Tweet heard around the world. he said, "Eric Braeden is a D-Bag. the actor, (Robin's dad) agreed to a cameo, then last night bailed, saying the part wasn't 'substantial' enough. We've recast with Ray Wise, a fantastic actor who makes any part 'substantial'. Super excited to welcome him to the family!" Major ouch. Now he has two television time periods to think he is a douche, daytime and primetime. Last year he reportedly refused to take the same pay cut that the rest of the cast took and his contract was not renewed. After being off of The Young and the Restless for a few months he eventually returned. I guess the role was substantial enough for him then.
Entertainment Weekly
spoke with him about NPH's Tweet and he said, "I really don't know who that fellow is. He's a guy who stars in that series," Braeden told EW, laughing. "It's very unfortunate. First of all, I came back from hip surgery. I was off for three weeks. I've doubled my work, 30 to 50 pages a day for me, alone. Everyone knows that I'm exhausted. I was not about appear on a show for two lines, because that's what it amounted to." Two lines is better than no lines and if he can memorize 30-50 pages a day why can't he remember just two lines?
When it comes to how he feels about the How I Met Your Mother star, he had this to say "the choice of words bothered me. He seems to me like a young whippersnapper who's received a few awards and is now suffering from the first sign of hubris. I've been in the business for 50 years. I've seen people come and go and I'm still here." Braeden laughed. "If he is a worthy adversary, he'd better not cross my path. I will let bygones be bygones." I think Neil would win because who doesn't love him, well besides Eric???
After realizing how far his Tweet had gone, the sleep deprived NPH Tweeted "Now I feel bad for the D-bag comment. Don't know the guy personally. I'm just fiercely protective of our show." Can't say I blame him.
After Neil's Tweet, my favorite came
Ralph Macchio
who said "@TVGuide @ActuallyNPH @HIMYM_CBS Note to self: when they offer me that HIMYM guest spot — show up, substantially!" Maybe he can play the mother? I am sure there is something for the baby faced actor! He needs his own weekly series because we all need him on our TV sets more often!!!
---