Eric Braeden reveals he has cancer
April 22nd, 2023 under Eric Braeden. [ Comments: none ]
Eric Braeden announced yesterday on social media that he has cancer.
The 82-year-old actor started out his video talking about the knee replacement surgery he got at the beginning of the year. While he was dealing with the recovery, he started having prostate problems. At first, he couldn't stop peeing. And then he couldn't pee at all.
His urologist said that he should get a Urolift to help with his urinary problems. But it turns out that was not the only problem he was having in that area. When his doctors sent a camera up his penis, they found a tumor that turned out to be malignant.
So the doctor decided that when they did the Urolift, they would also remove the tumor.
The doctor thought he got it all, but it turns out that the Young and the Restless star still had some high-grade cancer cells left in his body.
So the doctor decided to fight the cancer with a 6-week immunotherapy treatment. Basically, they put a liquid in his bladder, and it tricks the body into fighting off the high-grade cancer cells. The treatment causes the actor to feel run down, and that is a good thing. That means the treatment is working.
So far, he has done two treatments. It has slowed him down, but it hasn't stopped him. So he is still working on the Soap Opera while he battles cancer.
Because as he says, "I will lick this. This bastard ain't going to get me. I am going to get it. And I will be in top form again soon."
Just like his character Victor Newman. Nothing can stop him.
Hopefully, he will be cancer-free soon!

---
Eric Braeden needs to become Rapper!
February 16th, 2022 under Eric Braeden. [ Comments: none ]
On Sunday night, we got to see the best of '90s Hip Hop at the Super Bowl halftime show. What we didn't know is the future of the genre has been on the set of The Young and the Restless since 1980. Even he didn't know it.
However, Joshua Morrow did, so he taught his TV dad how to beatbox. And you know what, Eric Braeden is a natural. I would pay to see him do the halftime show.
If this Soap Opera thing doesn't work out for him, the 80-year-old has a future in Rap.

---
BTWF: Eric Braeden in Combat
February 16th, 2022 under Before They Were Famous, Eric Braeden. [ Comments: none ]
Before Eric Braeden was being shot at on The Young and the Restless, he was a sniper on Combat. He looks the same now as he did when he was 21 in that 1963 episode.

---
Do you think Eric Braeden is sexy?
January 5th, 2022 under Eric Braeden, TV Soaps. [ Comments: none ]
Eric Braeden is on TikTok, and he took part in one of the social media site's newest trends. That trend is dancing to Rod Stewart's Do Ya Think I'm Sexy?
Do I think the 80-year-old is sexy? In a word, YES! He will always be Young and Restless no matter how old he gets.

---
Doug Davidson is back on The Young and the Restless.
February 18th, 2019 under Eric Braeden, TV Soaps. [ Comments: none ]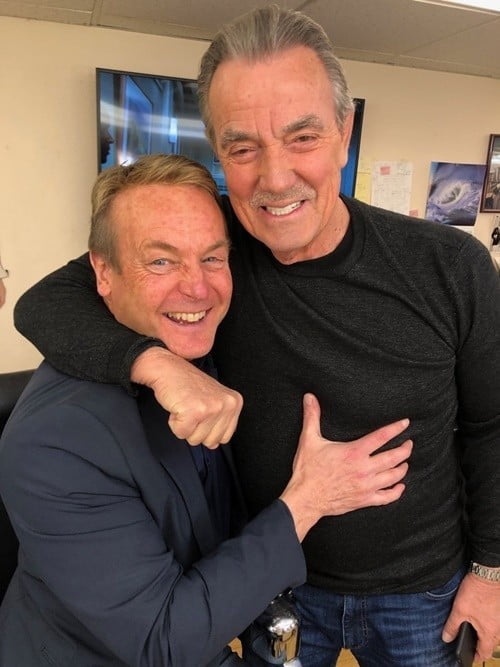 Back in September, shortly after Doug Davidson celebrated his 40th anniversary on The Young and the Restless, the daytime drama fired him. Fans of the show were obviously pissed because you don't mess with soap fans. Thus, they protested Y&R's decision and the bosses listended.
Therefore, he is back on the show! Eric Braeden broke the news on Twitter last week by posting the above photo. Then Paul Williams followed up with, "Okay! So, the cat is out of the bag. NONE of any of this would happen without all of your undying loyalty, support and kindness. All of you are the reason 'Paul' is back on the canvas. THANK YOU SO MUCH. @EBraeden has been incredible the entire time. A huge thanks to him as well!"
It is nice when shows do the right thing. This was the very right thing to do. Soap Operas have to realize viewers prefer the people who have been there for a while over the newbies. They have been welcoming them into their homes, five days a week for years, they have a special bond with them. Take them away, they are pissed and stop watching. With ratings the way they are, they cannot afford to lose any more eyeballs.

---