Neil Patrick Harris comes off as a dick!
June 2nd, 2023 under Neil Patrick Harris. [ Comments: none ]
Neil Patrick Harris was on Good Morning America this morning to promote his show Drag Me to Dinner, and Rebecca Jarvis made the mistake of asking him about Doogie Howser, M.D.
The anchor shared with the actor that it was her favorite show growing up. And he told her, "You're old." Well, she is 9 years younger than him. So who is the old one now, Mr. I am turning 50 in a few weeks? You are.
Then when Jarvis asked him what he would say to his character, he replied, "Look at you now, doc, five decades later, and you are still on ABC."
I am sure Harris will say he is joking, but I think he is coming off as a dick. What do you think?

---
Does Neil Patrick Harris sound like a sore loser?
September 17th, 2019 under Neil Patrick Harris. [ Comments: none ]

On Sunday night, A Series of Unfortunate Events was up against Sesame Street, Carmen Sandiego, Songs of Parkland and Star Wars Resistance for Outstanding Children's Program at the Creative Emmys. There could only be one winner and it was not Neil Patrick Harris.
A day after his loss he wrote, "A Series of Unfortunate Events lost at last night's Emmys to Sesame Street. I'd say I was bummed, but Catherine O'Hara told me: losing an Emmy to 'When You Wish Upon A Pickle' is in many ways, a funnier way to end the story. I like that. #befitting #countolaf @netflix @TheEmmys"
Is it just me or does he sound bitter? He has 5 Emmys, how many more does he need? How many actors wish they had just one. He needs to remember that.

---
When did Neil Patrick Harris become a '70s porn star?
June 12th, 2019 under Neil Patrick Harris. [ Comments: none ]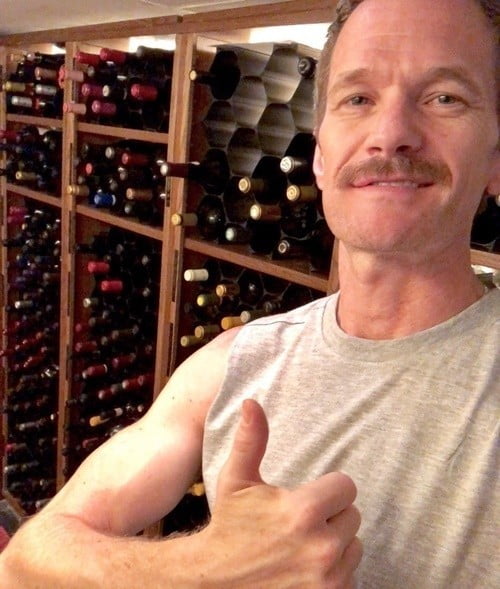 I cannot remember the last time I saw Neil Patrick Harris, and he has gone through a major transformation. Gone in Barney Stinson and hello is someone legen-wait for it-dary. As in a porn star from the '70s. Then again it could just be the stache.
I hope it is for a movie. If not, I hope someone introduces Doogie Howser to a razor. Because that is not a good look on him.
Actually, now that I think about, that pornstache is so Barney Stinson if he was an adult during the Disco era.

---
James Corden and Neil Patrick Harris should be telegram singers full time
September 26th, 2018 under James Corden, Neil Patrick Harris. [ Comments: none ]

Yesterday on The Late Late Show, James Corden and Neil Patrick Harris sang telegrams to unsuspecting people and I think they should make a career of it. Not only are they funny, but they also have a way of personalizing each one.
I want them to sing one for me and I am even willing to pay $10 for it. Would you pay them for the purrfect singing telegram?
Seriously though, that is the loudest I laughed at a bit from the CBS late night show, they should do it more often.

---
Watch Neil Patrick Harris perform a mind blowing trick
December 6th, 2017 under Ellen DeGeneres, How I Met Your Mother, Neil Patrick Harris. [ Comments: none ]

We have all heard that Neil Patrick Harris is good at magic, but how many of us have seen him do it? Now we can say that we have because he performed two tricks on Ellen today. His first trick was card one and it did not go over that well. The next was a gifting one and it also did not go over so well. Wait why did I say he is a good magician? Oh that's why!

---