When did Neil Patrick Harris become a '70s porn star?
June 12th, 2019 under Neil Patrick Harris. [ Comments:

none

]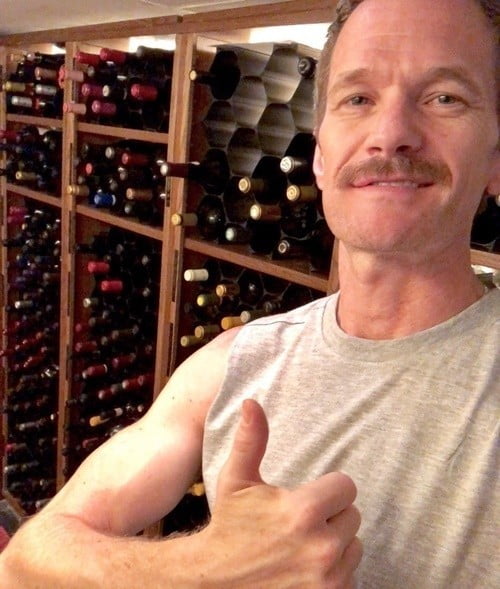 I cannot remember the last time I saw Neil Patrick Harris, and he has gone through a major transformation. Gone in Barney Stinson and hello is someone legen-wait for it-dary. As in a porn star from the '70s. Then again it could just be the stache.
I hope it is for a movie. If not, I hope someone introduces Doogie Howser to a razor. Because that is not a good look on him.
Actually, now that I think about, that pornstache is so Barney Stinson if he was an adult during the Disco era.
---
James Corden and Neil Patrick Harris should be telegram singers full time
September 26th, 2018 under James Corden, Neil Patrick Harris. [ Comments:

none

]

Yesterday on The Late Late Show, James Corden and Neil Patrick Harris sang telegrams to unsuspecting people and I think they should make a career of it. Not only are they funny, but they also have a way of personalizing each one.
I want them to sing one for me and I am even willing to pay $10 for it. Would you pay them for the purrfect singing telegram?
Seriously though, that is the loudest I laughed at a bit from the CBS late night show, they should do it more often.
---
Watch Neil Patrick Harris perform a mind blowing trick
December 6th, 2017 under Ellen DeGeneres, How I Met Your Mother, Neil Patrick Harris. [ Comments:

none

]

We have all heard that Neil Patrick Harris is good at magic, but how many of us have seen him do it? Now we can say that we have because he performed two tricks on Ellen today. His first trick was card one and it did not go over that well. The next was a gifting one and it also did not go over so well. Wait why did I say he is a good magician? Oh that's why!
---
James Corden and Neil Patrick Harris' Broadway Riff-Off is all that jazz!
January 10th, 2017 under Broadway, How I Met Your Mother, James Corden, Neil Patrick Harris. [ Comments:

none

]

James Corden and Neil Patrick Harris are not only Tony winners, they have also hosted Broadway's biggest night. Yesterday, when NPH was on The Late Late Show, he challenged the host to a musical duet and only one man came out the winner. While the other one ripped his tight pants. Can you guess which one is which?
Back to the Riff-Off, they started it off with Sit Down, You're Rockin' the Boat from Guys & Dolls and then the man who met your mother sang Gypsy's Everything's Coming Up Roses. Up next he was all about Being Alive from Company while the CBS host held a note from Les Miz's On My Own that none of us knoooooooooooooooooooooooooown he could do. If that didn't turn you on, then them sexing it up will. JC shook his hips to All That Jazz from Chicago while Harris showed us what they are for singing Sugar Daddy from Hedwig and the Angry Inch, a role he played on the Great White Way! As NPH declared himself the winner, Corden said he was retiring from singing Showtunes. Thankfully he decided to give it one more shot as they did a duet to Hamilton's My Shot.
Hopefully, we will see this bit again because it is pure joy.
---
How good of an actor is Neil Patrick Harris? Just watch!
September 11th, 2015 under How I Met Your Mother, Neil Patrick Harris, Seth Meyers. [ Comments:

1

]

We have seen Neil Patrick Harris do almost everything in the acting world, and Seth Meyers decided to test how well he is at all of them on Late Night. The NBC late host asked the Best Time Ever host to take part in the Actathalon Challenge which is an obstacle course of 10 different acting challenges. Those scenes included war, espionage, romantic comedy and action to name a few. It was the last one that I think was his best performance and that was promoting a bad movie he was in and making it sound great. He really nailed that one, but then again didn't he have an experience like that when he had to promote Smurfs 2?
So how do I think NPH did in his Actathalon Challenge? He almost made me like again after the Oscars fiasco, and that takes a lot to make me forget about that. How do you think he did?
---