[ # ] Did Paula Abdul give Julianne Hough whiplash?
May 2nd, 2019 under Dancing with the Stars, Julianne Hough, Paula Abdul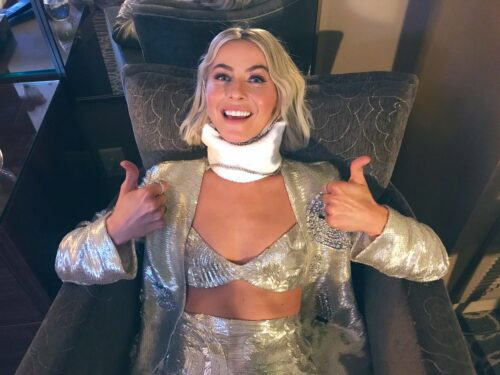 Last night at the Billboard Music Awards, Paula Abdul performed a medley of hits. Since it was the So You Think You Can Dance judge, she did a huge dance number that included a hat. As she was dancing in the audience, she threw her top hat and it hit Julianne Hough on the neck. I guess it caused her some damage because the Dancing with the Stars winner was seen with a neck brace after the show.
Hough wrote, "The result of the honor of being hit in the neck by @PaulaAbdul's flying hat! Love you, babe!!! 💛💙💜 #BBMAs." How did the assailant respond, she wrote back "OMG IM PEEING MY PANTS!!!!! You know it was with love 🤣🤣🤣 xoP"
Let's see how much they love each other when the two judges see each other in court? Or in the ratings, if America's Got Talent and SYTYCD go neck to neck with each other.
To see the moment when Abdul almost decapitated Hough, then
---