BTWF: Sofia Vergara on Baywatch
September 23rd, 2019 under Before They Were Famous, David Hasselhoff/Baywatch, Sofia Vergara. [ Comments:

none

]

Before we knew Sofia Vergara was a huge star, Baywatch knew. She looks the same now as she did when she was 26 in that 1999 episode.
---
BTWF: Greg Grunberg on Baywatch
September 17th, 2019 under Band From TV, Before They Were Famous, David Hasselhoff/Baywatch. [ Comments:

none

]

Before Greg Grunberg was being introduced as a member of Band From TV, he was the one introducing a singer on Baywatch. He looks the same now as he did when he was 27 in that 1994 episode.
---
Open your ears because David Hasselhoff has new music out!
September 11th, 2019 under David Hasselhoff/Baywatch. [ Comments:

none

]

David Hasselhoff wants you to Open Your Eyes and read that he has a new album coming out on September 27th. The first song is out now and it is a cover of Lords of the New Church's Open Your Eyes. A song that was released in 1982 and is just as relevant now as it was then. Which is probably why he picked it to be his title track.
That and he found a way to make it sound really sexy. His singing voice is perfect for the bedroom if you catch my drift. Now, I get why Germany loves him so much.
The album also marks the 30th anniversary of when Berlin tore down that wall. You know the one he performed on that very night. The album is full of song bridging music from the US, the UK and Germany during that era.
To see the tracklist, then click here!
---
David Hasselhoff still wears his Baywatch reds!
June 18th, 2019 under David Hasselhoff/Baywatch. [ Comments:

none

]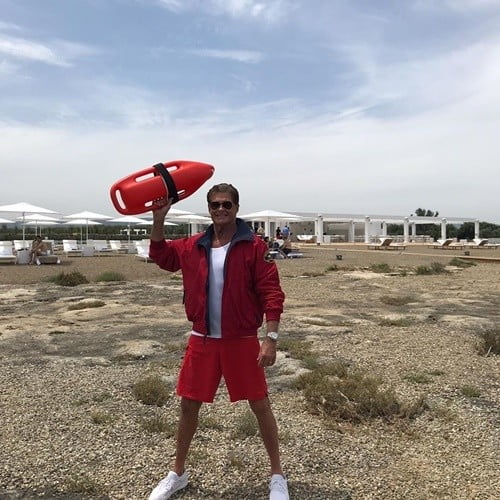 It has been 30 years since David Hasselhoff first donned his red lifeguard swimming trunks with a matching jacket for Baywatch. You would think he might not look as good in them today. Then you thought wrong.
Over the weekend, he wore them again to promote the opening of the new beach club at Pettolecchia il Lido in Italy. No word if he rescued anyone, but a lot of women were looking to get mouth-to-mouth resuscitation from the 66-year-old.
You know with all of the revivals, I find it interesting that no has revived the nighttime soap like the lifeguards revived a drowning victim.
---
David Hasselhoff takes Hoff his Baywatch swim shorts!
May 22nd, 2019 under David Hasselhoff/Baywatch. [ Comments:

none

]

We are so used to seeing David Hasselhoff in his red swim trunks that we do not know what he looks like without them. Have you ever wondered if his body would look better with some more color down there? Well, Happy Socks wondered just that, so they asked him to try on their bathing suits. They made him so happy that he shot a promo for them that is Hoff the charts! Because it is just so David Hasselhoff and that is we love him so much.
As we know The Hoff gets plenty of offers from companies to promote their products, why did he choose this one over them? He said, "It's so great to work with brands that promote happiness and fun in everything they do. Also the swim shorts are so good, I wear them almost every day!"
If that does not tell you how much he loves them, nothing will.
---