Caption Tim Daly!
August 5th, 2019 under Caption the Celeb, Tim Daly. [ Comments: none ]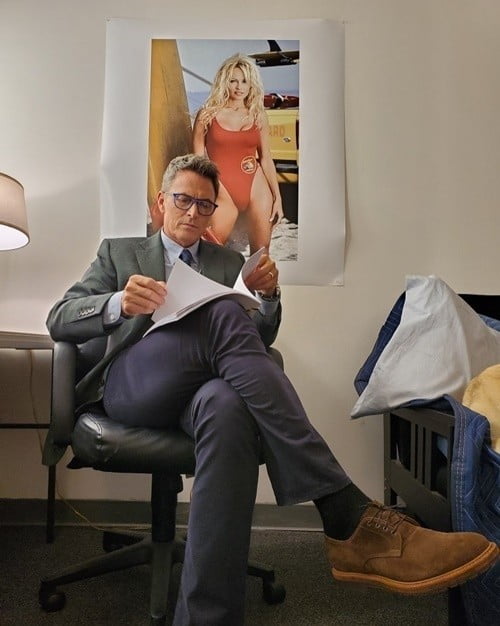 This photo of Tim Daly on the set of the final season of Madame Secretary has caption me written all over it, so go ahead and do it.

---
The interesting way to accommodate Tim Daly's broken legs
March 30th, 2017 under Tim Daly. [ Comments: none ]

Back in January, Tim Daly broke not one, but both of his legs in a skiing accident. Ever since then Madame Secretary has had to come up with interesting ways to hide his broken legs like they do with an actress' real life baby bump.

Here is the latest way they are accommodating him. They cut a hole in the car door, so he can let it hang out and sit in the driver's seat. You have to admit that is a very creative to hide his injury.

---
Tim Daly broke both of his legs skiing
January 24th, 2017 under CBS, Sick Bay, Tim Daly. [ Comments: none ]

Tim Daly broke both of his legs while skiing in Sundance and will undergo surgery tomorrow. According to Variety, he will need 6-8 weeks to recover and that is causing the writers of his CBS's show Madam Secretary to figure out how to deal with the situation. Will they work around him? Will they write it in to the show? Whatever they come up with it, they told the trade that he will still be seen in every episode and that few changes will be needed.
Doesn't he know it is actors who are supposed to break legs and not the other way around? Seriously though, hopefully he will be better soon.

UPDATE: Tim Daly, 60, just Tweeted this update: "HUMANS!!! Broke my right ankle and left knee skiing. Simultaneously! How's that for talent? I'm all good." I have three words, "ouch and ouch!"

---
Shonda Rhimes admits to killing off at least one actor she didn't like
November 13th, 2015 under Comedy Central, Shonda Rhimes, Tim Daly. [ Comments: none ]

Grey's Anatomy, Private Practice, Scandal and How to Get Away with Murder's creator Shonda Rhimes was on The Nightly Show with Larry Wilmore and the Comedy Central host asked her, "Have you ever killed off a character because you didn't like the actor?" Then for extra points, he asked her to name names. Once she stopped laughing, she said, "Yes! And I am not naming names." Since she said names, I am assuming it is more that one. Once you kill off one character, I guess it gets easier. So I am assuming Katherine Heigl was the first and then it got easier to kill off the likes off Chris Lowell, Tim Daly, Eric Dane, Columbus Short and Patrick Dempsey. Not saying she didn't like all of them, but maybe that explains why they were suddenly 86ed?
I personally can't watch her shows anymore. I find her shows to be over the top depressing and sadistic. It's like how can we destroy one character's life one week, and then keep making it worse every week after that. Like having a character addicted to drugs, her boyfriend dies of an overdose, she finds out she's pregnant, the baby has no brain and she carries the baby to term to donate the organs. That is just one example, but what about Meredith Gray, who in her family hasn't died. Oh yeah, the kids. How long until one of them gets a terminal disease or gets hit by a car or drowns or something? And what more can she do to Mellie? That is why I am done with her shows.
And now it seems like the truest Diva is not the actors, but the person in charge. I think that says a lot because Chuck Lorre has worked with a lot worse than Rhimes and he only killed off one troubled actor and for good reason. Just saying.
What do you think of her admitting to killing off an actor she didn't like?

---
BTWF roles: Tim Daly on Hill Street Blues!
September 10th, 2014 under Before They Were Famous, Tim Daly. [ Comments: none ]

Before Tim Daly was saving lives on Private Practice, he was helping solve murders on Hill Street Blues. How cute was the 25 year old in that 1981 episode?

---