The secret engagement life of Shailene Woodley
February 23rd, 2021 under The Secret Life of an American Teenager. [ Comments: none ]

Aaron Rodgers recently revealed that not only is he dating Shailene Woodley, but that the two of them are engaged. Well, he didn't mention her name when he said he was engaged, but it was assumed.
Yesterday when the actress was on The Tonight Show, Jimmy Fallon asked if she is betrothed to the football player. She said while the news is new to us, they have been engaged for a while. Even though they just started dating after the pandemic happened.
Because of that, Woodley has never seen him play football. In fact, she is still learning the game. "I never thought I'd be engaged to someone who threw balls for a living. I never thought as a little girl, 'Yeah when I grow up, I'm going to marry someone who throws balls, yeah!'" she said. "But he's really just so go good at it. I'm very impressed."
She is not the only one who is impressed, so is her dog. Woodley says her pup loves the way its future dad throws the ball. If he could win over her best friend, then he was in like Flynn.
Congrats to the two.

---
Do you want a Secret Life of an American Teenager reunion?
October 23rd, 2020 under The Secret Life of an American Teenager. [ Comments: none ]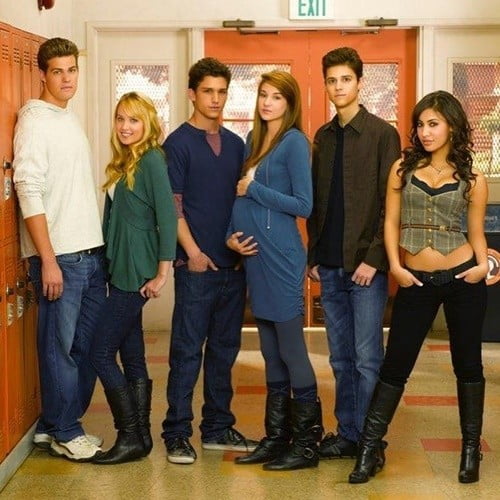 It has been seven years since The Secret Life of an American Teenager ended. Today, the cast announced they are willing to have a reunion, but it comes with a condition.
"To make sure you all are #GoodToVote we've teamed up with HeadCount to get you registered and ready to hit the polls. if we can get 300 of you take a voting action through our link (headcount.org/secretlife)…we're getting the SLAT gang back together for a live Happy Hour," Shailene Woodley wrote. "(hopefully none of us will end up preggers this time…but, with this group, who knows!) submit your questions to secretlifereun[email protected], for a chance to be featured! happy voting!"
How important is it to vote? If we don't vote, then if one of the actresses was to get pregnant at the reunion, she might not have the choice to get an abortion if the GOP has their way. Every vote counts.
Therefore, if you do not have a plan to vote, then make on at HeadCount.org. If 300 of you do that, then the rest of us get a reward, a Secret Life reunion.

---
Megan Park's secret life as pregnant woman
February 6th, 2020 under Babies, The Secret Life of an American Teenager. [ Comments: none ]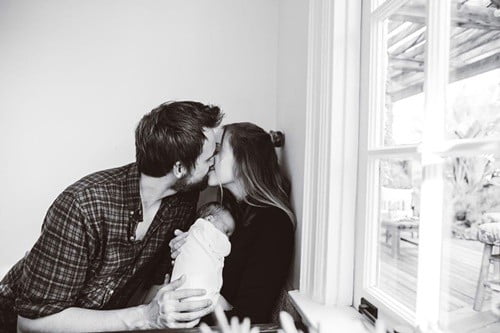 Megan Park starred in Secret Life of the American Teenager, and for the last nine months, she has been keeping a secret. The actress and Tyler Hilton, her husband of four years, were expecting their first child together. Now that baby is out, so is the secret. The proud parents welcomed Winnie, and they are showing her off.
The new mom wrote, "Meet Winnie. She was hidden under many jackets and piles of books on several different sets last year but now that she's here, healthy and happy, I couldn't wait to introduce her. @tylerhilton and I thought we understood joy, love, purpose and life before but… turns out we weren't even close until we met Miss. Winnie."
The proud pop added, "Remember that project I said I was working on…? The one I told you was my favorite thing I've ever been apart of and it killed me to keep it a secret from u…?? Welp, @meganparkitthere and I have kept it to ourselves long enough. Everyone… meet the newest member of our crew, our daughter, Winnie Hilton. 🥰🥰🥰 It feels like we've known her our whole lives already and being her Dad the most natural thing I've ever done. To say I'm obsessed doesn't quite do it justice. Meg was incredible, both she and Winnie are doing great, and just like that…we're a family!! So heads up, go ahead and click Unfollow if you're NOT interested in seeing me go full Dad on here for awhile… cause that's what's going down haha. Until the next record… which even then might be a kids record!! IM OBSESSED!"
It sounds like Winnie is going to be spoiled rotten by her parents. If they do not do it, who will? Well, their parents will do the same.
Congrats to the two. The baby girl is lucky to have Hilton sing her lullabies with his deep calming voice.

---
Selena Gomez talks about her kidney transplant with Francia Raísa
October 30th, 2017 under Selena Gomez, The Secret Life of an American Teenager. [ Comments: none ]
Last month, Selena Gomez revealed that she got a kidney transplant over the summer due to complications from Lupus and her friend Francia Raísa was her donor. Today, the two actresses talked about the transplant on Today.
Gomez knew she needed the transplant, but did not want to ask anyone for it. Then one day, when everyone in her family already did not match, she broke down to her roommate. As soon as Francia Raísa knew she needed a transplant, she offered to be tested. Before, the Secret Life of the American Teenager actress had a chance to think about it, they were on the operating table. Raísa went first, and everything went fine. Then it was time for Gomez and the surgery went fine. But then something went wrong in recovery and she went back into surgery for 6 more hours. That surgery was a sucess and Gomez knew she was on the mend. When she woke up her arthritis went away and her Lupus seems to be gone.
When Savannah Guthrie said to Gomez that it's like her best friend saved her life, the singer told her, "Because she did. That's it. I guess I got to the point where it was really kind of life or death." That is how close they were to death. In fact, Raísa made out a will before she went under. But she did not need it.
Now we know more about kidney transplants and how they really can save lives. I am not saying to just donate an organ, but if someone you know needs ones, then consider it.

---
Selena Gomez got a kidney transplant due to her Lupus
September 14th, 2017 under Selena Gomez, The Secret Life of an American Teenager. [ Comments: none ]

Selena Gomez has been very open about her battle with Lupus and now she revealed a complication she had to endure because of it. Over the Summer, she needed to get a kidney transplant and her friend Francia Raisa, who starred in The Secret Life of the American Teenager, gave the singer one of hers. Gomez shared a message about the life-saving operation and gratitude on Instagram.
I'm very aware some of my fans had noticed I was laying low for part of the summer and questioning why I wasn't promoting my new music, which I was extremely proud of. So I found out I needed to get a kidney transplant due to my Lupus and was recovering. It was what I needed to do for my overall health. I honestly look forward to sharing with you, soon my journey through these past several months as I have always wanted to do with you. Until then I want to publicly thank my family and incredible team of doctors for everything they have done for me prior to and post-surgery. And finally, there aren't words to describe how I can possibly thank my beautiful friend Francia Raisa. She gave me the ultimate gift and sacrifice by donating her kidney to me. I am incredibly blessed. I love you so much sis. Lupus continues to be very misunderstood but progress is being made. For more information regarding Lupus please go to the Lupus Research Alliance website: www.lupusresearch.org/
Hopefully the transplant will ease some of her Lupus symptoms.
She is not the only young actor to receive a kidney, Sarah Hyland got a kidney from her father back in 2012. Tracy Morgan and George Lopez also went through the same organ transplant before both actresses. As did the late Gary Coleman.
To see her scar, then click here!

---