So a Grimm and a Hexenbiest had a baby
February 16th, 2019 under Babies. [ Comments:

none

]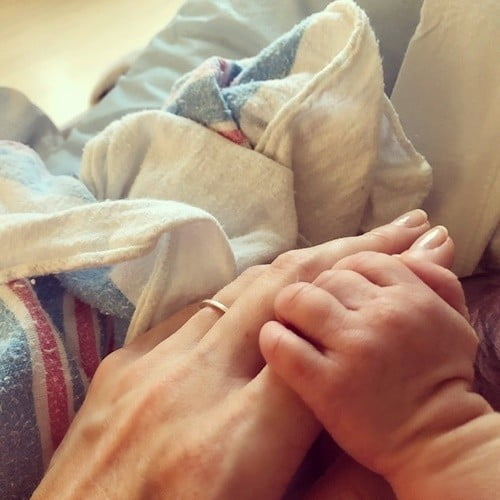 Bitsie Tulloch and David Giuntoli have a million little things to celebrate because they welcomed a baby girl, Vivian, on Valentine's Day.
The couple played lovers on Grimm. Then they actually became lovers in real life, got married in 2017 and parents this week. Who would have guessed a show about Grimm fairy tales would actually lead to an ending of happily ever after.
---
The amusing reason to take kids to an amusement park
February 6th, 2019 under Babies. [ Comments:

none

]

via Kyoot
Ever since I was big enough to get on rides at an amusement park, my dad took me on them. Therefore, they don't scare me. I know that is just me and a few others. Which is why I always enjoy taking my friends on scary rides to watch them scream and curse at me. In fact, I have a huge smile on my face just thinking about that.
I also could have that smile on my face because I just watching 10 minutes of kids going on scary rides for the first time, getting splashed on while watching water rides and just falling off of them. While it is not fun for them, it is the true reason we should take them to amusement parks. That is why they called amusement parks. They are there for our amusement and not the amusement of the children. If it was for children, then they would be called a scary wet place with sugary food.
---
Amber Stevens West is happy together with her baby girl!
October 18th, 2018 under Babies, The Carmichael Show. [ Comments:

none

]

Amber Stevens and her husband, Andre J West, welcomed their first child together. Ava Laverne was born on October 7th weighing 8 lbs., 9 oz., and measured 20½ inches in length according to People.

Ava and her mom share more than just genetics, the two of them also share the same birthday. Talk about the best birthday present anyone can get.

The proud parents met on Greek, started dating and got married on December 5, 2014.

Since there are a few more episodes of Happy Together that were filmed before she had Ava, you should watch the sitcom Mondays at 8:30p on CBS to see how they hide her growing baby bump. I get a kick out of the interesting ways they do it.

You should also check out the show because it is actually really funny.

The proud parents met when they starred on Greek together, started dating and then got married on December 5, 2014. Stevens West's father is radio DJ Shadow Stevens.
---
Yvonne Strahovski gives birth to her little Chuck
October 15th, 2018 under Babies. [ Comments:

none

]

On A Handmaid's Tale, Yvonne Strahovski cannot have children naturally. But that is only fiction. In real life, she just gave birth to her first child with husband, Tim Loden.

The new mom wrote this with the photo, "My heart has melted into a billion pieces a thousand times already ❤️ We have been blessed with the greatest joy of our lives, our baby boy. Welcome to the world Peanut, your parents love you beyond measure and you are already my little dream boat. My heart has been stolen!"

No other details are known at this time. But the most important one is known and that is that he is already loved.
---
Not so Grimm news for David Giuntoli and Elizabeth Tulloch
October 1st, 2018 under Babies. [ Comments:

none

]

David Giuntoli and Elizabeth Tulloch played lovers on Grimm and then they became ones in real life. So much so, they tied the knot in July of 2017.

Now as the two of them work on separate projects, him on A Million Little Things and her as Lois Lane on the Arrowverse crossover episodes, they are working on one together. The two of them are expecting their first child together according to People. Wonder if it will be a Grimm or a Wesen?
---