Meet the twins born in different years
January 3rd, 2023 under Babies. [ Comments: 7 ]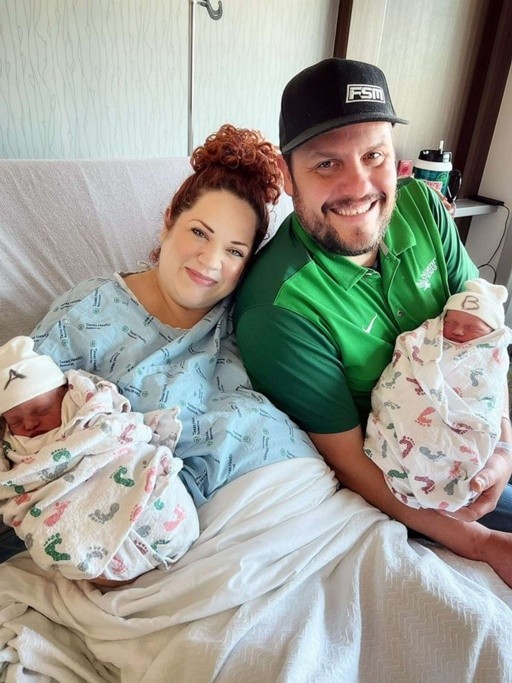 Kali and Cliff Scott were expecting their twins on January 11th, but the girls decided to come early.
Annie Jo came into the world at 11:55p on New Year's Eve, and her sister Effie Rose is a New Year's Day baby who came out just one minute after midnight on New Year's Day.
How did that happen? According to Good Morning America Kali was hospitalized to monitor her blood pressure, and doctors decided to perform a C-Section. Since hospitals work on holidays, they scheduled her for Saturday night. Therefore, helping her to deliver her babies in two different years.
As of now, the parents plan to do different birthday parties for their daughters. They like that the different birthdates will make it easier for their girls to be individuals.
Personally, I can't wait for their girls to fight. Annie Jo will be like I am a year older than you. And then, when they are older, Effie will rub in the fact that she is a year younger. They are going to have a lot of fun with this!

---
Brittany Daniel welcomes one daughter
October 27th, 2021 under Babies. [ Comments: none ]
Brittany Daniel and Adam Touni, her husband of four years, announced today that she welcomed their first child together on October 24th via surrogate.
"Meet our baby girl Hope Rose Touni. Our hearts are bursting with joy. It's been a long road to get here but we always remained hopeful that we would one day become parents," she wrote. "Thank you @adam.touni for being an unbelievably supportive partner and now dad. Thank you to our surrogate who carried our baby so beautifully. Hope, we love witnessing who you are, just as you are. We love you!"
According to People, the actress, 45, was diagnosed with stage IV non-Hodgkins lymphoma in 2012.

---
Bryan Greenberg and Jamie Chung are in double trouble
October 25th, 2021 under Babies. [ Comments: none ]
Bryan Greenberg, 43, and Jamie Chung, 38. have a little secret. Actually, they have two little secrets. The couple, who has been married since 2015, are the proud parents of twins.
As of now, that is all we know. We don't know the babies' sexes, their names, and when they were born. However, what we do know is that the Prime actor looks so cute having some skin-to-skin time with his children.

---
Turns out, Emily VanCamp didn't only play pregnant on The Resident
August 26th, 2021 under Babies, Emily VanCamp. [ Comments: none ]
Emily VanCamp has been keeping a secret, and the producers of The Resident helped her keep it. However, you are not going to want to get revenge on them for hiding her pregnancy by writing her real life one into the Fox medical drama.
The actress shared the happy news by writing, "Welcome to the world our sweet little Iris 💐 Our hearts are full 💗."
This is she and Josh Bowman's first child. The couple played one on Revenge, became one in 2011, and got married in 2018. Congrats to the two. Hopefully, things will turn out better for them than the fate their characters got on the show they met on.

---
Yvonne Strahovski makes like her Handmaid's Tale character, she pregnant
July 1st, 2021 under Babies. [ Comments: none ]
This season on Handmaid's Tale, Yvonne Strahovski's character Serena Joy was miraculously pregnant. It turns out she is not the only one. The actress revealed on the red carpet for The Tomorrow War yesterday that she is also with child. Praise be.
The actress told Entertainment Tonight that she is expecting her second son with her husband, Tim Loden, in a little over four months.
The couple, who have been married since 2017, are also the proud parents of William, who turns 3 in October.

---