Has Glee's Josh Sussman hit hard times?
April 16th, 2019 under Glee, Hard times. [ Comments:

none

]

Josh Sussman or Glee's JewFro, as he is better known as, was seen working at 7-Eleven, so has the actor hit hard times? Far from it. He is working for the store, but he is doing commercials for them like the one above. What is Lea Michele doing? Besides her new husband?
---
Lea Michele finally walked down the aisle
March 10th, 2019 under Glee. [ Comments:

none

]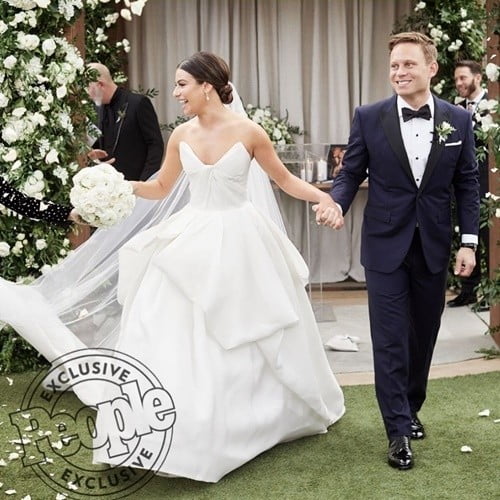 After three engagements, Lea Michele finally walked down the aisle yesterday. The Glee star married Zandy Reich in Northern California in front of their most loved ones.
The newlyweds told People, "We are so excited to be married and grateful to be surrounded by our friends and family…And most of all, we're so happy to spend the rest of our lives together."
No word if she sang at her wedding, but I would be surprised if she didn't.
---
Don't fall asleep around Nick Jonas and Priyanka Chopra
February 4th, 2019 under Glee, Jonas Brothers, Priyanka Chopra. [ Comments:

none

]

Joe Jonas and his fiancee Sophie Turner, Nick Jonas and his wife Priyank Chopra (in case you didn't know they were married), Chord Overstreet and a few others spent Super Bowl weekend in Mammoth Lakes, California. After spending the day in the snow, they went inside to watch the big game. Well, I guess it was too much for the Glee star because he fell asleep.
Granted the game was boring, but that is not the point. When the newlyweds realized he dozed off, they tried to wake him up. Actually, Nick tried rubbing a tissue on his face. When that did not work, Chopra used her hand. That did the trick and he did not like the prank at first. Then he laughed and we laughed with him.
Who wants to tell them the better prank is to dip his hand in warm water. Oh, but then they would have to pay a cleanup fee for the soiled couch. Although, they can afford it. Therefore, we are back to dipping his hand in the warm water!
---
I guess Darren Criss won't be acting ever again?
December 21st, 2018 under Glee. [ Comments:

none

]

Darren Criss might straight in real life, but in reel life he is gay. Something he says no wants to do. He told Bustle, "There are certain [queer] roles that I'll see that are just wonderful," adding, "But I want to make sure I won't be another straight boy taking a gay man's role."
Then he explained, "The reason I say that is because getting to play those characters is inherently a wonderful dramatic experience…It has made for very, very compelling and interesting people." Roles which made him a star and gave him an Emmy.
This is just me, but I don't believe that is the reason why he does not want to play the same characters that he played in Glee, American Crime Story and Hedwig and the Angry Inch. I think he just does not want to do it anymore now that he has an award-winning actor and is married. If you get what I am saying. But I could be wrong.
---
Remember Glee's Kevin McHale?
October 18th, 2018 under Glee, Remember?. [ Comments:

none

]

Remember when Kevin McHale was on Glee, he played the nerdy Artie Abrams? Not anymore. He is now a 30-year-old man making grapes looks sexy for A Book Of. Who knew all of that was under those glasses? Too bad they did not take them off when he was on that musical comedy. We would not have enjoyed that pool scene so much!
---