Suzanne Somers shares a foot fetish video
September 10th, 2021 under Suzanne Somers. [ Comments: none ]
Do you get turned on by feet? Then Suzanne Sommers made something just for you with Alan Hamel.
In the video, she is rubbing her husband's feet up and down with her own. So hot.
Is she trying to turn you on? Yes, she is. But not sexually. She wants you to buy her nail polish.
She wrote, "Post Pedicure Footsie – I'm wearing HALO and @therealalanhamel is wearing POOL! SUZANNE 10-TOXIN FREE Nail Polishes."
Are you going buy a bottle now? You know you want to…
You are going to paint your toes and think of rubbing them on that someone special, just like she is. You know, you can't control yourself any longer. But try to.

---
Suzanne Somers needed back surgery after falling down her stairs
October 8th, 2020 under Sick Bay, Suzanne Somers. [ Comments: none ]

Suzanne Somers and her husband, Alan Hamel, have been quiet on social media. Now, the actress is explaining why and what happened to them.
Thank you so much for all of your concern while Alan and I took a break from our normal schedule. As most of you know, I have been struggling for the better part of the year with a fractured hip, and then Alan and I took an unfortunate fall while coming down the stairs at our home. I had an intense amount of pain after the fall that was not resolving – even after having tequila! After several scans, it was determined I had 2 vertebrae out of place which was causing pressure on nerves and creating that tremendous pain.

The good news is that I had neck surgery to correct these issues and now I am on the mend! I need a bit more time to recover before I can join you again at the bar for our virtual cocktail parties. In the meantime, we will keep the sales going on our site. Watch for posts and special announcements on SuzanneSomers.com, and my accounts on Facebook, Instagram and Twitter.

As always, I so appreciate your love and support. Be back soon! Love, Suzanne
Hopefully, the 73-year-old actress will be better soon. That and she avoids the stairs as much as possible.

---
Is today really Suzanne Somers' 73rd birthday?
October 16th, 2019 under Are they really their age?, Suzanne Somers. [ Comments: none ]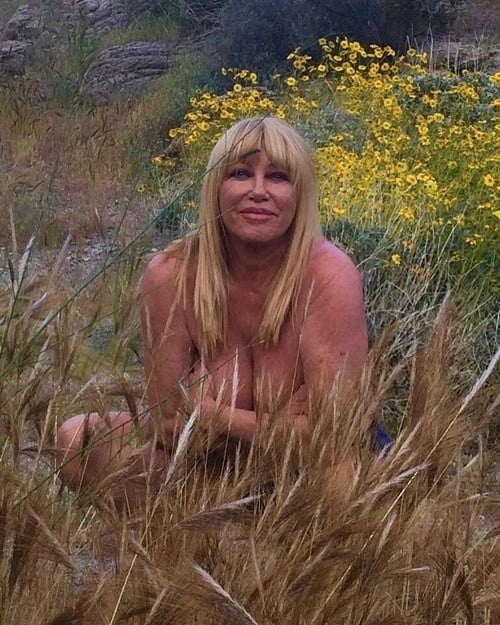 Today is Suzanne Somers' 73rd birthday. She celebrated it in nature by posing in just her birthday suit. Which makes you wonder if she is lying about her age because she does not look anywhere near being a septuagenarian. Doesn't she look great for her age?
The only thing about her posing in the criss-cross applesauce seated position is that we don't get to see if the ThighMaster is really working for her. You think she would want to show that off? Although, we might not want to see up that high.

---
Suzanne Somers is one with nature during this bath
April 12th, 2019 under Suzanne Somers, Taking a bath. [ Comments: none ]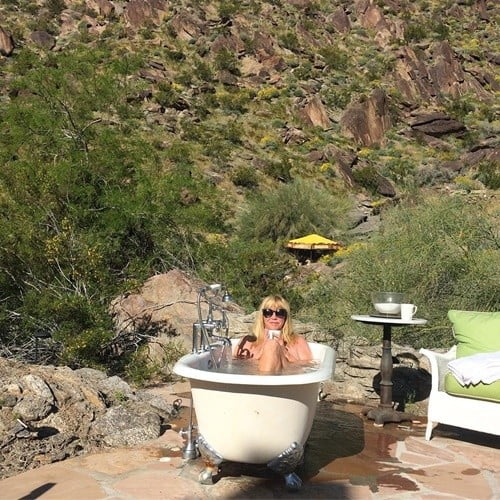 There used to be these commercials where women in stressful situations would ask for Calgon to take them away. They would take their baths with the bubble bath and be transported to calming places like a desert in Palm Springs.
Suzanne Somers might not have Calgon, but she has a real bathtub in her Palm Springs backyard. Which is a million times better than some cheap soap. That is unless a helicopter is flying over observing you.
Something I am sure the people in that chopper would not mind seeing because she looks good for 72 years young.

---
Suzanne Somers and Joyce DeWitt finally reunited after Three('s Company) decades
February 2nd, 2012 under Reunions, Suzanne Somers. [ Comments: none ]





Back in 1981 Suzanne Somers was fired from Three's Company and she hasn't spoken to her TV roommate Joyce DeWitt since then. That is until now because the two women were reunited on Christmas Snow's new online talk show Breaking Through.
As soon as the two women met, all that hostility between the two of them seemed to disappear and they talked about what went wrong. Both women claim that she was let go from the show because of the male chauvinsim of the time and not the fact that she reportedly asked for a $120,000 an episode raise.
As cool as it was to see them together, I don't think we ever will again. That is until I assume that there is money or publicity in it for them.
BTW the saddest part about this video is that John Ritter was not able to be there with them. I still miss Jack Tripper and his amazing talent.

---