Superstore takes on systemic racism tonight
January 14th, 2021 under Superstore. [ Comments:

none

]

Superstore is back for the second half of their final season tonight at 8:30p on NBC, and the comedy is getting serious tonight. As serious as they can when it comes to taking on systemic racism because you have seen the show. It is why we love it.
The episode starts off with Dina (Lauren Ash) revealing a big change that corporate has made at Cloud 9. The black hair products will no longer be locked up. That starts off a whole debate on how that is the smallest thing corporate can do to fix racism in their stores.
Therefore, Dina, who is filling in for a self-quarantining Glenn (Mark McKinney), decides to hold a meeting to determine what can be done to improve things for the minority workers at their store. Garrett (Colton Dunn) becomes the unwilling leader on the task. Mostly because none of his co-workers get where he is coming from or understand how serious this matter is. However, Jonah (Ben Feldman) will try in his own special way. Sweet, sweet Jonah.
Glenn will also try to help, but it goes horribly wrong. Will Garrett finally be able to make a difference?
The thing about comedy is that they can take on something serious and teach you something without making you feel like they are preaching to you. That is what Superstore perfects tonight in this special episode. Then again every episode is perfect. What does have to end?
Order in some pizza and enjoy Nothing But Comedy with Mr. Mayor and Superstore tonight starting at 8p.

---
The doors are shutting on Superstore
December 4th, 2020 under Superstore. [ Comments:

none

]

Superstore is NBC's longest-running comedy. However, come this spring, it will be going up to the big Cloud 9 in the sky. After 6 seasons and 113 episodes, the show will air its final episode.
"We're grateful to Universal Television and NBC for letting us make 113 episodes of a show we're so proud of, and for giving us the chance to work with such an incredibly talented group of actors, writers and crew," said executive producers Justin Spitzer, Gabe Miller and Jonathan Green. "We're thankful most of all to the viewers who've stuck with us for the past six years (or discovered us somewhere along the way). We'll do our best to go out strong and give you the satisfying ending you deserve."
Personally, I wish they would have waited to see how the sitcom would do without America Ferrera as its lead before making this decision. I think it would have been fun to watch Dina (Lauren Ash) try to run the asylum, I mean, the Superstore.
The 11 final episodes begin airing on January 14th.

---
Amy says goodbye on Superstore. Does someone have COVID-19 on Connecting?
November 5th, 2020 under NBC, Superstore. [ Comments:

none

]

Tonight at 8p, Superstore celebrates its 100th episode on NBC. To celebrate the milestone, they are going to be saying goodbye to Amy. America Ferrara announced in February that she was leaving the show. However, her departure took a little longer because COVID-19 shut down production before she could get a proper farewell.
Tonight is her last day of work, and she and Jonah (Ben Feldman) are preparing for their move to California. Their co-workers don't want to see them leave; can they do anything to stop them. Obviously, they can't stop Amy, but will they be able to keep Jonah?
You have to tune in for an episode that gives at least one character a perfect sendoff.
BTW Am I the only one who will not miss her? Amy is too bossy, and I want these characters to run free and be the worst Cloud 9 employees they can be.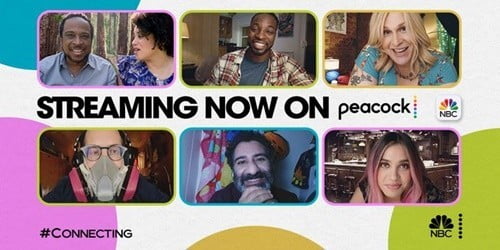 Over on Peacock and NBC.com, instead of, NBC at 8:30p is a new episode of Connecting…
In this episode, Ben (Preacher Lawson), Pradeep (Parvesh Cheena), Annie (Otmara Marrero), Ellis (Shakina Nayfack), Rufus (Ely Henry), Michelle (Jill Knox), and Garrett (Keith Powell) talk about going to attend their first Black Lives Matter protest.
Ben really wants to do it, but his mother (Loretta Divine) doesn't want him to because she fears he will get in trouble. She will get her wish when he gets sick. Does he have COVID-19? He will go and get the test to find out.
Since he can't march with his family, his brother-in-law Garrett goes in his place. Pradeep is going because one of his adopted toddlers is African American, and he wants him to learn about his race. Ellis is marching to support Black Trans people, while Rufus and Annie are attending for the cause. Shortly after they meet up, they all get lost in the crowd. When they get home and Zoom each other, they find out that one of them got arrested.
Which of the seven will spend time in jail? You just have to watch a powerful episode that shows how meaningful these rallies are and how they affect those who attend.

---
Superstore takes place in March, Connecting goes back to when we marched
October 29th, 2020 under NBC, Superstore. [ Comments:

none

]

Superstore is back on NBC tonight at 8p, and it takes place right when the pandemic was just starting out. That is because the sitcom never got to shoot its season finale due to the coronavirus pandemic emerging in the United States.
Amy (America Ferrera) just announced that she is starting a new job in California, and everyone wants to know if Jonah (Ben Feldman) is going to go with her. That is whenever they open up their offices again.
While corporate is closed, Cloud 9 is still open. Amy is doing both jobs, her old and new one. She is trying to help her co-workers adjust to working during a pandemic with no help from the big bosses. Therefore, they will come up with creative ways to remain safe. In a way, only they can.
I can't wait to see how they move forward with the show as the season goes on. I don't think many of us realized how bad all of this is on the big box workers. At least now they have representation on television like so many other frontline workers.
Then at 8:30p, Connecting picks up shortly after we were all horrified when we saw what happened to George Floyd. Michelle (Jill Knox) is taking it really hard. She doesn't have a lot of time to deal with it because she is working from home. It would not be that bad if she were dealing with just the job. However, she is also trying to figure out how to save all of her co-worker jobs too.
Her friends and her husband (Keith Powell) see how stressed she is, and they are trying to help her. However, they are stressed too, dealing with everything going on.
This is something we have all been going through over the last several months. Connecting is doing a brilliant job merging the real world with a fictional one and making it enjoyable. Watch it tonight and every Thursday after Superstore.

---
America Ferrera quits Superstore
February 29th, 2020 under Superstore. [ Comments:

2

]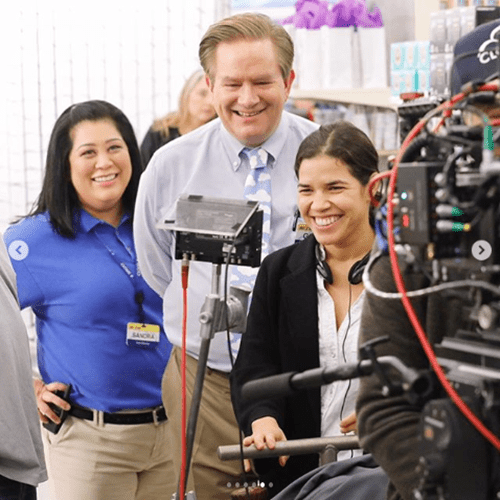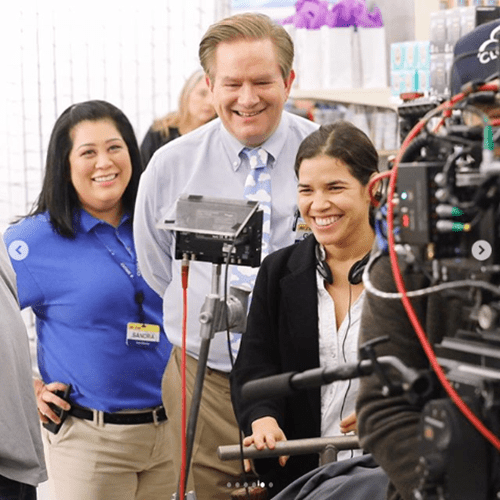 Yesterday, there was some shocking news from Superstore. America Fererra announced that she was leaving the NBC comedy as the end of this season.
The last five years on Superstore have been some of the most rewarding, enriching and enjoyable years of my career. Producing, directing and acting with this wonderful cast and crew has given me opportunities to grow as a person and storyteller. I'm so grateful to my partners at NBC and Universal Television for the support and belief they have always placed in the show, and I'm most thankful to the brilliant Justin Spitzer for creating the funny, smart and relevant world of Superstore and inviting me to be a part of it. As I start the next chapter for my family and career, I wish only the best, and much continued success, to my beloved Superstore family.
The actress is pregnant with her second child. Her first pregnancy was written into the show. Today is Sebastian turns 21 months. Therefore, you can understand her wanting to spend more time with her babies that will be about 2 years apart.
When it comes to her leaving the show, I am one of the rare people who will not miss her. I would love to see some of the other characters get more air time. That, and I hope they give Dina (Lauren Ash) her job. Could you imagine her in charge?

---