Cedric Yarbough shows us how exciting voice over work is!
June 26th, 2020 under Cedric Yarbrough, Speechless. [ Comments: none ]

Do you know that jingle at the end of Liberty Mutual ads that is a total earworm? Well, now we know who one of the singers is who gets that song stuck in our heads, and I am calling Reno 911 on Cedric Yarbough.
The Goldbergs' star showed us what it is like when he records that tune. Isn't the life of a voiceover artist exciting? It might not be, but it pays very well.

---
I think Cedric Yarbough needs a friend!
May 26th, 2020 under Cedric Yarbrough, Speechless. [ Comments: none ]

A few days ago, I was taking a shower, and Eric Carmen's All By Myself came on my playlist. As soon as I heard the song, I had a good cry. At that moment, I realized I don't want to be all by myself while quarantining during this coronavirus pandemic.
I thought I had it really bad. Then I saw this video of Cedric Yarbough posted. His excitement of coming home to be greeted by his Roomba is so, well, I just want to give him a hug. Especially after the robotic vacuum turns away from the Reno 911 star. That moment left me Speechless.
Can someone give Yarbough a pet? I'd give him my cat, but she is afraid of the pets he has now.

---
BTWF: Cedric Yarbrough on The Bernie Mac Show
May 21st, 2019 under Before They Were Famous, Cedric Yarbrough, Speechless. [ Comments: none ]

Before Cedric Yarbrough was a ladies' man on Speechless, he was settling down with his perfect woman on The Bernie Mac Show. Even when he was 31, he knew how to steal the scene in that 2005 episode. That and what sexy legs he has.
Yarbrough wrote this about filming that 2005 episode, "Goals of this scene: 1) Show how little Jordan hates Monroe. 2) Let Cedric just improvise the whole scene & try to crack Bernie. I got 'em after the 1st yodel. Man, to make #BernieMac genuinely laugh, someone who had made millions of people gut-bustingly laugh for many years, including me, you feel like you won. Shout out to lil #JeremySuarez for being such a hater. & yes, there's something wrong with me. #TheBernieMacShow #Improv #improvcomedy #ripberniemac #countrymusicsucks #legs"
Side note: I still miss Bernie Mac. He will always be one of the nicest people I ever interviewed. And I am also still pissed that ABC cancelled Speechless. However, I doubt Yarbrough will be showless for a long time.

---
Speechless' Micah Fowler can stand on his own!
March 5th, 2019 under Speechless. [ Comments: none ]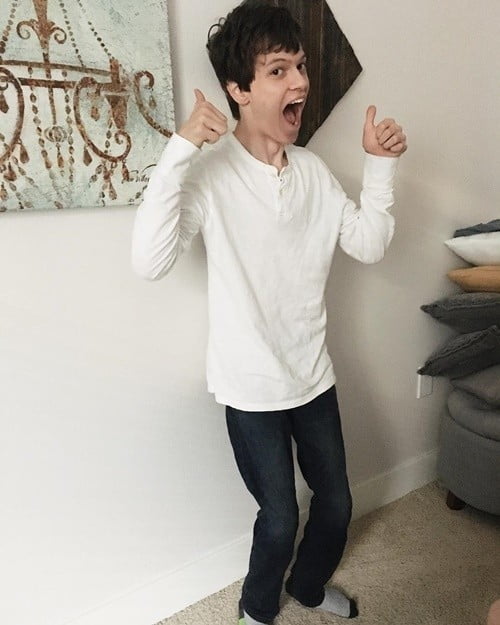 Micah Fowler not only plays a person with cerebral palsy on Speechless, but he also has it. Yesterday, he shared the above photo and revealed a big accomplishment he has been making. He explained, "I have the day off so I'm practicing my balance against the wall! Been working hard with my trainer this season! #progress 😃" Unbelievable progress!
Today, is his 21st birthday and he has so much more to celebrate than being able to drink legally, he also gets to celebrate this huge achievemnt.
I don't know the actor personally, but I am so proud of him. I love his never give up spirit. We can all learn from him and we should.

---
ABC's old TGIF stars with the new ones
September 20th, 2018 under ABC, Bronson Pinchot, Danielle Fishel., Speechless. [ Comments: none ]

Last year, ABC didn't think that they needed sitcoms on Friday and they were very wrong. Therefore, they are making TGIF a thing again.

Remember in the '90s our Fridays nights were full of Perfect Strangers, its spinoff Family Matters and Boy Meets World? Now in 2018, it is about '90s based sitcom Fresh Off the Boat and modern-day's Speechless.

Thus, someone at ABC thought it would be cool to merge the two eras with stars from the past and present. They are PS's cousins Bronson Pinchot and Mark-Linn Baker, everyone's favorite dad Reginald VelJohnson from FM, BMW teen dream queen Danielle Fishel, FOB's Constance Wu and Randall Park, and Speechless' John Ross Bowie and Cedric Yarbough.

You know if ABC were smart, they would do a massive revival of their old shows. Seeing the stars from yesteryear makes me miss them and Dinosaurs. I want my baby back because you gotta love him!

Until then I will be spending my Fridays with Fresh Off the Boat and Speechless starting on October 5th at 8p.

---