Ian Ziering and Tara Reid go from Sharknado to Shark Week
June 25th, 2021 under DIscovery Networks/Discovery+, Sharknado, Tara Reid. [ Comments: none ]
Now that Sharknado has run its course, the movies' stars are free agents. Therefore, they are jumping sharks from Syfy for Discovery. Ian Ziering and Tara Reid are joining Shark Week, which begins on July 11th.
The Real Sharknado, which debuts on July 14th, is described as: We have all seen the movies, sharks jumping into boats, circling in tornados, and risking their lives to attack humans. Could these shark feasts happen? Ian Ziering and Tara Reid pick up their chainsaws once again – this time with the help of Dr. Tristan Guttridge and to see if a real Sharknado could happen.
To see what other shows and celebrities like Dr. Pimple Popper, Tiffany Haddiash, and the Jackasses are going to be part of Shark Week this year, then click here!

---
Is there a new Sharknado movie in the works?
May 12th, 2021 under Sharknado, Tara Reid. [ Comments: none ]
Ian Ziering shared a photo of himself with his telemovie wife Tara Reid on a plane going to the Bahamas and said, "Who wants more Sharknados?"
There is only one problem. Syfy said that the sixth movie would be the franchise's last one. However, can you take anything anyone says seriously when it is related to a movie about sharks being hurled out of a tornado? Therefore, I say bring it on! I want and need more Sharknado!
Do I think they are doing another movie? Nope. I think they are probably doing a convention or a reunion thingy, but I hope I am wrong. Do want a seventh film? If Jason Vorhees can go to Space and Hell, why can't Sharknado come back after being erased in time?

---
Ian Ziering goes from a Sharknado to a Zombie Tidal Wave
June 26th, 2019 under Sharknado. [ Comments: none ]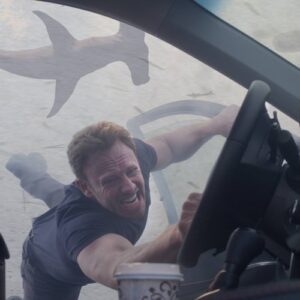 Now, that Sharknado is dead like the sharks that Ian Ziering chainsawed his way out of, the actor needs another weather related, creature feature to keep him busy. Crashing onto Syfy on August 17th is Zombie Tidal Wave.
The telemovie is directed by Anthony C. Ferrante, who also did the movies with sharks in tornadoes. What is it about? As if the title is not a giveaway. It is described as, "A zombie-slinging tidal wave hits a small town causing maritime mayhem."
In other words, stupid fun. Things we need more of.
If it is what you want, then watch it. If enough of us do, then we will get more of this ridiculousness. Which they are already planning for even though it has not yet aired.
Zombie Tidal Wave is part of their Shark Week movies that includes all of the Sharknadoss and two of the multi-headed sharks.

---
Watch all 170 deaths from Sharknado
September 7th, 2018 under Sharknado. [ Comments: none ]

In five years, there were six Sharknado movies and the sharks killed 170 people all over the world and throughout time.
No, I do not know that number off the top of my head. I know it because Syfy put a montage together of every single kill. Those deaths are original as the concept of having killer sharks rain down on people via tornadoes.
Sadly, there is only one person who never died in the run of the franchise. But I guess at least one person has to survive.

---
Sharknado is riding off into the sunset
March 28th, 2018 under Sharknado. [ Comments: none ]

Back in 2013, Sharknado became an international sensation. This year, Ian Ziering and Tara will try to defeat one more tornado full of sharks. TV Line is reporting that the 6th movie will be it last one.

If you are going do a final movie, you have to make it one for the ages. How will they do it? They will be traveling through time, so it literally is one for the ages.

I am sad to see it go, but I know it will go out just like it came in. Awesomely awful!

---