The Sanderson Sisters are ready to take the stage to do their Hocus Pocus
June 28th, 2022 under Bette Midler, Disney+, Sex and the City. [ Comments: none ]
Disney+ released the first trailer for Hocus Pocus 2; and I can already hear the excitement to see Sarah Jessica Parker, Bette Middler, and Kathy Najimy reprise their roles as the Sanderson Sisters on September 30th.
The sequel is described as "It's been 29 years since someone lit the Black Flame Candle and resurrected the 17th-century sisters, and they are looking for revenge. Now it is up to three high-school students to stop the ravenous witches from wreaking a new kind of havoc on Salem before dawn on All Hallow's Eve."
Did you broom stand at attention after you watched the teaser?
And am I the only one who has never seen the original and has no interest in ever seeing it?

---
Sarah Jessica Parker tests positive for COVID-19 2 days after Matthew Broderick
April 7th, 2022 under Broadway, Coronavirus, Sex and the City. [ Comments: none ]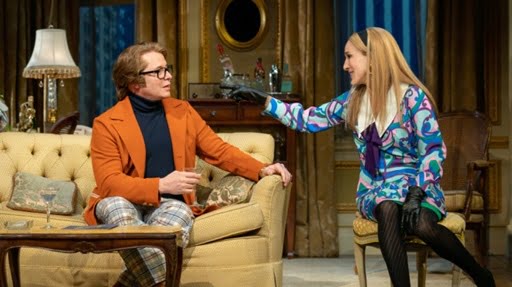 Last week, the curtain finally went up on Sarah Jessica Parker and Matthew Broderick's take of Plaza Suite on Broadway. However, this week, the lights are off for a few performances. That is because the couple and co-stars have both tested positive for COVID-19.
"With both Matthew Broderick and Sarah Jessica Parker positive for COVID, tonight's performance of 'Plaza Suite' is canceled," the show's producers said in a statement to Variety. "The producers apologize for the inconvenience this has caused audience members. Ticket holders should contact their point of sale to reschedule for a future performance or obtain a refund. Everyone wishes Matthew and Sarah Jessica a speedy recovery."
Broderick got his results right before showtime on Tuesday, and his wife got the same diagnosis today.
Producers did not say when the show will go on again. But, I have a feeling they will wait until they both can resume the production together.

---
And just like that, And Just Like That gets a second season
March 22nd, 2022 under Sex and the City. [ Comments: none ]
HBO Max gave Sex and the City a sequel series called And Just Like That. Even though it wasn't as well-received by the fans, the series still had a lot of them. Therefore, the streaming service announced today that it will be back for a second season.
Sarah Aubrey, Head of Original Content, HBO Max, said, "We have been delighted by the cultural conversation generated by these characters and their stories, set in a world we already know and love so much. We are proud of the work Michael Patrick King and our wonderful writers, producers, cast and crew have done to bring these stories to the screen. We can't wait for fans to see what's in store for season 2!"
If HBO Max is smart, then they will stop listening to Cynthia Nixon, who turned the drama into her personal soapbox. We get enough of that IRL. We don't need it during our break from it.
Are you having a Cosmo in honor of the renewal, or do you want to throw it on them?

---
Chris Noth edited out of the And Just Like That… finale
January 5th, 2022 under Sex and the City. [ Comments: none ]
Chris Noth's character, Mr. Big, was killed off in the series premiere of the Sex and the City sequel And Just Like That… Therefore, we thought he was done with appearances on the show. It turns out he was supposed to appear in the season finale.
Well, since the time that he was killed off and the episode that airs on February 3rd, several women have accused Noth of sexual assault. Therefore, the show wants to distance itself from him. So, according to TV Line, he has been edited out of a dream-like sequence with Carrie after she spreads his ashes.
I don't think anyone will fault the show for doing that. Just like no one faults CBS for firing the actor from The Equalizer after the accusations.

---
Did the Chris Noth scandal hurt And Just Like That's chances for a second season?
December 30th, 2021 under Sex and the City. [ Comments: none ]
Sex and the City is back with the sequel And Just Like That on HBO Max, and fans are watching it. So you would think a second season is a given. However, Us Weekly is reporting it might be in trouble because of the Chris Noth scandal of him allegedly sexually assaulting multiple women.
"There was talk about doing another season, but after the past few days all those conversations have stopped," a source explained to the magazine. "Everyone is raw."
I am sure it will go on. It is not like Noth is part of the series anymore since they killed him off. So I can't see why it wouldn't get a second season unless Sarah Jessica Parker, Cynthia Nixon, and Kristen Davis don't want to do it.
Maybe they can give Samantha her own show about her life in London instead. That is what I would watch.

---