And just like that…Sarah Jessica Parker adopted her TV kitten
August 29th, 2023 under Sex and the City. [ Comments: none ]
There was a lot to hate about And Just Like That this season, but there was one thing to love. That thing was Carrie Bradshaw's kitten Shoe. And Sarah Jessica Parker loved him so much that she adopted him in real life, just like she did on the Sex and the City spinoff.
"His off-camera name is Lotus," the actress wrote. "He and his siblings were all given botanical names when they were rescued as newborns by the @cthumanesociety. Adopted officially by the Parker/Broderick family in April 2023. He joins Rémy and Smila whom we adopted in May 2022. If he looks familiar, that's because he is."
Now that Shoe, I mean, Lotus lives with the lead; I have a feeling we will be seeing a lot more of him during season 3. That is if we are still watching.
Congrats to the family of eight! May they enjoy all of their nine lives together.

---
And Just Like That Samantha Jones returned to say goodbye
August 24th, 2023 under Kim Cattrall, Sex and the City. [ Comments: none ]
I didn't watch Sex and the City, so I am not going to watch And Just Like That. But that doesn't mean I don't know what is going on with the series.
Like every other female in America over a certain age, I knew that Kim Cattrall was making a cameo in the season 2 finale of And Just Like That after saying she would never return to the franchise. So, I wanted to see that.
Since I already have too many streaming services, I don't subscribe to Max. Therefore, I was going to have to wait until someone uploaded Samantha Jones' anticipated return to the internets.
And just like that, here it is. The actress returned in true Samantha fashion to say goodbye to Carrie's apartment since the writer sold the place that held so many fond memories for the four of them.
What did you think of Cattrall's scene? I think it was fucking fabulous.

---
And just like that And Just Like That gets a third season
August 22nd, 2023 under Sex and the City. [ Comments: none ]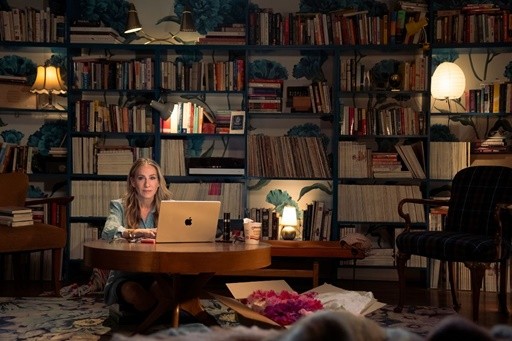 This Thursday, Samantha Jones (Kim Cattrall) returns to And Just Like That for the season 2 finale. And she is bringing some good news with her. The Sex and the City sequel will be back for a third season.
Executive Producer Michael Patrick King said, "We are thrilled to spend more time in the 'Sex And The City' universe telling new stories about the lives of these relatable and aspirational characters played by these amazing actors. And Just Like That… here comes season three."
The news isn't really a surprise because it is Max's #1 original series. Even though a lot of the SATC fans are hate watching it due to it not being as good as the original.
Are you happy they are bringing it back for a charming season, or were you hoping it would get cancelled?

---
Who was Sarah Jessica Parker to make these demands before Sex and the City started?
June 30th, 2023 under Howard Stern, Sex and the City. [ Comments: none ]
Sarah Jessica Parker was on Howard Stern's radio show, and he asked her why she was never nude on Sex and the City. And that led to a conversation about the other demands she had before she would agree to do the series.
Parker was told by her agent that Darren Star was writing the script with her in mind, and he wanted to meet with her. So when she went to meet him, she told him she would not do any nude scenes. The EP told her that is fine.
Stern asked her why she didn't want to do them. And she explained to him that she was shy, and it had nothing to do with body image or morality.
That was her first demand. The second one is that she didn't want her character to curse. She felt that Bradshaw was a writer and she would be thoughtful when she uses her words. So she wouldn't curse in everyday conversation. And when she did, it would make more of an impact.
Finally, as a movie actress, she was afraid to take on a role on the male-dominated network. So the heads of HBO told her that if you don't like it, then we will end it after the first season.
I am about to go on a rant. As a fan of Girls Just Want to Have Fun, who was she when the show came out? Her movies were flops. Square Pegs, and I love Valley Girls, doesn't hold up. So who was she to be like I won't do this, and I won't do that?
Was she worth it when there were so many better actresses out there? I mean, she was a name, but so were so many others who don't have such a nasally voice.
I don't get it. But I didn't watch Sex and the City. I preferred watching Queen as Folk because I like watching naked men over women.
And now, I am going to be a bitchy woman. This week, I watched interviews with Kim Cattrall and Sarah Jessica Parker. Cattrall came off as someone you want to be friends with, and Parker came off as a snobby bitch. So I will forever be Team Samantha!
I feel better now.

---
Will Kim Cattrall dip her toe in the Sex and the City water again?
June 29th, 2023 under Kathie Lee and Hoda, Kim Cattrall, Sex and the City. [ Comments: none ]
Last month, we got the news that even though Kim Cattrall said she would never put on Samantha Jones' stilettos again, she will do it one more time on this season of And Just Like That.
Tomorrow, the actress will be on Hoda & Jenna and will talk to them about what it was like filming her one scene. She told the co-anchors, "It felt like dipping my toe back in time and having a wonderful afternoon and then a great martini."
With that, Bush wanted to know what we all want to know. Does it make her want to return to the show that was such a big part of her life?
Without hesitation, Cattrall put out her arm to say stop and said, "That is far as I am going to go."
So is the star saying goodbye to Samantha during her scene? "I don't think I will ever say goodbye to Samantha," she said. "I get very emotionally attached and protective of my characters. She gave me so much, and I am appreciative of her."
And we are appreciative of what Cattrall gave us as Samantha Jones. Who is hands down the best character to come from the series.
When it comes to if I think the show will be back for a third season. If the negative fan reaction is any hint, I doubt it.

---