BTWF: Kim Cattrall in Good Against Evil
August 24th, 2023 under Before They Were Famous, Kim Cattrall. [ Comments: none ]
Before Kim Cattrall's soul was trapped in a Mannequin, her daughter was possessed by a demon in Good Against Evil. How beautiful was the 20-year-old in that 1977 movie?

---
And Just Like That Samantha Jones returned to say goodbye
August 24th, 2023 under Kim Cattrall, Sex and the City. [ Comments: none ]
I didn't watch Sex and the City, so I am not going to watch And Just Like That. But that doesn't mean I don't know what is going on with the series.
Like every other female in America over a certain age, I knew that Kim Cattrall was making a cameo in the season 2 finale of And Just Like That after saying she would never return to the franchise. So, I wanted to see that.
Since I already have too many streaming services, I don't subscribe to Max. Therefore, I was going to have to wait until someone uploaded Samantha Jones' anticipated return to the internets.
And just like that, here it is. The actress returned in true Samantha fashion to say goodbye to Carrie's apartment since the writer sold the place that held so many fond memories for the four of them.
What did you think of Cattrall's scene? I think it was fucking fabulous.

---
Will Kim Cattrall dip her toe in the Sex and the City water again?
June 29th, 2023 under Kathie Lee and Hoda, Kim Cattrall, Sex and the City. [ Comments: none ]
Last month, we got the news that even though Kim Cattrall said she would never put on Samantha Jones' stilettos again, she will do it one more time on this season of And Just Like That.
Tomorrow, the actress will be on Hoda & Jenna and will talk to them about what it was like filming her one scene. She told the co-anchors, "It felt like dipping my toe back in time and having a wonderful afternoon and then a great martini."
With that, Bush wanted to know what we all want to know. Does it make her want to return to the show that was such a big part of her life?
Without hesitation, Cattrall put out her arm to say stop and said, "That is far as I am going to go."
So is the star saying goodbye to Samantha during her scene? "I don't think I will ever say goodbye to Samantha," she said. "I get very emotionally attached and protective of my characters. She gave me so much, and I am appreciative of her."
And we are appreciative of what Cattrall gave us as Samantha Jones. Who is hands down the best character to come from the series.
When it comes to if I think the show will be back for a third season. If the negative fan reaction is any hint, I doubt it.

---
Michael Patrick King confirms Samantha is only one And Just Like That scene
June 21st, 2023 under Andy Cohen, Kim Cattrall, Sex and the City. [ Comments: none ]
Spoiler alert. In case you have been living under a rock. Kim Cattrall is going to reprise her role as Samantha Jones on the upcoming season of And Just Like That.
No one thought it was going to happen because Kim Cattrall has been adamant that she would never play the role again. But never say never. Because she is coming back, bitches.
However, it is only for one scene. Yesterday, when Sex and the City creator Michael Patrick King was on Radio Andy, he talked about her guest appearance being leaked to Andy Cohen. Although he is saddened that the news got leaked, he did find a silver lining. Now, fans have no expectations she will be back for season 3. That is if they get one on Max.
In fact, King told Cohen it was a surprise she agreed to do it. And he had no idea she would do it at the start of the second season. But then she magically agreed to do it, and he magically made it happen.
And the rest is something Carrie Bradshaw would narrate as another chapter in her book. Yeah, I never watched either series.

---
Surprise! Samantha is back in the City on And Just Like That
May 31st, 2023 under Kim Cattrall, Sex and the City. [ Comments: none ]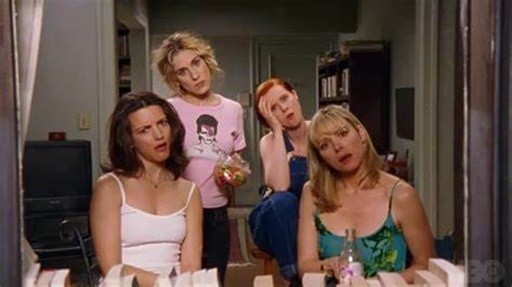 Kim Cattrall has said she would never do anything Sex and the City related again. But as we know, you should never say never.
That is because Cattrall will reprise her role as Samantha Jones for one little scene in the season 2 finale of And Just Like That on Max.
According to Variety, she shot the scene on March 22nd and did not interact with her old co-stars, Sarah Jessica Parker, Kristen Davis, Cynthia Nixon, and boss, Michael Patrick King.
We also know that she will be talking to Carrie Bradshaw on the phone. Even though the season premiere is on June 22nd, we won't know what their conversation is about until August.
But that is not the conversation I am interested in. Instead, I want to know what Casey Bloys, the chairman and CEO of HBO and Max Content, said to her to get her to do it. And how much they paid her. Hopefully, it will be more than SJP gets because Cattrall deserves it.

---