Does Scott Wolf have a huge poster of himself in his house?
March 22nd, 2019 under Scott Wolf. [ Comments:

none

]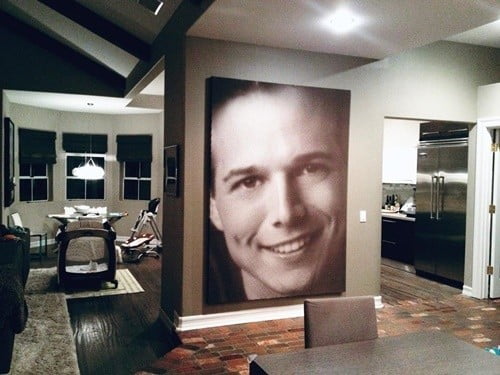 I always think of Scott Wolf as a humble actor who is not vain. However, this photo from his home has me rethinking things. Should I be?
He explained, "This giant photo of my face used to live at the @foxtv executive offices. It was given to a buddy of mine as kind of a practical joke. I asked him for it. One night a few years back, in a house we rented in LA, we had a dinner party for a big group of new friends, and I hung it up. I said nothing about it, forcing everyone there to deal with it on their own. To deal with the fact…that I was that guy. No one said a word about it all night. For a few hours, I was that guy. I tried as often as possible to converse with people right in front of it. It was one of my favorite nights ever. After dessert, I let everyone know they had been part of a little social experiment. That my giant face was only up for the night, and for them. Their relief was overwhelming. TBH, I was kinda relieved too. I had been holding in a lot of laughter. And some shame. 😆 Full disclosure, I left it up for a while. It's a great picture."
Personally, if I were him, I would keep it up all the time. He had fun that one night, why not do that all the time?
While he does not have a wall-size photo of himself hanging on his wall, you know there are a lot of celebrities who do. Who do you think loves themselves that much? Besides the current President of the United States, of course.
---
Is Scott Wolf really 50?
June 7th, 2018 under Are they really their age?, Scott Wolf. [ Comments:

1

]

Scott Wolf has been acting for over 25 years and we know that his face has not aged day since then. Today, we found out, neither has his body. The actor posted the above photo and wrote, "If posting a shirtless selfie at 50 years old is wrong…I don't want to be right. #thisis50 #youbetyourassidid."

That is right, Bailey Salinger is the Big 5-0! Can you believe that he turned half a century on Monday because he sure as heck does not look it? Neither does that party of five he has going on his abs. Who knew he had all of that going on? He needs to do more topless scenes because it gives me a reason to watch! What do you think?
---
The many cute faces of Scott Wolf and his daughter!
May 16th, 2018 under Scott Wolf, The Many Faces of. [ Comments:

none

]

Scott Wolf and his daughter Lucy took several photos of themselves making the same exact faces and they are so sweet I got a cavity. Seriously, how precious are the nearly 4-year-old and her dad mimicking each other's expressions.

She is such his mini-me, I would not be surprised if she followed in his footsteps. Hollywood is full of wolves, what is one more? Cause his last name is Wolf, get it?
---
Scott Wolf apologizes to Jennifer Love Hewitt
July 3rd, 2017 under Andy Cohen, Jennifer Love Hewitt, Scott Wolf. [ Comments:

none

]

Last week, Scott Wolf and Neve Campbell were on Watch What Happens Live and Andy Cohen asked them for some Party of Five gossip. Bailey revealed that his former-TV girlfriend Jennifer Love Hewitt was the one who hooked up with the most fans out of all of the cast members.
But then on Saturday, he took Twitter and said, "The joke I made about @TheReal_Jlh on @BravoWWHL was absurd and obviously not true. She's awesome, these are JOKES people. Sorry Love! Xo." I guess Love was not showing him the love for that joke. I know, I thought it was real.
Now that we know he was joking about her dating the most fans, I wonder who was the one who seriously got it on with their fans the most? Things that make you go hmmmmm? Or should I say howl like a wolf?
---
Scott Wolf says Jennifer Love Hewitt hooked up with the most PO5 fans
June 28th, 2017 under Andy Cohen, Jennifer Love Hewitt, Scott Wolf. [ Comments:

none

]

Andy Cohen had a mini Party of Five reunion on Watch What Happens Live yesterday and he asked Neve Campbell and Scott Wolf to share some behind the scenes gossip.
Did you know that Bailey got it on with the nanny aka Paula Devicq when the cameras were not rolling? Or that he got the most action off camera? What about Matthew Fox being the biggest partier of the Salingers? While Jennifer Love Hewitt was the one who partied the most with the fans. I never would guessed that because she seems so innocent. Oh well, she made a lot of fans happy and that is all that matters. Granted, I am sure that Wolf's reveal will make her feel the opposite of her middle name towards her co-star. Which you cannot blame her.
Seriously, why have they not done a revival of this drama? Besides the fact that Wolf says he is not up for one just yet. The fans would love it, don't you agree?
---