[ # ] Does Scott Wolf have a huge poster of himself in his house?
March 22nd, 2019 under Scott Wolf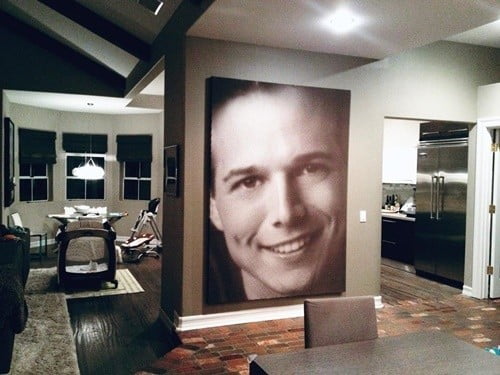 I always think of Scott Wolf as a humble actor who is not vain. However, this photo from his home has me rethinking things. Should I be?
He explained, "This giant photo of my face used to live at the @foxtv executive offices. It was given to a buddy of mine as kind of a practical joke. I asked him for it. One night a few years back, in a house we rented in LA, we had a dinner party for a big group of new friends, and I hung it up. I said nothing about it, forcing everyone there to deal with it on their own. To deal with the fact…that I was that guy. No one said a word about it all night. For a few hours, I was that guy. I tried as often as possible to converse with people right in front of it. It was one of my favorite nights ever. After dessert, I let everyone know they had been part of a little social experiment. That my giant face was only up for the night, and for them. Their relief was overwhelming. TBH, I was kinda relieved too. I had been holding in a lot of laughter. And some shame. 😆 Full disclosure, I left it up for a while. It's a great picture."
Personally, if I were him, I would keep it up all the time. He had fun that one night, why not do that all the time?
While he does not have a wall-size photo of himself hanging on his wall, you know there are a lot of celebrities who do. Who do you think loves themselves that much? Besides the current President of the United States, of course.

---