Chucky is back on October 12th
July 16th, 2021 under Syfy. [ Comments:

none

]
Halloween is coming early this year because Chucky, the television series, is debuting on SYFY and USA on October 12th. So mark your calendars because you don't want to miss our favorite killer doll killing people on a weekly basis.
Especially since his Geppetto, Don Mancini. is the man behind the series. Not only is he involved with the show, so is Chucky's Bride, Jennifer Tilly.
It is going to be a long three months, but it will be like Christmas in October when the show finally debuts.

---
Bring It On gets a horror sequel!
May 17th, 2021 under Syfy. [ Comments:

none

]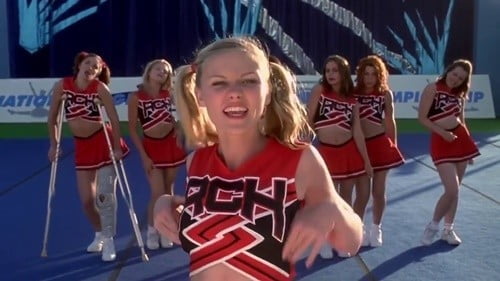 Back in 2000, Universal gave us something to cheer about, a movie called Bring It On. Since then, it has had four sequels made: Bring It On: All or Nothing (2006), Bring It On: In It to Win It (2007), Bring It On: Fight to the Finish (2009), Bring It On: Worldwide Cheersmack (2017).
Next year, it is getting a fifth one on Syfy. But isn't Syfy a horror channel? Yes, it is. And Bring It On: Halloween is going to be a scary one. What is scarier than dueling cheerleaders? This is, "Held down by restrictive rules, an embattled cheerleading squad seeks the freedom of a creepy, closed school gym to practice for regionals, but when members of the squad start to disappear, the cheerleaders must unmask their assailant to save themselves."
Please let the murderers be Gabrielle Union and Kirsten Dunst. Then, I say bring that on.
After that, I want to see a horror sequel for American Pie and call it Band Camp Killer. Every time someone has sex, they get murdered by a different instrument.

---
Alan Tudyk is a lovable Resident Alien who wants to kill us all
January 27th, 2021 under Syfy. [ Comments:

none

]

Tonight at 10p, you are going to fall in love with Resident Alien on Syfy. There is a new doctor in Patience, Colorado, and he is alien to their ways. I mean, he is an alien.
A few months ago, Captain Hah Re (Alan Tudyk) crashed down onto Earth, and he took on the body of Dr. Harry Vanderspeigle. Now, he is stuck here because he lost the device he needs to complete his mission.
The doctor recently moved to the small town and remained a hermit in his cabin. Therefore, no one noticed that the alien killed him and took over his body. However, when the town doctor is murdered, they come to Vanderspeigle to find out what happened. Now, not only does he have to pretend to be human, but he also has to pretend to be a doctor. Good thing he watched all of those Law & Order marathons. Will they be enough to convince the town that he is the man whose skin he is in?
Sara Tomko (Asta Twelvetrees) was the doctor's nurse. She can sense there is something off with the new doctor, but she likes him and his quirky ways. Like him, she never felt like she belonged in her small town. Therefore, she is always there to back him up. Something that he is going to need quite often because Law & Order didn't prepare him for interacting with humans.
There is one human he cannot interact with, and that is Max (Judah Prehn). He is an 8-year-old boy who can see that Vanderspeigle is an alien. He tries to tell everyone the truth, including his father, the Mayor (Levi Fiehler), but no one believes him.
Even the town Sheriff (Corey Reynolds) thinks the kid is lying. However, he doesn't like the new resident. Then again, he doesn't like anyone. He is one of those smalltown sheriffs that is really tough and loves being in charge. Thankfully Deputy Liv Baker (Elizabeth Bowen) is the opposite of him.
Vanderspeigle is going to need all the help he can get to fit in with all of these humans. Fitting in is something that is going to be hard for him. That is until he tries some alcohol. Drunk Vanderspeigle is the best thing.
Actually, everything is the best thing when you watch him trying to adapt to our ways. Tudyk is just so endearing as he plays this alien whose mission is to destroy Earth, but he cannot let the Earthlings know that. He is a douchebag, but a lovable douchebag.
Will the douchebag have a change of heart the more he interacts with humans? Will they rub off of him, or will they convince him he is doing the right thing?
Most Sci-Fi shows lose their likability after the pilot, not Resident Alien. It gets more and more delightful with each episode. It is unlike anything else on television, and boy do we need it.
I am enjoying this show so much; I am going to declare that it is the best new show of the season. Nothing even comes close to it.

---
Chucky will be killing it on the small screen
July 16th, 2020 under Syfy. [ Comments:

none

]

Last year, Chucky was back with a reboot, and it was atrocious. Thankfully, the killer doll's dad, Don Mancini, reunited with his creation for Syfy and USA Network. Today, we are getting the first look at the series that is going to be so killer; it needs to air on two networks.
What can we expect from the small screen version of Child's Play? The press release says, "In the new CHUCKY television series, after a vintage Chucky doll turns up at a suburban yard sale, an idyllic American town is thrown into chaos as a series of horrifying murders begin to expose the town's hypocrisies and secrets. Meanwhile, the arrival of enemies — and allies — from Chucky's past threatens to expose the truth behind the killings, as well as the demon doll's untold origins as a seemingly ordinary child who somehow became this notorious monster."
Just when we thought that 2021 was going to be so much better than this year, we have another reason to look forward to it. That reason is an innocent looking red head doll that is guilty as hell.

---
Zombie Tidal Wave is a different type of Zombie movie
August 17th, 2019 under Syfy. [ Comments:

none

]

Now that Sharknado has concluded its run, Ian Ziering has a new killer natural disaster to deal with. Tonight at 9p on Syfy, he takes on a Zombie Tidal Wave.
Hunter Shaw (Ziering) is a boat captain, who lives in a sleepy island. They are about to wake up to a nightmare after an earthquake stirs up something in the sea. A boat with a secret that sunk around 35 years ago is woken up by the shaking ground. The quake sends her contents into the water and creates Zombies that are unlike any we have seen.
Shaw and his co-captain Ray (Shelton Jolivette) are the first to witness the Zombies that are unlike all the other ones we have seen in the past. Ray's niece was bitten by one them, so he takes her to the hospital because, at the time, they do not know what bit her. Shaw, on the other hand, goes to Sheriff Kameo Akoni (Erich Chikashi Linzbichler) for help.
While they are out in the water, they find themselves surrounded by swimming Zombies. As if things could not get any worse for them, the quake set off a tsunami. That tidal wave brings all of those undead to the island.
Now they are undead are making the living just like them. Will Shaw and his men be able to stop these indestructible creatures. Or will they find themselves just like them?
While this is not Sharknado, it is still an enjoyable Zombie feature that changes up the formula that has been done to death. Looks like Ziering, director Anthony C. Ferrante and writer Thunder Levin have another franchise on their hands. Can't wait to see what they do next summer.

---