Resident Alien crashes back down to Earth on January 26th
December 9th, 2021 under Alan Tudyk, Syfy. [ Comments: none ]
Syfy announced today that Resident Alien will debut its second season on January 26th at 9p. Along with the season premiere, it is going to be joined by the new series Astrid and Lilly Save the World at 10p. Together the combo is creating a Wednesday night of must-watch TV.
Resident Alien is a huge hit, and people are loving the unlovable alien that is played by Alan Tudyk. I want to tell you more about the program, but it is something you have to experience blindly. All I will tell you is that you are going to love it and laugh a lot at things you shouldn't. So, if you haven't seen it, then watch the first season on Syfy.com, the app, and OnDemand.
Then at 10p, we get to meet Astrid and Lilly, two high school BFFs who aren't very popular. After they go to a party and get humiliated, they do a spell that opens a portal that sets things in motion for the apocalypse. Now, they have to fight evil forces to save the World. Can they do it?
We spent the last few years dealing with an evil President who wanted to end the World and a pandemic that made it seem like a reality. So watching two shows that are about the end of the World seems fitting.

---
More people die on New Amsterdam than Chucky tonight
November 23rd, 2021 under Chucky, NBC, Syfy, USA Network. [ Comments: none ]
Last week on Chucky, Junior (Teo Briones) and Devon (Björgvin Arnarson) both lost their moms to the killer doll. Tonight at 10p on Syfy and USA Network, Junior, Devon, Jake (Zackary Arthur), and Lexy (Alyvia Alyn Lind) deal with the ramifications of their deaths in different ways.
Devon is over his fight against Chucky as he prepares for his life without his mom. Junior doesn't know about Chucky, and he handles his grief differently. Lexy and Jake will continue the war, but how much longer can they do it, and how much more blood needs to be spilled? All I will tell you is that someone doesn't make it to the credits.
Meanwhile, we get more of Charles Lee Ray (Brad Dourif) and Tiffany's (Jennifer Tilly) backstory. We might go into the past for that, but in present-day Tiffany collides with Junior's dad (Devon Sawa) at the funeral. What does she want from the Wheeler family?
All leads to a shocking ending that will make you wish that it was next week to see what happens next.
If you are not watching Chucky, you are missing the best new horror show in a really long time.
Also at 10p, but on NBC is New Amsterdam. It is Max (Ryan Eggold) and Helen's last day at New Amsterdam (Freema Agyeman). What could go wrong? A superbug invades the hospital, and patients are dying on every floor. Will it be enough to convince them to stay? All I will say is that we will know their decision at the end of the episode.

---
Slumber Party Massacre is suspenseful slasher movie!
October 16th, 2021 under Syfy. [ Comments: none ]
Back in 1982, there was a little horror movie called Slumber Party Massacre. It became such a hit that Syfy rebooted it. Tonight, at 9p, you get to see their take on the cult classic.
Back in 1993, Trish (Schelaine Bennett) and her friends went to a cabin for the weekend. While they were there, a man with a drill killed all of her friends.
Now, nearly 20 years later, Trish's daughter Dana (Hannah Gonera) and her friends are going to a cabin for the weekend. While they are there, they meet some boys who are staying at a nearby cabin.
Shortly after they meet up, the driller comes for them. Now one by one, they are starting to die off.
Will any of them survive the night? You will have to tune in for a remake that is better than the original.

---
Chucky is back on October 12th
July 16th, 2021 under Chucky, Syfy. [ Comments: none ]
Halloween is coming early this year because Chucky, the television series, is debuting on SYFY and USA on October 12th. So mark your calendars because you don't want to miss our favorite killer doll killing people on a weekly basis.
Especially since his Geppetto, Don Mancini. is the man behind the series. Not only is he involved with the show, so is Chucky's Bride, Jennifer Tilly.
It is going to be a long three months, but it will be like Christmas in October when the show finally debuts.

---
Bring It On gets a horror sequel!
May 17th, 2021 under Syfy. [ Comments: none ]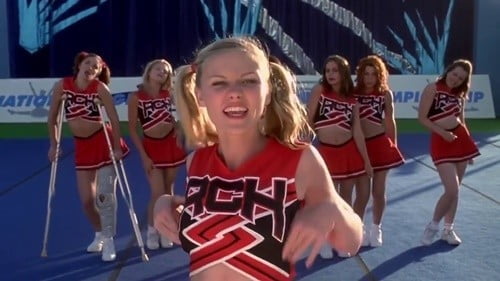 Back in 2000, Universal gave us something to cheer about, a movie called Bring It On. Since then, it has had four sequels made: Bring It On: All or Nothing (2006), Bring It On: In It to Win It (2007), Bring It On: Fight to the Finish (2009), Bring It On: Worldwide Cheersmack (2017).
Next year, it is getting a fifth one on Syfy. But isn't Syfy a horror channel? Yes, it is. And Bring It On: Halloween is going to be a scary one. What is scarier than dueling cheerleaders? This is, "Held down by restrictive rules, an embattled cheerleading squad seeks the freedom of a creepy, closed school gym to practice for regionals, but when members of the squad start to disappear, the cheerleaders must unmask their assailant to save themselves."
Please let the murderers be Gabrielle Union and Kirsten Dunst. Then, I say bring that on.
After that, I want to see a horror sequel for American Pie and call it Band Camp Killer. Every time someone has sex, they get murdered by a different instrument.

---