Tom Hanks plays the perfect note in this Big recreation!
October 14th, 2013 under Sandra Bullock, Tom Hanks. [ Comments: 1 ]

Tom Hanks was on The Jonathon Ross Show and the talk show host showed off a piano keyboard like the one that was used in that memorable scene from the classic movie Big. The two started out with Chopsticks and then they went for a song with a much faster tune. Once that was done, Sandra Bullock came out and Forrest Gump and her did Chopsticks together. Yet there was note they couldn't hit.
If this video doesn't brighten your Monday morning, I don't know what will. No matter how old Hanks get, he still makes us feel like he did when he that kid trapped in a man's body in Big. In ways the Oscar winner never grew up and that is a good thing.

---
It was all about the little white dress at the Gravity premiere!
October 2nd, 2013 under Harry Potter, Sandra Bullock. [ Comments: 1 ]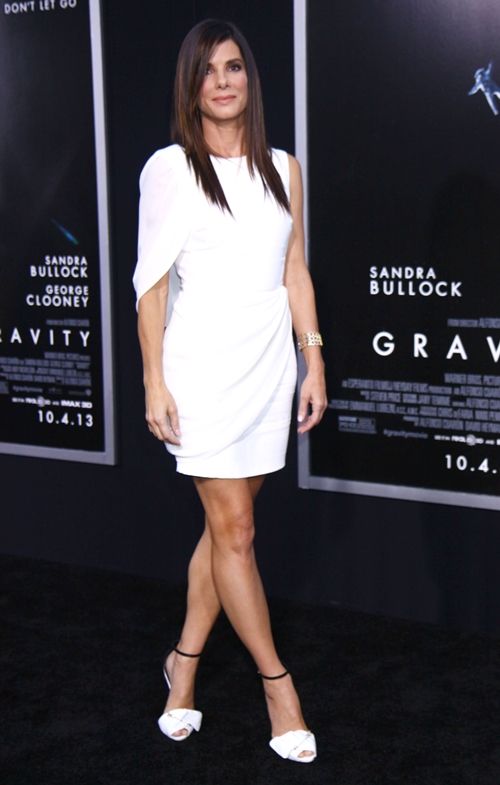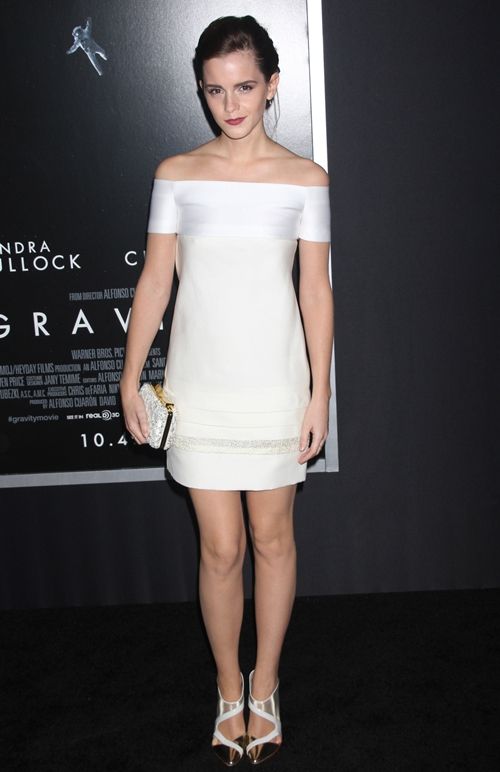 Fame Flynet
Whoever said you can't white after Labor Day, might be changing their tune after yesterday premiere for the much-buzzed movie Gravity. The movie's star Sandra Bullock and Harry Potter's Emma Watson wowed on the red carpet in little white dresses. Proving you can wear white all year round. The only time you can't do that is when you are a guest at a wedding.

---
I'm kind of wishing for Sandra Bullock to die in the Gravity trailer
September 5th, 2013 under George Clooney, Sandra Bullock. [ Comments: none ]

Remember the end of that movie The Perfect Storm, and Mark Wahlberg's head kept bobbing up and down in water and he just wouldn't die. So then you found yourself screaming at the screen "Die already!" and after several minutes he finally did? Well that is the feeling I got when I watched the trailer for Gravity that is out on October 4th. It seems like it could be a good movie, but at a certain point I think I would find myself bored with it. Like enough torture and let's get this resolved already. I mean how much sh!t can you see someone go through in about three hours before you like, c'mon just end it already? But that could just be my way of looking at movies with George Clooney in them, to me all of them suck since he did One Fine Day.
Now back to Sandra Bullock, I really like her, but it's like enough already with the heavy breathing. And that is why it reminded me of that other movie George Clooney did. I rooted for his death in that movie when he was steering the boat over that huge wave, you so know the scene I am talking about.

---
The Heat leaves me cold
November 16th, 2012 under Sandra Bullock. [ Comments: none ]

The first trailer is out for The Heat and there is no way you could get me to see the cop film with Sandra Bullock and Melissa McCarthy when it comes out on April 5th. Did anything in that trailer look remotely funny to you? Didn't it feel like you have seen it all before? I mean, how many times can McCarthy play the fat angry bitch with no makeup that everyone is afraid of? Seriously has she ever played anything any different since Samantha Who? She needs to branch out and play different type of roles because to me she is just like Jennifer Aniston and Katherine Heigl, you know playing the same part but in a different movie.

---
Do Sandra Bullock and Halle Berry have something to tell us?
February 27th, 2011 under Do they have something to tell us?, Halle Berry, Sandra Bullock. [ Comments: none ]

WireImage
Sandra Bullock and Halle Berry both won the Oscar for Best Actress and both of them lost their husbands shortly afterwards. Now both women are unmarried mothers and they shared a special moment at this year's Academy Awards and I have to wonder if they have something to tell us? Are they hoping to break the Oscar curse by hooking up? Is Sandra trying to be her Adrien Brody? Or is just the two ladies happy to see each other?

---