Will we find out if Sam Heughan is a true Scot in Men In Kilts?
June 10th, 2020 under Sam Heughan, Starz!. [ Comments: none ]

There is only one reason to watch Outlander, the view. Technically that is two reasons because the view includes looking at Scotland and Sam Heughan. Now those two things are going to be combined in the upcoming Starz! series Men In Kilts.
Men means that there is more than one man that is part of the show, and he is not doing the trek by himself. Heughan will be joined by his TV uncle, Graham McTavish, as they take a road trip around the picturesque country. Will McTavish's fate be the same as it was on the show? You know, as in only one of them will make it home alive?
Does that matter? We want to see why they call it Men In Kilts! Hopefully, they will also don mini-kilts as compared to the ones that go down to their knees! We want to see those mountains!
Sorry, I got lost in my naughty thoughts. Seriously, I can't wait to watch this show because it will be interesting to see and learn about Scotland through their adventure.

---
Sam Heughan reveals he has been bullied by strangers for years
April 17th, 2020 under Sam Heughan. [ Comments: none ]

Certain celebrities have a dedicated fan base that will do anything for that celeb. However, some fans take their infatuation to an unhealthy and scary level.

Sam Heughan revealed that he is been dealing with the latter for a while and he can no longer be silent about the abuse. Today, he took to Twitter to let everyone know what he has been going through for six years.
After the past 6 years of constant bullying, harassment, stalking and false narrative I am at a loss, upset, hurt and have to speak out. It's affecting my life, mental state and is a daily concern. My costars, friends, family, myself, in fact anyone I'm associated with, has been subjected to personal slurs, shaming, abuse, death threats, stalking, sharing of private information and vile, false narrative. I've never spoken about it because I believe in humanity and have always hoped these bullies would just go away. I can't elaborate for ongoing legal reasons but they are professionals: teachers, psychologists, adults who should know better.

Recently, these false claims vary from me manipulating fans, being a closet-homosexual, trying to mislead or exhort fans for money and disregarding Covid advice. I've done non of the above. I'm a normal guy and nothing like the characters I play. Most recently, some of you may know I'm currently self isolating in Hawaii. I came here before the travel ban. Non of us knew how bad things would get but as the situation worsened, upon the advice of everyone I trust, I decided to remain in a safe environment. It was a good decision. I'm safe, isolated, putting no one at risk and am not a burden to the locals. Several telling me they are desperate to sell their produce (as hotels and restaurants are now closed). We have not been asked to leave.

To read the rest, then click here!

---
BTWF: Sam Heughan in A Very British Sex Scandal
February 13th, 2020 under Before They Were Famous, Sam Heughan. [ Comments: none ]

Before Sam Heughan was going back and forth in time on Outlander, he was stuck in the 1950s in A Very British Sex Scandal. That era is a good look for the then 26-year-old actor in that 2007 movie.

---
Sam Heughan cleans up well
February 13th, 2020 under Sam Heughan. [ Comments: 2 ]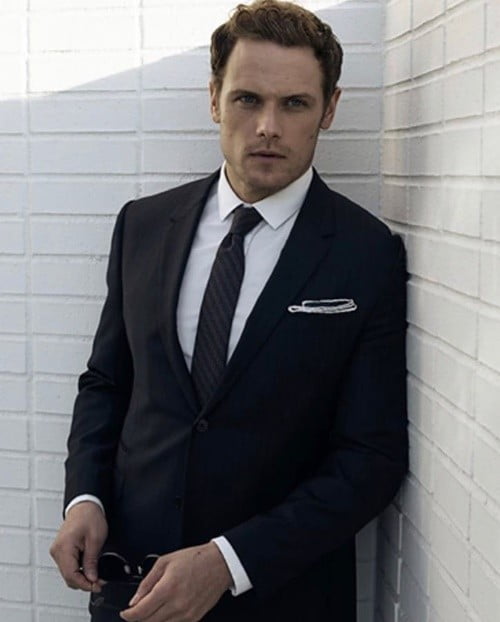 We are so used to seeing Sam Heughan as Jamie on Outlander that we are not used to seeing him all showered in a suit. However, he suited up for his interview with Nobleman Magazine, and he is looking very noble.
While he looks so dashing all cleaned up, I think, we can all agree, he looks handsome no matter what. I even can't wait to see him bloodied in Bloodshot exactly a month from now.

---
Sam Heughan wants you to know that fan did not touch his Outlanders!
January 6th, 2020 under Sam Heughan. [ Comments: none ]
https://twitter.com/i/status/1213612026989121536
On Saturday, Sam Heughan took part in a fan event at Wizard World, and his fans are upset about something that happened. A woman, who was on the stage, appeared to grab the Outlander star's butt. There was a lot of outrage on social media. However, the actor came to her defense.
He told his concerned fans, "It was a joke. We were having fun and she made a gesture, in jest. Nothing more. X." To see what really happened, then click here!

---