CBS pulls Lingo
March 18th, 2023 under CBS, RuPaul. [ Comments: none ]
Lingo debuted in January on CBS, got picked up for a second season in February, and got pulled from the schedule in March.
Instead of airing the final four episodes for season 1 of the game show hosted by RuPaul Charles, the network will air repeats of their procedurals.
Some say CBS is doing this to prepare for a possible strike. But I wonder if they are doing it to build a bigger audience for the dud True Lies.
I guess you can say Survivor is the only survivor on CBS Wednesdays.

---
CBS announces its midseason schedule
November 14th, 2022 under CBS, RuPaul. [ Comments: none ]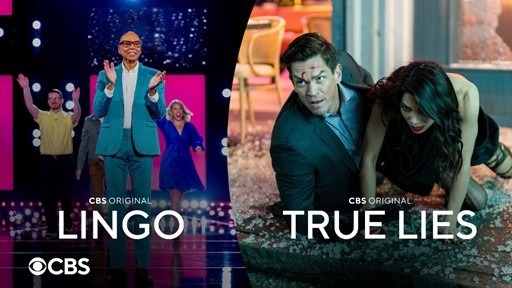 CBS had a strong Fall season with their new shows Fire Country, So Help Me Todd, and East New York, so they are only making a few changes to their midseason schedule. Those changes include Lingo with RuPaul, a new take on True Lies, and the return of Tough As Nails and The Price Is Right at Night.
Wednesday, Jan. 4
8:00 PM THE PRICE IS RIGHT AT NIGHT
9:00-11:00 PM TOUGH AS NAILS (special two-hour premiere)
Wednesday, Jan. 11
8:00 PM THE PRICE IS RIGHT AT NIGHT
9:00 PM LINGO (series premiere)
10:00 PM TOUGH AS NAILS (regular time period)
Thursday, Feb. 23
8:00 PM YOUNG SHELDON
8:30 PM GHOSTS
9:00 PM TRUE LIES (oto premiere)
10:00 PM CSI: VEGAS
Wednesday, March 1
8:00-10:00 PM SURVIVOR (special two-hour season premiere)
10:00 PM TRUE LIES (regular time-period)
To read about CBS's new shows, then click here!

---
AJ McLean is a beautiful Queen!
September 19th, 2022 under AJ McLean, RuPaul. [ Comments: none ]
A few months ago, AJ McLean shaved off his beard and said we would find out why soon. That soon is upon us, and now we know why.
The Backstreet Boy is one of the contestants on RuPaul's Secret Celebrity Drag Race on VH1, and he gorgeous as Poppy Love!
Maybe the boy band you should be known as Backstreet Boys and a Queen. I'd rather see him go as a Poppy Spice than himself from now on! As you can tell, that is what I want, what I really really want.

---
Dolly Parton says she is a 'living drag queen'
December 8th, 2020 under Dolly Parton, RuPaul. [ Comments: none ]

RuPaul got to sit down with Dolly Parton for Marie Claire, and he had a lot of questions for the legend. She had just had as many answers for him—some more surprising than others.

He wanted to know if she ever wore the same thing twice because we always see her in something different. "It's not true that I don't wear a lot of my clothes twice. If I love something, I wear it." Parton told him. "If I'm on tour, I have stage outfits that I wear. But if it's for a real special occasion, then I will put that in my museum, or I will allow other people to put certain costumes in their museums, or we auction off pieces for charity. So nothing ever goes to waste."

While that is what she wears below her neck, what about what she wears over her forehead. She has some old wigs, and those, like her dresses, are in her museum Chasing Rainbows at Dollywood. "I don't think I have any that I wear that are that old now, but I know what you mean," she said. "See, you're a drag queen. Those are like costumes to you. This is my living self. I am a living drag queen. You dress up just now and then, but for me, though, I like the wigs and I wear them almost every day. So, people ask me how many wigs I have, I say, 'Well, I must have at least 365,' because I wear one almost every day. But I actually keep my own hair the same color and I just kind of pull it up in little scrunchies around the house. But I still like to put on makeup and have my hair fluffed."

Now, we know why so many drag queens dress up like her. They want to feel what it is like to walk even a block in her high heels since she is the epitome of what they strive to be.

---
RuPaul's talk show debuts Monday and his first guest is…
June 5th, 2019 under RuPaul. [ Comments: none ]

RuPaul Charles has a new talk show coming to Fox on Monday for three weeks and his first week is going to be really good.
He starts off the series with James Corden who learns how to work it on the runway. If that is not enough reason to tune in, then his next guest is The Property Brothers. Then on Tuesday, he is joined by Paula Abdul and Olympic Gold medalist Adam Rippon. On Wednesday, he welcomes his first presidential candidate Cory Booker and also Jack Osbourne. Then on Thursday, Jana Kramer and husband Mike Caussin talk about their marriage while Tarek El Moussa talks about going on after his. Finally, Loni Love and Matt Iseman close out the week.
Since this is a trial run, The RuPaul Show is only airing in a few markets. To see if airing where you live, then click here!

---