Ouch Rosie O'Donnell's show is averaging less than 200,000 viewers
November 15th, 2011 under Rosie O'Donnell. [ Comments:

none

]

It really should come as no surprise that people don't really want to watch Rosie O'Donnell anymore, but what is a surprise is that her new show on OWN is averaging only 171,000 viewers overall according to TV Guide. Yep the proper amount of digits are in that number. I mean I can't even think of a comparison of how bad that is because those numbers are just so low.
Those numbers have to be painful for Oprah Winfrey and her OWN network. And the news got even worse for the former Queen of Talk today because her BFF Gayle King will be ending her show on the Oprah Winfrey Network to co-host the CBS morning news according to TV Newser. Ouch, ouch, ouch…
You know how loud she can raise her voice when she was doing Oprah's Favorite Things, well try to imagine how loud she must've been screaming when she found out the King is leaving the Queen? Ear plugs anyone?
---
The many faces of Rosie O'Donnell
October 26th, 2011 under Rosie O'Donnell. [ Comments:

1

]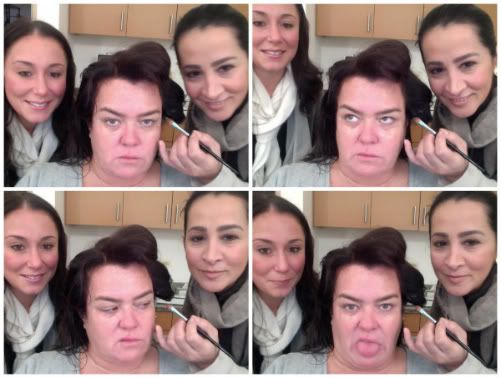 Now that Rosie O'Donnell has her own show on OWN she has to do something she doesn't like to do. The talk show host Tweeted the above picture and said, "the joy of make up … oy vey" While it might not be a joy for her, those of us who watch her show in HD really appreciate that she suffers for her art!
---
Oprah Winfrey OWNs Rosie O'Donnell
August 5th, 2010 under Oprah Winfrey, Rosie O'Donnell. [ Comments:

2

]

(photo from WireImage)


The bad news is Rosie O'Donnell is returning to TV, the good news is that she will be on Oprah Winfrey's new network OWN and who is going to be watching that channel?
Here is what the two daytime ladies had to say about her show doing on the upcoming network.
"Rosie is an undeniable talent who has captivated TV audiences for nearly 20 years," said Oprah Winfrey. "She's a true original, who brings her authentic voice, dynamic energy and pure passion to everything she does."
"It's an honor and a privilege to work with Oprah Winfrey on her network," said Rosie O'Donnell. "I'm excited to be back on daytime television."
No air date and time slot was mentioned, but since OWN has gone through so many changes before it has even launched maybe this show will not see the light of day when OWN debuts in 2011.
---
Barbara Walters isn't going to like this
April 21st, 2010 under Rosie O'Donnell, The View. [ Comments:

1

]

WireImage
Current View host Whoopi Goldberg was photographed hugging former View host Rosie O'Donnell and I don't think Barbara Walters is going to like that. Oh to be a fly on the wall when Baba Wawa saw the picture. Good thing Whoopi has an Oscar winner before her name or I think she would be gone…unless that is her goal?
---
Rosie O'Donnell wants back on TV
March 20th, 2010 under Rosie O'Donnell. [ Comments:

1

]

(photo from WireImage)


Rosie O'Donnell is plotting a TV comeback and she wants to replace Oprah Winfrey who is leaving her show in 2011. According to Showbiz411 the show won't be like her old one or The View, but "it's going to be big: Broadway performances, all her friends, and lots of laughs." Considering her Variety show failed big time and it is not 2002, I don't think her show will be the next Oprah. If America's sweethearts Marie Osmond and Valerie Bertinelli couldn't get their shows on the air, why does she think her's will be a go? Maybe she should try to do Dancing with the Stars or Jenny Craig like Marie and Valerie and then she might have a fighting chance? Would you watch her show if she got one?
---