Abby Lee Miller disses Felicity Huffman
October 25th, 2019 under Dance Moms, Desperate Housewives. [ Comments:

none

]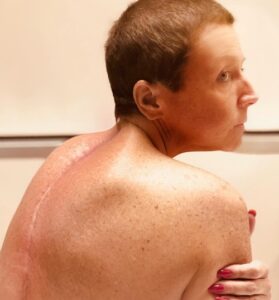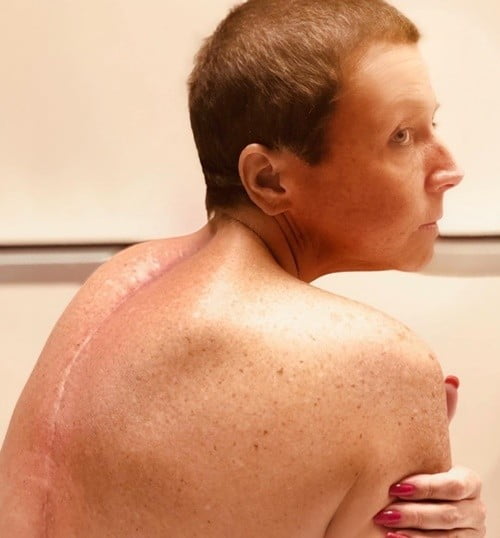 Abby Lee Miller was sentenced to a year in federal prison for bankruptcy fraud. When she was released from prison to a halfway house, she got sick. They found out she had an aggressive form of cancer. She required several surgeries on her back and chemotherapy. Now, she is cancer-free, but she is still not able to walk. This is her story.
Last month, Felicity Huffman was sentenced to two weeks in federal prison for paying to get her daughter more time to take her SATs. She was released today after serving less than two weeks. That news made the Dance Moms teacher angry. Therefore, she took social media and wrote, "Wow! 11 Days! Another woman got 3 weeks! Maybe I wouldn't be in a wheelchair with an 18" scar down my spine had my case been in California. Not maybe – for sure!!!"
There are a lot of differences between the two sentencings besides the crimes. The biggest being that Huffman pled guilty for her crime in Boston, not California. Maybe if Miller had pled guilty also, then she would not have been sentenced for that long. When it comes to her cancer, her sentencing has nothing to do with it.
---
Abby Lee Miller takes her first steps in public
September 10th, 2019 under Dance Moms. [ Comments:

none

]

Back in April 2019, Abby Lee Miller was diagnosed with a cancer that ravaged her spine. After the surgery to remove the cancer and save her life, she was left unable to walk. Since then she has been going to physical therapy trying to regain her ability to walk again.
Today, almost a year and a half later, she got out of her chair and took her first steps in public on The Doctors. Anyone who knows anyone who has had issues with their spine like she has had knows how huge this. It is a slow process, so it is inspirational that she never gave up.
However, her doctor revealed that she has been late to get cancer followup screening done and he is a little worried for her because of that. During the remission period, they have a timeline when a person needs to get tested. She missed her last test because of work.
The day before the taping, she went and got tested. Minus one questionable node in her neck, which the doctor is not too worried about, she still appears to be in remission. Miller did not realize until that moment that her cancer could come back. The first year is the most important year with Burkitt lymphoma and remission. In 6 weeks, she will go back to get that node in her neck tested and make sure it is nothing. Hopefully, then she will find out she is still cancer-free.
The Doctors spent an hour with the Dance Moms teacher and she talked about everything that has gone on in her life over the last two years like prison, cancer and getting her life back.
---
Abby Lee Miller spoils next week's Dance Moms
August 14th, 2019 under Dance Moms. [ Comments:

none

]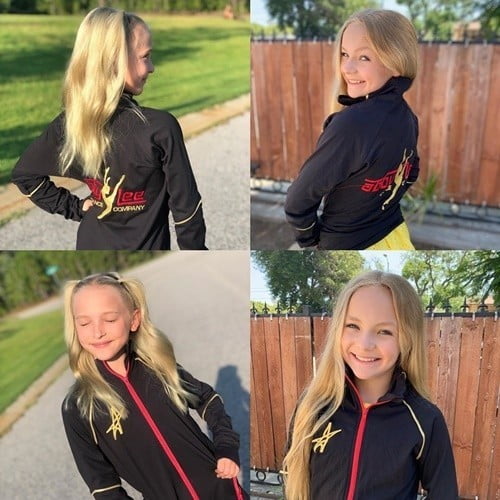 Last week, Abby Lee Miller said that she was going to give out jackets to two of her students. That would make them official members of her elite team. We were supposed to find out who would get them last night on Dance Moms. However, she said we would have to wait until pyramid which is next week's episode.
Which half of the two duets would get the honor. Would it be Pressley Hosbach or Gianna Martello, or Brady Farrar or Lily Ketchman?
I guess she could not wait until then to announce who are her two newest jacket wearers. Therefore, she revealed on social media that it is the overrated Lily and the shy Pressley Hosbach.
Which is interesting because Brady and Gianna are better dancers that the younger girls. I guess she feels she can do more with the younger girls for a longer time.
What do you think of her choices?
---
Abby Lee Miller is getting a breast reduction and more
June 19th, 2019 under Dance Moms. [ Comments:

none

]

Abby Lee Miller survived nearly a year in jail and stage IV cancer, and now she wants to make some changes. She told Extra's Tanika Ray that is going to get a breast reduction, knee replacement, liposuction and a facelift. When all of that is done, then she will get another back surgery related to her cancer. That is going to be a lot of time under the knife.
Will it work better than her gastric bypass? Only time will tell.
I am sure if the Dance Moms had their way they would only want her to get one surgery and that is her mouth wired shut.
---
Abby Lee Miller opens up about her cancer diagnosis
April 17th, 2019 under Dance Moms. [ Comments:

none

]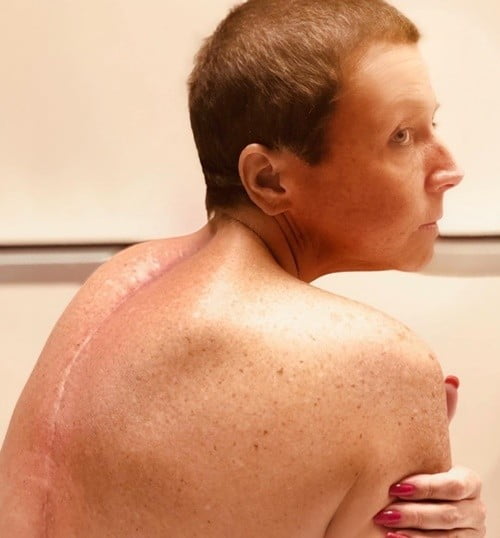 A year ago, Abby Lee Miller was living in a halfway house after serving time in a federal jail. She was getting ready to start her life again, but then she got devastating news. She had cancer. While she has gone public with her battle, she has not really talked about how she was diagnosed. That was something the tabloids did until today when she opened up about it on social media.
One year ago today ~ I underwent emergency surgery for an infection in my spine. This mass/tumor choking my spinal cord turned out to be Burkitt Lymphoma. I endured ten rounds of chemo therapy (each lasting 6 days with 4/ 24hr bags pumping poison into my body ending with a spinal tap in 3 spots, plus another shot of Chemo into my tailbone area up the spinal cord around my brain cavity) Ten times! Another spine surgery was needed & I have one more still to go. I struggled thru months of physical therapy to learn to sit up again, to crawl and maybe with a miracle someday I'll walk. Why didn't the ER Doctors on duty do their jobs? I came in twice with the same symptoms? Why didn't somebody listen to me, the patient? I finally found the right team that's why I lived to tell my story, I have a lot to say! Thank you to all wonderful top notch professionals who continue to help me heal. For those who missed it, misdiagnosed me, and the so called Federal "Doctor" who took me off medication cold turkey and the other ER "Doctor Hollywood" who told me to go home and take it easy for 10 days – STOP practicing! Please 🙏🏻
I cannot even imagine going through all of that. She needs to focus on getting better and not on the doctors who screwed up. Those doctors should read this and realize their mistake and make sure to never do it again. Doctors need to listen more and spend less time typing everything down. Maybe if they did, then fewer people would be misdiagnosed. I had a doctor not listen to me, so I went to another doctor who did and diagnosed me in 2 minutes. Needless to say, I stopped going to that first doctor.
---