JoJo Siwa goes dark
June 29th, 2020 under Dance Moms. [ Comments:

none

]

JoJo Siwa is a 17-year-old girl trapped in a 10-year-old's life. Therefore, it would make sense that she would want to rebel against the marketing man. So, she dyed her blonde locks. brunette
Will it make a difference? Since she is still wearing a high ponytail, I don't think so. Baby steps to go with her voice.

---
Lifetime is no longer Abby Lee Miller's dance partner
June 5th, 2020 under Dance Moms. [ Comments:

none

]

On #BlackOutTuesday, Abby Lee Miller posted a black square with her logo on it. Needless to say, it did not go over well. Especially with a mom from Dance Moms' last season.

Adriana Smith took to Instagram to talk about her and her daughter Kamryn's experience with Miller. She wrote that Miller said to her, "'I know you grew up in the HOOD with only a box of 8 crayons, but I grew in the Country Club with a box of 64 – don't be stupid.'"

Camille Bridges, another African-American mother from the seventh season, told E News, "[Abby] tried to spin Camryn as being the poor one and there on scholarship. I shut that down immediately." She went on to claim, "She loves appropriating our culture and never appreciating it. She did not give black choreographers on the show acknowledgment of their work. She continuously put Camryn in afros."

After the racism claims became an international story, Miller wrote an apology. "I genuinely understand and deeply regret how my words have effected and hurt those around me in the past, particularly those in the Black community. To Kamryn, Adriana, and anyone else I've hurt, I am truly sorry.

"I realize that racism can come not just from hate, but also from ignorance. No matter the cause, it is harmful, and it is my fault. While I cannot change the past or remove the harm I have done, I promise to educate myself, learn, grow, and do better. While I hope to one day earn your forgiveness, I recognize that words alone are not enough. I understand it takes time and genuine change."

Was Miller's apology enough for Lifetime? According to The Wrap, the network no longer plans to air Abby Lee Miller's Virtual Dance Off that was set for the summer. They also revealed that Miller's contract ended with Dance Moms' eighth season. If the network chooses to do a ninth one, it will be with a new dance teacher.

I would be OK with they brought Dancing with the Stars' Cheryl Burke back because she did a great job with the girls.

When it comes to Miller, maybe Lea Michele and her can do an apology tour together. They can call it BitchFest. Who else should join the? Ellen DeGeneres?

---
Is JoJo Siwa getting ready to get rid of her squeaky clean image?
May 19th, 2020 under Dance Moms. [ Comments:

none

]

JoJo Siwa is turning the seventeen today, but she looks and acts like a preteen.
The mogul (what store, that sells toys, doesn't sell something with her face on it) might be ready to let her big-bowed ponytail down. That's because she posted a TikTok of herself cleaning a mirror. The video revealed what she looks like as a normal teenager going into their senior year of high school and not like an 11-year-old about to start middle school.
Do you think she should grow up or stay stuck in her childlike past?

---
Abby Lee Miller got a face lift while she was awake
February 10th, 2020 under Dance Moms, The Doctors. [ Comments:

none

]

Abby Lee Miller has had a rough few years. She did almost a year in federal prison for felony bankruptcy fraud. Then when she got out, she found out she had cancer, and it was in her spine. Doctors performed emergency surgery on her back to remove the cancer, and she was left unable to walk. Slowly, she is getting back that ability.
With all of that going on, it is no surprise she wanted to do a little something to make her feel better. Thus, she decided to get a facelift, and The Doctors filmed the procedure and aired it today.
Since she could not go under full anesthesia, Dr. Payman Simoni performed the operation while she was awake. That is right; she watched them liposuction out her chin fat. Not only that, Miller was fully conscious as they cut her open and moved her muscles closer together. The dance teacher was also aware when they peeled back her skin and super glued it back together.
Screw that. I prefer to look like crap than be awake for that nightmare. This is something they do in horror movies. I would rather watch one, then be in one.
Yes, she looks better, but it would not be worth it to me. No freaking way in hell.
Oh, and to The Doctors, can you talk to her about the tan. It is way too much and makes her look as fake as her reality show Dance Moms.

---
Abby Lee Miller disses Felicity Huffman
October 25th, 2019 under Dance Moms, Desperate Housewives. [ Comments:

none

]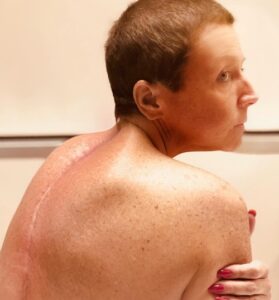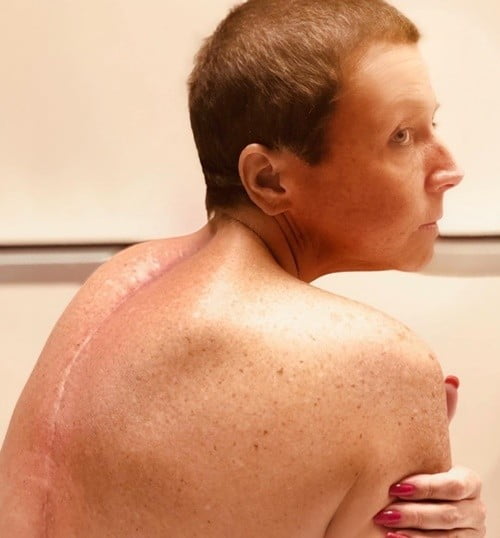 Abby Lee Miller was sentenced to a year in federal prison for bankruptcy fraud. When she was released from prison to a halfway house, she got sick. They found out she had an aggressive form of cancer. She required several surgeries on her back and chemotherapy. Now, she is cancer-free, but she is still not able to walk. This is her story.
Last month, Felicity Huffman was sentenced to two weeks in federal prison for paying to get her daughter more time to take her SATs. She was released today after serving less than two weeks. That news made the Dance Moms teacher angry. Therefore, she took social media and wrote, "Wow! 11 Days! Another woman got 3 weeks! Maybe I wouldn't be in a wheelchair with an 18" scar down my spine had my case been in California. Not maybe – for sure!!!"
There are a lot of differences between the two sentencings besides the crimes. The biggest being that Huffman pled guilty for her crime in Boston, not California. Maybe if Miller had pled guilty also, then she would not have been sentenced for that long. When it comes to her cancer, her sentencing has nothing to do with it.

---