Is JoJo Siwa getting ready to get rid of her squeaky clean image?
May 19th, 2020 under Dance Moms. [ Comments:

none

]

JoJo Siwa is turning the seventeen today, but she looks and acts like a preteen.
The mogul (what store, that sells toys, doesn't sell something with her face on it) might be ready to let her big-bowed ponytail down. That's because she posted a TikTok of herself cleaning a mirror. The video revealed what she looks like as a normal teenager going into their senior year of high school and not like an 11-year-old about to start middle school.
Do you think she should grow up or stay stuck in her childlike past?
---
Abby Lee Miller got a face lift while she was awake
February 10th, 2020 under Dance Moms, The Doctors. [ Comments:

none

]

Abby Lee Miller has had a rough few years. She did almost a year in federal prison for felony bankruptcy fraud. Then when she got out, she found out she had cancer, and it was in her spine. Doctors performed emergency surgery on her back to remove the cancer, and she was left unable to walk. Slowly, she is getting back that ability.
With all of that going on, it is no surprise she wanted to do a little something to make her feel better. Thus, she decided to get a facelift, and The Doctors filmed the procedure and aired it today.
Since she could not go under full anesthesia, Dr. Payman Simoni performed the operation while she was awake. That is right; she watched them liposuction out her chin fat. Not only that, Miller was fully conscious as they cut her open and moved her muscles closer together. The dance teacher was also aware when they peeled back her skin and super glued it back together.
Screw that. I prefer to look like crap than be awake for that nightmare. This is something they do in horror movies. I would rather watch one, then be in one.
Yes, she looks better, but it would not be worth it to me. No freaking way in hell.
Oh, and to The Doctors, can you talk to her about the tan. It is way too much and makes her look as fake as her reality show Dance Moms.
---
Abby Lee Miller disses Felicity Huffman
October 25th, 2019 under Dance Moms, Desperate Housewives. [ Comments:

none

]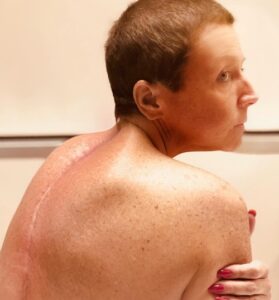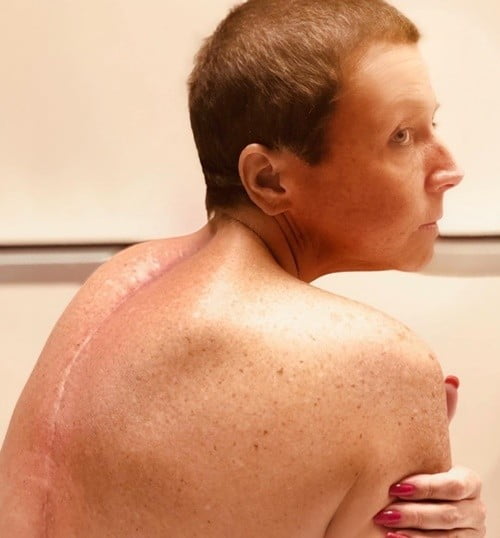 Abby Lee Miller was sentenced to a year in federal prison for bankruptcy fraud. When she was released from prison to a halfway house, she got sick. They found out she had an aggressive form of cancer. She required several surgeries on her back and chemotherapy. Now, she is cancer-free, but she is still not able to walk. This is her story.
Last month, Felicity Huffman was sentenced to two weeks in federal prison for paying to get her daughter more time to take her SATs. She was released today after serving less than two weeks. That news made the Dance Moms teacher angry. Therefore, she took social media and wrote, "Wow! 11 Days! Another woman got 3 weeks! Maybe I wouldn't be in a wheelchair with an 18" scar down my spine had my case been in California. Not maybe – for sure!!!"
There are a lot of differences between the two sentencings besides the crimes. The biggest being that Huffman pled guilty for her crime in Boston, not California. Maybe if Miller had pled guilty also, then she would not have been sentenced for that long. When it comes to her cancer, her sentencing has nothing to do with it.
---
Abby Lee Miller takes her first steps in public
September 10th, 2019 under Dance Moms. [ Comments:

none

]

Back in April 2019, Abby Lee Miller was diagnosed with a cancer that ravaged her spine. After the surgery to remove the cancer and save her life, she was left unable to walk. Since then she has been going to physical therapy trying to regain her ability to walk again.
Today, almost a year and a half later, she got out of her chair and took her first steps in public on The Doctors. Anyone who knows anyone who has had issues with their spine like she has had knows how huge this. It is a slow process, so it is inspirational that she never gave up.
However, her doctor revealed that she has been late to get cancer followup screening done and he is a little worried for her because of that. During the remission period, they have a timeline when a person needs to get tested. She missed her last test because of work.
The day before the taping, she went and got tested. Minus one questionable node in her neck, which the doctor is not too worried about, she still appears to be in remission. Miller did not realize until that moment that her cancer could come back. The first year is the most important year with Burkitt lymphoma and remission. In 6 weeks, she will go back to get that node in her neck tested and make sure it is nothing. Hopefully, then she will find out she is still cancer-free.
The Doctors spent an hour with the Dance Moms teacher and she talked about everything that has gone on in her life over the last two years like prison, cancer and getting her life back.
---
Abby Lee Miller spoils next week's Dance Moms
August 14th, 2019 under Dance Moms. [ Comments:

none

]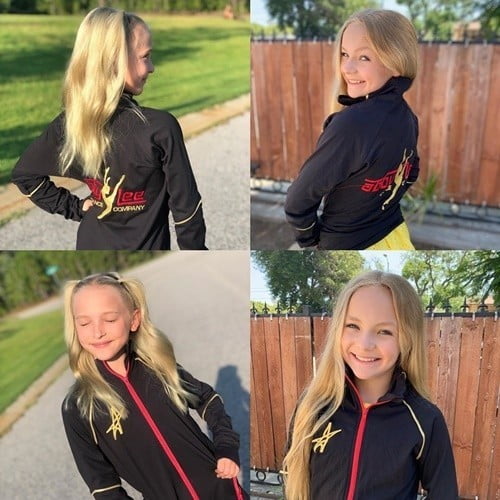 Last week, Abby Lee Miller said that she was going to give out jackets to two of her students. That would make them official members of her elite team. We were supposed to find out who would get them last night on Dance Moms. However, she said we would have to wait until pyramid which is next week's episode.
Which half of the two duets would get the honor. Would it be Pressley Hosbach or Gianna Martello, or Brady Farrar or Lily Ketchman?
I guess she could not wait until then to announce who are her two newest jacket wearers. Therefore, she revealed on social media that it is the overrated Lily and the shy Pressley Hosbach.
Which is interesting because Brady and Gianna are better dancers that the younger girls. I guess she feels she can do more with the younger girls for a longer time.
What do you think of her choices?
---