Rosario Dawson needs to wax her upper lip!
November 12th, 2015 under RENT, Rosario Dawson. [ Comments: none ]

Rosario Dawson is looking a little bit more hairy above her lip today, so what is the dealio? Since woman can't take part in Movember, she found a way to break that rule. She noticed a mustache in the hair and makeup trailer on the set of Daredevil and glued it on. But it looks so real, I am not sure it is a prop.

---
Rosario Dawson is a mom!
December 2nd, 2014 under RENT, Rosario Dawson. [ Comments: none ]

Shhhh, don't tell anyone, but Page Six is reporting that Rosario Dawson reportedly adopted a 12 year old girl in October. Not much more is known, but good for her for adopting an older child. That girl is going to be lucky to have her as a mom. Unless the Rent star shows her daughter her film Kids. I like her, but that detested that movie.

---
Rosario Dawson barely keeps her boobs locked up
July 7th, 2011 under RENT, Rosario Dawson. [ Comments: none ]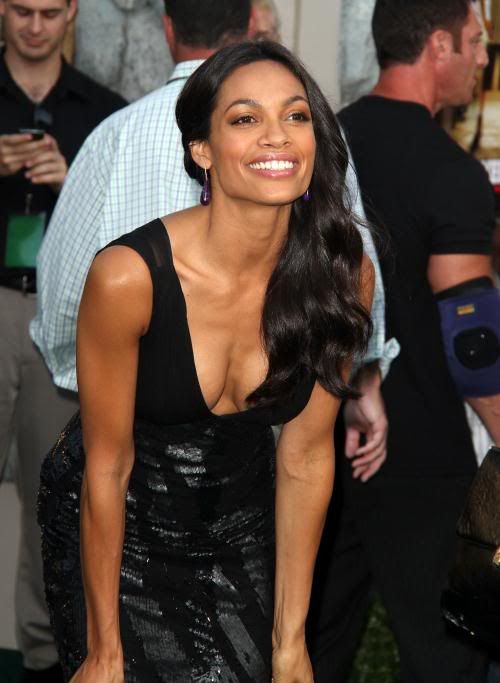 Fame Pictures
Rosario Dawson wore a low cut long black dress to the Zookeeper premiere and as she leaned forward in a laugh she was lucky to keep her boobs caged up. How she avoided a nip slip doing that is beyond me and I am sure there are a lot of people disappointed that she didn't have one.

---
Rosario Dawson always wanted to do Jimmy Kimmel on his desk!
June 24th, 2011 under Jimmy Kimmel, RENT, Rosario Dawson. [ Comments: none ]

Rosario Dawson was on Jimmy Kimmel Live and she told him she always wanted to do it with him on his desk leaving the talk show host flustered. But before we all think she meant "do it" as in sex, she was talking about her newest addiction planking. I don't know what exactly it is, but looking at the pictures she has posted on her Twitter it is basically her lying face down and flat wherever and whenever she wants. Hey she is excited about it and Kimmel was very excited to see her show him how it is done. I am sure he was willing to try planking on top of her on top of his desk if given a chance!!!
BTW planking is something I just don't see myself getting into because I am just not into lying down wherever and whenever because you don't know what or who has been on that surface before you. So ewwww.

---
Rosario Dawson and Paul Rudd both have a handfull
February 27th, 2011 under Paul Rudd, RENT, Rosario Dawson. [ Comments: 1 ]

WireImage
Rosario Dawson, Paul Rudd and Eva Mendes were all presenting together at the Independent Spirit Awards and for some reason they got all handsy with each other. Rosario grabbed Rudd's nuts and in turn he grabbed Mendes' boob. No reason was given for their actions, but you know they feel differently about each other after that. Those three really got into the spirit of the awards…and Rosario was having a ball!

---