Rosario Dawson is looking more manly these days
April 9th, 2018 under Rosario Dawson. [ Comments:

none

]

We are used to seeing Rosario Dawson's face stubble-free, until now. She posted a photo of herself with a stubbly beard and a toothpick in her mouth looking like a member of the opposite sex. She did not explain why she is looking like a bearded lady, but I am assuming it is for a role. Or there is something she has not been telling us after all of these years.

---
A Josie and the Pussycats reunion!
September 27th, 2017 under Rosario Dawson, Tara Reid. [ Comments:

none

]

Back in 2001, Josie and the Pussycats came to life on the big screen after being animated on the small one and in the comics, and yesterday the leads reunited for a screening of the movie.

Tara Reid, Rachel Leigh Cook and Rosario Dawson had a blast talking about the film that has become a cult classic over the years. Who knows maybe some day we will get a sequel because all three of them could easily reprise their roles. Especially since none of them have aged a day in 16 years.

---
Rosario Dawson needs to wax her upper lip!
November 12th, 2015 under RENT, Rosario Dawson. [ Comments:

none

]

Rosario Dawson is looking a little bit more hairy above her lip today, so what is the dealio? Since woman can't take part in Movember, she found a way to break that rule. She noticed a mustache in the hair and makeup trailer on the set of Daredevil and glued it on. But it looks so real, I am not sure it is a prop.

---
Rosario Dawson is a mom!
December 2nd, 2014 under RENT, Rosario Dawson. [ Comments:

none

]

Shhhh, don't tell anyone, but Page Six is reporting that Rosario Dawson reportedly adopted a 12 year old girl in October. Not much more is known, but good for her for adopting an older child. That girl is going to be lucky to have her as a mom. Unless the Rent star shows her daughter her film Kids. I like her, but that detested that movie.

---
Rosario Dawson barely keeps her boobs locked up
July 7th, 2011 under RENT, Rosario Dawson. [ Comments:

none

]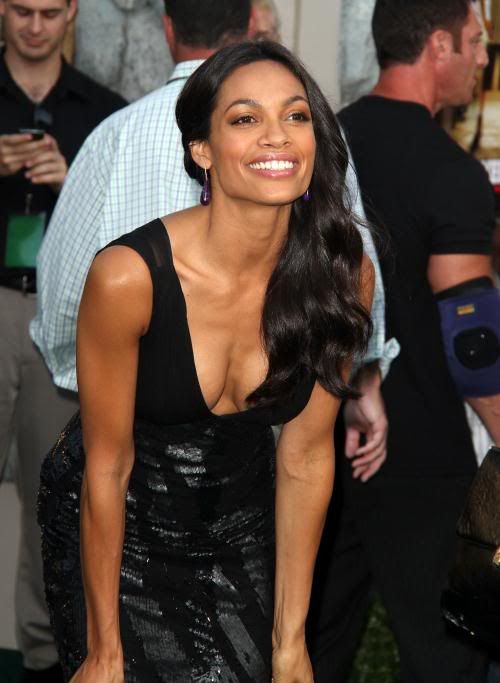 Fame Pictures
Rosario Dawson wore a low cut long black dress to the Zookeeper premiere and as she leaned forward in a laugh she was lucky to keep her boobs caged up. How she avoided a nip slip doing that is beyond me and I am sure there are a lot of people disappointed that she didn't have one.

---