Peter Wolf will sing Lights Out, if you put the masks on
September 17th, 2021 under Peter Wolf. [ Comments: none ]
I am one of those weird people who is still not ready to go back to the way life was in 2019. So when I see photos and videos at concerts, and no one is wearing masks, I have a little panic attack. I know most venues require proof of vaccination or a negative COVID-19 test, but it is still not enough for me.
I am not the only one who feels this way because today Peter Wolf announced that you will need to wear masks during his concerts. And that is why his girlfriend is a Centerfold.
It makes total sense because he is 75 years young, and his fans are a little older than BTS's. I wish more musicians would take his stance.
Now that he mandated masks, I think I might finally go to see him perform live if he comes to LA. If you feel the same way I do, here are his tour dates.

---
Is Peter Wolf really 75?
March 8th, 2021 under Are they really their age?, Peter Wolf. [ Comments: none ]

Yesterday was a big day for Peter Wolf; he turned the big 7-5. That's right; the singer is now three-quarters of a century old. However, he does not even look close to his age. I say he can still say that his girlfriend is a centerfold like he did when he was in J. Geils Band.

Now, I have to talk about his solo career. I wonder if after he blew out the candles, he sang his hit Lights Out? My favorite song of his. Because his big day is all about me.

---
Is Peter Wolf The Rolling Stones new centerfold?
July 13th, 2019 under Peter Wolf, Rolling Stones. [ Comments: none ]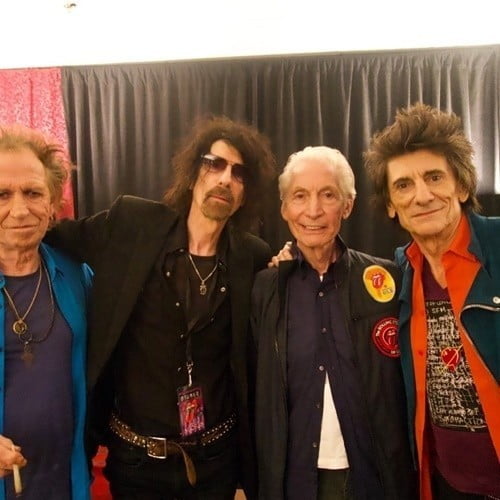 Peter Wolf was seen posing with three (Keith Richards, Charlie Watts and Ronnie Wood) out of the four Rolling Stones and you have to wonder if the singer is trying to take over for Mick Jagger if he finds himself Lights Out again?
You can't always get what you want, so for the voice of The J. Geils Band, this is a close second. I wonder how he would sound as their Jumping Jack Flash? What am I thinking no one can replace the man with the moves…like Jagger. Jagger himself.

---