It's Robert Pattinson as Batman
February 13th, 2020 under Batman, Robert Pattinson. [ Comments:

none

]

It seems like it has been forever that we have been hearing about Robert Pattinson playing Batman. Npw we are finally getting to see him as the Caped Crusader. The movie's director Matt Reeves shared a short video of the Vampire as the Dark Knight.
Dark is the keyword. If you don't turn your brightness all the way up, you cannot see him. I was hoping that DC Universe would have learned that by now. People don't like dark movies, as in both the cinematography and the theme. I guess they will learn after another failure like Birds of Prey.
When are they going to listen to the Bible, and "Let there be light"?
---
We can never believe anything Robert Pattinson says
November 20th, 2019 under Robert Pattinson, Seth Meyers. [ Comments:

5

]

Robert Pattinson has said a lot of outlandish things on talk shows and we believed him. Turns out we shouldn't. Yesterday, when he was on Late Night, Seth Meyers asked him about being a model before he was an actor.
That seems believable because so many other actors got their start that way. Guess what, that was a lie he made up. He admitted that is not the only thing he falsified from his past. In fact, he has made up so many that he can no longer distinguish what is real and what is fake. Thus, we can never trust him.
Although, I did the research and there are two sex shoppes in Yarmouth, Maine. Which means sometimes he can tell the truth. Now, I don't know what to beleive…
---
Robert Pattinson is pretty in a pink wig
September 21st, 2017 under Robert Pattinson, Twilight. [ Comments:

none

]

Robert Pattinson is Wonderland Magazine's cover boy, and he is wearing girly wig. Or it is a pink wig with Emo Phillips' hairstyle. And now you are wondering who Emo Phillips is. Just like I am wondering why he is wearing the fake hair piece?
---
Did Robert Pattinson come between Brad Pitt and Angelina Jolie?
September 21st, 2016 under Brangelina, Robert Pattinson, Twilight. [ Comments:

none

]

Madame Tussauds had wax versions of Brad Pitt and Angelina Jolie on display; and when news of their split broke, the museum decided to split them up. Not only did they split them up, they put another life-size candle, who involved in very public breakup, between them. That statue is Robert Pattison's, and I wonder if the former couple would've preferred they used his Twilight co-star and ex-lover Kristen Stewart instead.
If you could bet on which member of Brangelina will be dating first and who that person it, who would think it will be?
On that note, check out online casino reviews.
---
Do Robert Pattinson and Mia Wasikowska have something to tell us?
August 22nd, 2013 under Do they have something to tell us?, Robert Pattinson, Twilight. [ Comments:

none

]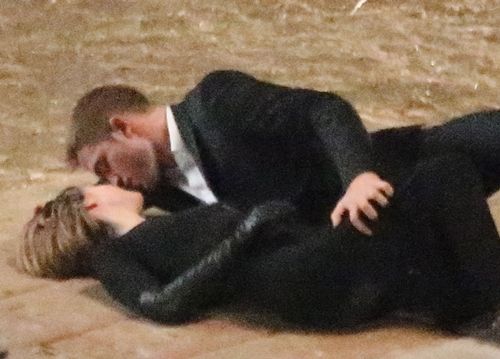 Fame Flynet
Robert Pattinson and Mia Wasikowska were photographed passionately kissing and I have to wonder if the two of them have something to tell us that will majorly upset Kristen Stewart. Nope, it was just the two actors filming a scene for their upcoming movie Map to the Stars. Although it looks like his hand is mapping her body instead of the stars!
---