Which Batman might be ready to put on the suit again?
June 23rd, 2020 under Batman, Michael Keaton. [ Comments:

none

]

Back in 1989, DC Universe brought Batman to the big screen with Michael Keaton as the caped crusader. Now, thirty years later, the actor is in talks to reprise his role in The Flash movie.
It gets better. According to The Hollywood Reporter, if he signs on to do it, he will be like Samuel L. Jackson's Nick Fury in Marvel Universe. As in he would be a mentor to other superheroes in the films that call for it.
If Beetlejuice, Beetlejuice, Beetlejuice turns it down, then I wonder if they will go to Val Kilmer or George Clooney. Personally, I think they should go to the latter because he looks older. That and he killed the franchise once, let's see him do it again. I am so over superhero movies.
---
It's Robert Pattinson as Batman
February 13th, 2020 under Batman, Robert Pattinson. [ Comments:

none

]

It seems like it has been forever that we have been hearing about Robert Pattinson playing Batman. Npw we are finally getting to see him as the Caped Crusader. The movie's director Matt Reeves shared a short video of the Vampire as the Dark Knight.
Dark is the keyword. If you don't turn your brightness all the way up, you cannot see him. I was hoping that DC Universe would have learned that by now. People don't like dark movies, as in both the cinematography and the theme. I guess they will learn after another failure like Birds of Prey.
When are they going to listen to the Bible, and "Let there be light"?
---
No virgins allowed to see Joker?
October 5th, 2019 under Batman. [ Comments:

none

]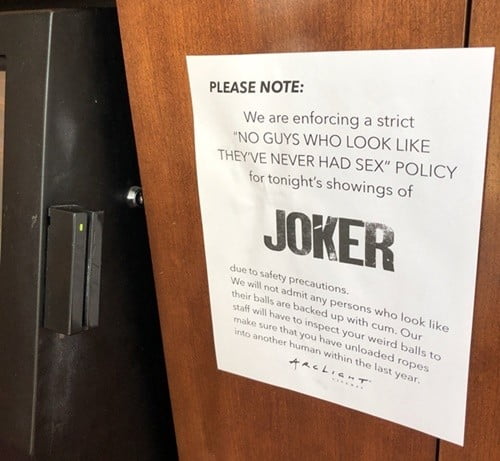 via Nick Ciarelli
Some joker put up a sign at the Arclight screening of Joker. It reads, " Please note: We are enforcing a strict. 'No guys who look like they've never had sex' policy for tonight's screenings of Joker due to safety precautions." Then they added, "We will not admit any person who look like their balls are backed up with cum. Our staff will have to inspect your weird balls to make sure that you have unloaded ropes into another human in the last year."
According to The Hollywood Reporter, the movie chain denies making the sign. However, I would actually believe that it was real. Do you?
---
Did Jimmy Kimmel get revenge on Joaquin Phoenix for David Letterman?
October 2nd, 2019 under Batman, Jimmy Kimmel, Joaquin Phoenix. [ Comments:

none

]

Last week, there were rumors that Joaquin Phoenix was so in character on the set of Joker that he was hard to work with. Of course, no one would go on record about it.
Yesterday, when the actor was on Jimmy Kimmel Live, the ABC host asked him what it was like working on the film. He said it was a "light set" and director Todd Phillips "is really funny." Then he added, "I feel almost guilty but we had a really good time."
Kimmel then told his guest that was "interesting to hear" because Phillips sent the show an outtake of Phoenix bitching out the cinematographer Lawrence Sher. Since you cannot just say something like that and not show the clip, they showed the clip.
When the rant ended, Phoenix seemed to be embarrassed that that private video was shared with the show and the show, in turn, shared it with everyone. After stumbling to find the words to express his reaction to it, he finally apologized to Sher. However, he said that Sher was at fault for whispering a lot causing him to lose concentration and the mood he created for his character.
Since this is Kimmel and Phoenix, I am not sure I believe this video was real. It would not surprise me if they faked it to make people sympathize with him so he can be the second actor to win an Oscar for playing the Joker. What do you think?
Also, do you think he is starting to look like Mel Gibson?
---
Joker seems more about a suicidal comedian than a villain
August 28th, 2019 under Batman, Joaquin Phoenix. [ Comments:

none

]

There is a new trailer out for Joker and I never thought Joaquin Phoenix could do anything worse than I Am Here. Turns out he can.
This movie looks more like one of those boring independent films that gets Oscar buzz, than a film about the notorious comic book villain. Thankfully, it is not kid-friendly because it would forever ruin the perception we have the Joker.
He is the Joker, not the Tear Jerker.
Are you going to see it on October 4th?
---