What if the live-action Jokers were Friends?
April 6th, 2019 under Batman. [ Comments:

none

]

Darth Blender blended all the live-action Jokers to the Friends theme and no one told me it would be so good. It is great to know that Jack Nicholson, Heath Ledger, Jared Leto and Joaquin Phoenix all copied the OG's Cesar Romero's dance moves and laugh. Too bad Batman didn't do the same.
---
Joker makes Pennywise look like a circus clown
April 3rd, 2019 under Batman, Joaquin Phoenix. [ Comments:

1

]

The first trailer is out for Joaquin Phoenix's Joker and it looks more like a depressing independent film that is just gunning for an Oscar instead of a movie about one of the most notorious villains.
I hope that this movie is such a bomb that DC Universe realizes they need to stop make superhero movies like this. They need to do more films like Shazam and Aquaman.
Who wants to see the Joker be a depressed man on October 4th? He is evil not someone who needs to be on antidepressants. Heck, it looks so depressing, it will make us want to take antidepressants or up our doses.
---
How do you like Joaquin Phoenix's Joker?
April 2nd, 2019 under Batman, Joaquin Phoenix. [ Comments:

none

]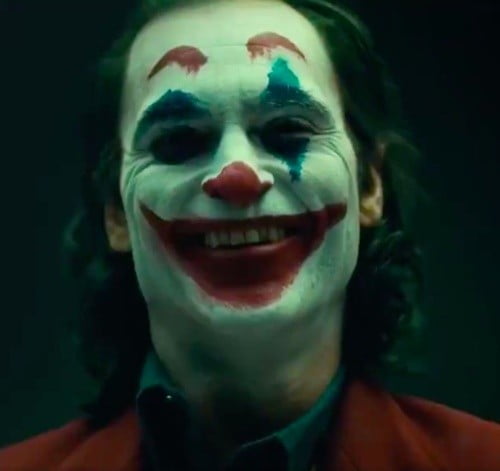 Warner Bros released the first photo of Joaquin Phoenix as the Joker and it is a joke, right? I mean why can't they put on his makeup evenly. Why does he look like his 2-year-old put it on? Hopefully, the movie will be better than he looks, but I highly doubt it.
---
Did Donald Trump actually think that Christian Bale was Bruce Wayne?
December 12th, 2018 under Batman, Christian Bale, Donald Trump. [ Comments:

none

]

One of the many things that the World has learned over the last few years is that Donald Trump is far from the genius he claims to be. Something Christian Bale already seemed to know for years like most people (including me) from New York City.
When Variety's Mark Malkin asked the actor on the red carpet of Vice who should play 45 in the eventual biopic, he had an interesting story. Back when Bale was Batman, they were filming in Trump Tower. The businessman saw him and invited him up to his penthouse. When the two men were talking, the Dark Knight felt that Trump actually thought he was Bruce Wayne and not just playing him in the movies. How did he react? What could he do, but just go along with it.
Too bad Bale didn't go all Transformers on him. Now that would have been hot!
---
Joaquin Phoenix gets his Joker's face
September 22nd, 2018 under Batman, Joaquin Phoenix. [ Comments:

none

]

On Sunday, we got to see Joaquin Phoenix as the Joker before he was the villain. Now we are getting to see him after he becomes the notorious Batman bad guy for Warner Bros.
I don't know about you, but it does nothing for me. It doesn't scare me or make me like him. But I am not the target audience because I cannot stand the new DC Universe movies.
What do you think of the latest look for the iconic character?
---