Oprah Winfrey does her own packing
June 14th, 2019 under Oprah Winfrey. [ Comments: none ]

Oprah Winfrey has more money than, well, Gd. Therefore, you would think she could afford someone to pack for her. Especially, since she hates to do it. Yet, the mogul does it herself.
Seeing is believing. Here is a video of her packing for a trip to Canada! Or you could say that Lady O is going to O Canada!
You know, Miss Winfrey, if you want to hire someone to pack for you, I am more than willing to do it. Who wouldn't want that job?

---
Oprah Winfrey quit one of her many jobs!
April 30th, 2019 under Oprah Winfrey. [ Comments: none ]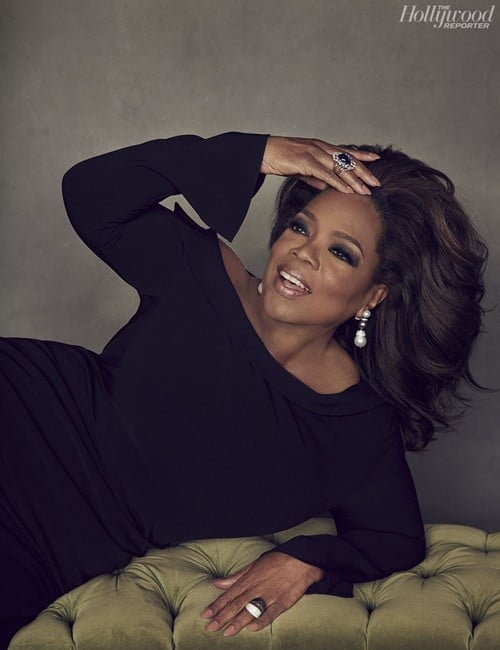 Oprah Winfrey has so many job, you wonder what job the mogul does not have. Well, we now have an answer. She is no longer working for 60 Minutes as a correspondent, a job she started in September 2017.
She told The Hollywood Reporter why she quit that job. She said, "Never a good thing when I have to practice saying my name and have to be told that I have too much emotion in my name." Then she explained what that means, "They would say, 'All right, you need to flatten out your voice, there's too much emotion in your voice.' So I was working on pulling myself down and flattening out my personality — which, for me, is actually not such a good thing."
That was not the first time Lady O heard that. Back when she was a local news reporter her bosses told her she was too emotional when she reported the news. She understands there is a fine line between being a journalist and being involved with the story. To her, the latter is more important.
Personally, I think 60 Minutes is a snoozefest. The can afford to add some emotion to their news hour. However, they are one of the top-rated shows on broadcast so I do not think they will ever change their ways.
The Queen of Daytime also talks to THR about her deal with Apple, politics, OWN and so much more.

---
Gabrielle Union and Dwyane Wade's baby has been blessed by Oprah
November 20th, 2018 under Gabrielle Union and Dwyane Wade, Oprah Winfrey. [ Comments: none ]

While us peasants have our babies blessed by clergy, Gabrielle Union and Dwyane Wade are not like us. Their newborn daughter, Kaavia James, was blessed by Oprah Winfrey.

What did it cost them for the holy honor? Their first on-camera interview will be with her on OWN December 8th at 8p. Worth every cent!

---
What would Oprah Winfrey be doing if she was not Oprah Winfrey?
July 6th, 2018 under Oprah Winfrey. [ Comments: none ]

Oprah Winfrey has been on television since she was just 19 years old. What if she never went into show business, what would she be doing now? She told British Vogue's Edward Enniful that she would be a teacher in a classroom. She explained to him why "It's the thing that still brings me the great joy."
Did you know she actually teaches the students at her South African school via satellite? Every Christmas she tells us what is her favorite things are, but shared her favorite moment with him and that is looking at someone's face when they get it.
Talking about looking, she recently Googled herself for the first time. How did it go? She said, "I am so impressed with myself." She has every reason to be because she found out she is the first self-made African-Amercian billionaire and donated more to charity in the 20th century than any other African American. You Google my name and it asks me why do you think anyone would care about you?
Back to Opran and the search provider. That is how much everyone loves Oprah, not even Google can find something bad to say about her. Because there is nothing!

---
Oprah Winfrey had a last minute dress change for the Royal Wedding
May 19th, 2018 under Oprah Winfrey. [ Comments: none ]

Oprah Winfrey was one of the best-dressed people at the Royal Wedding today, but that was not the dress she was supposed to wear. She originally was going to wear on a beige one, but on camera, it would have looked white. As anyone knows, you don't dare wear white to a wedding. That is reserved for the bride only. Well her, and the ex-girlfriend, who somehow got invited and actually showed to the nuptials, therefore she is only there to upstage his new lady.
Anyways, Lady O called up Stella McCartney on Friday morning and asked her to make her something for the big day. What is she going to do, say no? No one says no to Oprah and lives. Do you know anyone who has? I don't either.
Back to the dress, the fashion designer's people stayed up all night, and she got what you saw today, just 24 hours after she made that call. I am glad that other one did not work because the Queen of Daytime was pretty in pink at the royal affair. Oh and she said the hat was vintage. Vintage to her means it has been in her closet since 2005. Vintage to us means something completely different,

---