Donnie Wahlberg and Jenny McCarthy are swingers
May 20th, 2021 under NKOTB. [ Comments: none ]
Now that both Blue Bloods and The Masked Singer are on hiatus, it is time for Donnie Wahlberg and Jenny McCarthy to have fun swinging. Not as what it meant in the '70s, but as what it meant as when we were kids. Going for a swing on the swings.
If that is the swing they have on the outside of their house, I wonder what the one in their bedroom is like…
Oh, and this was total clickbait, and I openly admit it.

---
Does Lance Bass have the right stuff to be a New Kid on the Block?
February 5th, 2021 under Lance Bass, NKOTB. [ Comments: none ]

Backstreet Boys' A.J. McLean challenged *NSYNC's Lance Bass to do his favorite boyband dance, so he chose to do the one that New Kids on the Block did for the Right Stuff.

How did he do? Since he doesn't have a band, I think he would be a great addition to NKOTB if they need a new kid on the block. What do you think?

---
Guess who is a huge New Kids on the Block fan?
January 12th, 2021 under Guess who?, NKOTB. [ Comments: none ]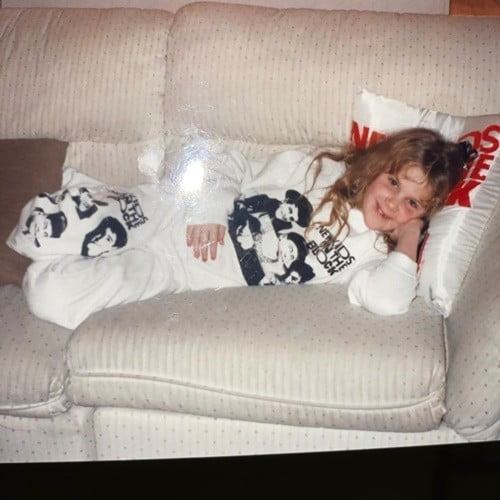 Want to see who dreamed of being New Kids on the Block's Cover Girl, then click here!

---
Jenny McCarthy stopped shaving her legs
April 29th, 2020 under NKOTB. [ Comments: none ]

All-around the world, women are forced to let their roots and nails grow out because beauty and nail salons are shut down during the coronavirus pandemic. Not only that, but they are also not wearing makeup because why? Another why, is why shave your legs.
That is exactly what Jenny McCarthy is thinking, so she proudly showed off her hairy legs. What does her husband, Donnie Wahlberg, think of her new look? His face says it all.
However, I don't think he would turn her down for sex. He might just choose a different position so he doesn't have to feel them.
In a way, she is kind of wearing a costume like they do on The Masked Singer. You know, since most of their furry.

---
Donnie Wahlberg makes a strong case to play The Tiger King
April 2nd, 2020 under NKOTB. [ Comments: none ]

Now that we know who is still married from Love Is Blind, it is time for us to find our new Netflix obsession. It didn't take long because we found it in The Tiger King.
He is so popular that a lot of actors in Hollywood already want to play him in the movie of the week. Jenny McCarthy believes that her husband is the perfect choice, she is willing to do something that they do on The Masked Singer. She got dressed up as a tiger, and the Blue Bloods star put on a bleached blonde mullet.
Do you think the new kid on the block has the right stuff for the movie? I think McCarthy is purrfect for the tiger.

---