Khaby Lame got Naomi Campbell to do a TikTok with him!
September 29th, 2021 under Naomi Campbell. [ Comments: 1 ]
Khaby Lame has some of the most-viewed videos on TikTok. Therefore, he is really popular. So popular that celebrities want to be in them. Case in point, here he is with Naomi Campbell showing us the proper way to open a bottle with a bottle opener and not a ceiling fan.
Being a mom has really softened the Supermodel. In the old days, when Lame would have kept giving her the bottle to open, she would have hit him over the head with it and then used the bottle opener to crack open his exposed skull. Now, she just slides it back to him until he gets the hint that she is a Queen and he needs to serve her. I like this new Naomi Campbell.

---
Surprise, Naomi Campbell is a mom
May 18th, 2021 under Naomi Campbell. [ Comments: none ]
Naomi Campbell has some surprising news to share. The 50-year-old Supermodel is a mom.
"A beautiful little blessing has chosen me to be her mother, So honoured to have this gentle soul in my life there are no words to describe the lifelong bond that I now share with you my angel," she wrote. "There is no greater love."
You know that her daughter already has a better and more expensive wardrobe than you and I will ever have.
Congrats to the new mom.

---
Rut roh, Empire spelled Naomi Campbell's name wrong
February 22nd, 2015 under Empire, Naomi Campbell. [ Comments: none ]

via Eonline
Everyone on the set of Empire hide your cellphones because someone there accidentally spelled Naomi Campbell's name wrong during the opening credits. How do you spell her name wrong, when we have been eating a soup with the same name since we were kids. I could understand if they misspelled Gabourey Sidibe because I have copy and paste her name from Google, but the Supermodel's name is pretty common. I mean easy, I mean I will stop here before I say something that might offend her.

---
Naomi Campell strikes again?
March 2nd, 2010 under Naomi Campbell. [ Comments: none ]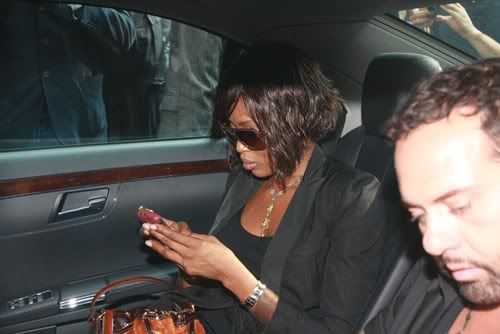 (file photo from Bauer-Griffin Online)


It has been a while since Naomi Campbell has been accused of hitting someone, and now that streak has reportedly ended because she allegedly hit her chauffeur today. According to the NY Post, "They were heading east on 58th Street when she brought up a year-old incident when the driver was ferrying Campbell's boyfriend, Vlad Doronin, around, police sources said. Campbell had called her boyfriend, who didn't answer, and then called the driver, who also didn't answer. She thought the driver was covering for her boyfriend. Apparently angered by this, Campbell then hit him in the back of the head near the intersection of 58th Street and Second Avenue, according to the sources." The driver claims that she hit him so hard, he hit his head against the steering wheel and suffered a bruise and swelling under his left eye. After she allegedly hit him, the paper says he got out of the car and told a traffic enforcement agent about the incident. The paper added when they got back to the car, she was gone and now police are looking to talk to her.
Her publicist told WNBC that "There shouldn't be a rush to judgment. Naomi will co-operate voluntarily, and there is more to the story than meets the eye." Bad choice of words there "more to the story than meets the eye"…you know after it was his eye that he says was injured in the reported incident.
As of now according to the NY Post, she will not be charged because no officer witnessed the reported incident. Instead cops issued a harassment report.
This is not the first time she has been in the news for allegedly hitting someone, back in 2008 she plead guilty to attacking two police officers at London's Heathrow Airport in 2007 she plead guilty to throwing a phone at her maid in 2006, in 2005 she was accused of hitting her assistant with a blackberry and finally in 2000 she plead guilty to hitting another assistant with a phone in 1998.

---
Naomi Campbell arrested again!
April 3rd, 2008 under Naomi Campbell. [ Comments: 3 ]
Naomi Campbell was arrested again today at an airport, but not for hitting her assistant over the head with a cellphone according
The Sun
.
Naomi first kicked off in BA's first class lounge after being told that one of her three bags had not made it onto the flight.

Despite apologies and assurances she would be reunited with her luggage, the temperamental supermodel flew into a rage.

She began harassing airline staff who called cops as the flight was called and Naomi walked onto the plane.

She was still yelling at boarding card staff as she took her seat.

Three officers from the MET's SO18 Aviation security branch then came onto the plane.

They tried to calm the model down, but she is alleged to have reacted by spitting at an officer and then laying into him with her fists.

Frenzied Naomi was bought under control after a struggle and then physically hauled off the plane.

Cops were called and she was heard screaming "get off me, leave me alone" before she attacked one and was taken away to Heathrow police station.

An eyewitness said: "She attacked a male police officer and spat at him and she was taken to the airport police station".
I wonder what was in those bags, probably clothes and jewelry costing more than a majority of us make in a year. If that is the case I could understand why she got so mad.
BTW where is all the cellphone video of the scuffle and arrest. You know that is out there and I can't wait to see it.

---