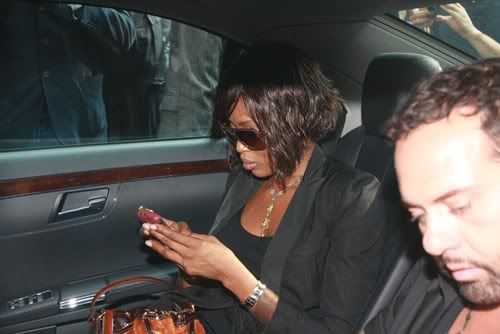 (file photo from Bauer-Griffin Online)
It has been a while since Naomi Campbell has been accused of hitting someone, and now that streak has reportedly ended because she allegedly hit her chauffeur today. According to the
NY Post
, "They were heading east on 58th Street when she brought up a year-old incident when the driver was ferrying Campbell's boyfriend, Vlad Doronin, around, police sources said. Campbell had called her boyfriend, who didn't answer, and then called the driver, who also didn't answer. She thought the driver was covering for her boyfriend. Apparently angered by this, Campbell then hit him in the back of the head near the intersection of 58th Street and Second Avenue, according to the sources." The driver claims that she hit him so hard, he hit his head against the steering wheel and suffered a bruise and swelling under his left eye. After she allegedly hit him, the paper says he got out of the car and told a traffic enforcement agent about the incident. The paper added when they got back to the car, she was gone and now police are looking to talk to her.
Her publicist told
WNBC
that "There shouldn't be a rush to judgment. Naomi will co-operate voluntarily, and there is more to the story than meets the eye." Bad choice of words there "more to the story than meets the eye"…you know after it was his eye that he says was injured in the reported incident.
As of now according to the NY Post, she will not be charged because no officer witnessed the reported incident. Instead cops issued a harassment report.
This is not the first time she has been in the news for allegedly hitting someone, back in 2008 she plead guilty to attacking two police officers at London's Heathrow Airport in 2007 she plead guilty to throwing a phone at her maid in 2006, in 2005 she was accused of hitting her assistant with a blackberry and finally in 2000 she plead guilty to hitting another assistant with a phone in 1998.

---