BTWF: Mira Sorvino on Swan's Crossing
September 13th, 2023 under Before They Were Famous, Mira Sorvino. [ Comments: none ]
Before Mira Sorvino starred in Romy & Michelle's High School Reunion, she was in high school in Swan's Crossing. She looks the same now as she did when she was 24 in that 1992 episode.

---
Mira Sorvino hints we are getting closer to a Romy and Michele sequel
June 30th, 2022 under Mira Sorvino. [ Comments: none ]
It has been 25 years since we got to know Romy & Michele at their 10th high school reunion. So it is about time we got a sequel to find out what they are up to now.
Well, according to what Mira Sorvino told Michelle Buteau and Jenna Bush on Today, we are closer than they have ever been to getting a sequel.
So I guess seeing how popular Sorvino and Lisa Kudrow still are as a team at the SAG Awards was enough the push the heads of the studio to think has to happen finally. Fingers crossed it happens!

---
Mira Sorvino and Lisa Kudrow recreate their Romy and Michelle dance
February 28th, 2022 under Mira Sorvino, Reunions. [ Comments: none ]
The SAG Awards staged a reunion for the leads of Romy and Michelle's High School Reunion. Lisa Kudrow and Mira Sorvino presented an award at the show, much to the delight of their fans.
However, the most delightful moment for the Post-It Girls came backstage, when they recreated their dance (sadly without Alan Cummings). If this doesn't make you smile, then nothing will.
BTW Can you believe it has been 25 years since they had their 10-year reunion?
If you want to rewatch the Time After Time dance from the cult favorite, then click here!

---
Romy and Michelle's real life reunion!
September 26th, 2019 under Friends (cast), Mira Sorvino, Reunions. [ Comments: none ]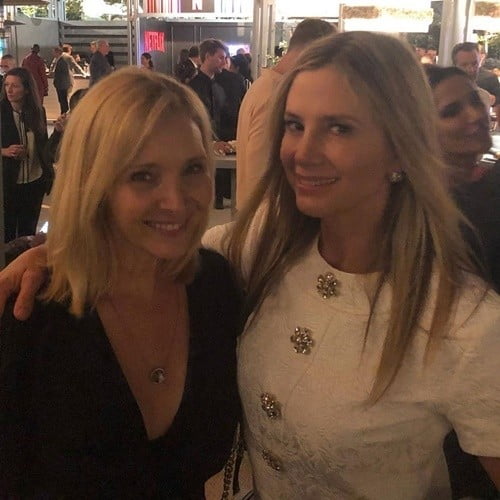 Back in 1997, we all fell in live with Romy and Michelle when they went to their High School Reunion. Now, 22 years later, Lisa Kudrow and Mira Sorvino had their own reunion at a party.
Which makes you wonder if they are talking about doing a reunion movie for the 25th anniversary. Which would technically be their 35th high school reunion. Which makes me feel really old. However, I still want it. Do you want to see the inventors of Post-Its doing another film together?

---
A Christmas to Remember is one for the memory books!
December 18th, 2016 under Cameron Mathison, Hallmark, Mira Sorvino. [ Comments: none ]

A Christmas to Remember arrives under the Christmas tree at 9p tonight on Hallmark Movies and Mysteries and you will want to unwrap this gift immediately.
Jennifer Wade (Mira Sorvino) is a hardworking NYer, who has her own home styling show. It is Christmastime and she misses the Christmases she used to share with her late mother. They were full of love and now they are just filled with perfection for her. Her manager and friend Paula (Brenda Crichlow) offers Jennifer her Aspen home to get away from it all and enjoy the holiday there. As she driving to Aspen, she crashes her car and suffers amnesia.
John Blake (Cameron Mathison) is a widowed father of three (Jesse Filkow, Bailey Skodje and Elle McKinnon) who is also a vet his small picturesque town. After he helps deliver a baby horse with his only son, he comes upon Jennifer on the road. They take her back to his house and nurse her back to health. Since she doesn't remember who she is, they take her in and make her one of their own. Over the wonderful week, she decorates their house for the holiday, giving them the Christmas of their dreams and they give her the family she so desperately wants but doesn't have.
Little by little she is getting the Christmas she wanted with a loving family. The only that is missing is her identity and who she really is. Something that will be returned her on Christmas Eve.
Will she go back to NY to the life she remembers or will she stay in Colorado with the life she now knows? You will want to watch this memorable movie, that puts you in the Christmas spirit a week before the holiday and keeps it that way for weeks to come, to find out.
The chemistry between Mathison and Sorvino is unmistakable. You root for them from their very first moment together until their last one on the screen. There is just something about Mathison that makes him the perfect man that any woman would want and this telemovie shines a spotlights on that. It shines a light on that and so much more. It has something for everyone to love to watch it will those special people in your life tonight.

---