Remember Hal Williams?
July 21st, 2021 under Marla Gibbs, Remember?. [ Comments: none ]
Marla Gibbs received a star on the Hollywood Walk of Fame yesterday. Several of her former co-stars were there, including her 227 husband, Hal Williams.
The actor, who also starred on The Waltons and Sanford & Son, looks amazing for 86. In fact, he looks exactly the same but with greyer hair.

---
A scary moment for Marla Gibbs at her Hollywood Walk of Fame Star ceremony
July 20th, 2021 under 70s, Marla Gibbs. [ Comments: 1 ]
Marla Gibbs was finally given a Star on the Hollywood Walk of Fame today after being in the business for over 50 years. However, there was a scary moment actress who turned 90 last month.
According to KABC's George Pennacchio, she looked as though she was overcome* by the heat because it is as hot as she is old here today. Thankfully, after she rested for a bit, The Jeffersons' star told the reporter that "She was overwhelmed by the honor but she says she's fine now! 😁"
Since the show must go on, it did. She was able to get her star, and now whenever we are on Hollywood Blvd, we can see it.
Congrats to Gibbs. It is an honor that was a long time coming.
*This is a reference to The Jeffersons' pilot when she finds out that Louise Jefferson and Helen Willis both live in the luxury Manhattan high rise. She says to them, "Well, how come we overcame, and nobody told me."
To see that memorable line, then click here!

---
Is Marla Gibbs really 90?
June 16th, 2021 under Are they really their age?, Marla Gibbs. [ Comments: none ]
On June 14th, Marla Gibbs turned the big 9-0. However, you would know it by looking at her. She looks just as good now as she did when she played Florence on The Jeffersons and Mary Jenkins on 227. Just like those two sitcoms, she is ageless.

---
A '70s sitcom fan's wet dream!
October 1st, 2019 under 70s, Marla Gibbs, Wet dream. [ Comments: none ]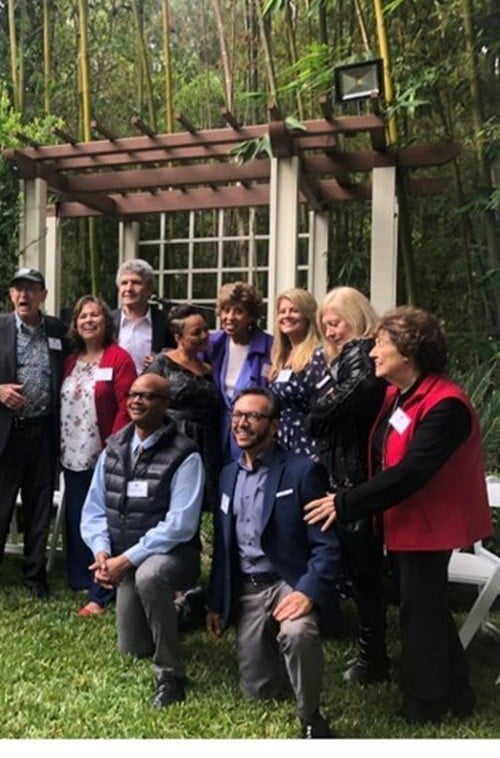 Back in the '70s, people were addicted to watching Marla Gibbs on The Jeffersons, Todd Bridges on Diff'rent Strokes, Lisa Whelchel and Kim Fields on The Facts of Life and Glenn Scarpelli on One Day At a Time.
That was then, where are Florence, Willis, Blair, Tootie and Alex now? They all got together over the weekend at an event for the National Parks Conservation Association. While we got this amazing photo of them still looking totally far out, we also need to remember we need to preserve these parks. We want our kids to enjoy them as much as we did. Then we want their kids to enjoy it as much our kids did and so on.
Just like syndication, home video and streaming keep their shows alive, we need to keep out national parks thriving.

---
Get to know all about The Jeffersons on Unsung tonight!
October 22nd, 2017 under Marla Gibbs, TV One. [ Comments: none ]

If you are as big as a fan of The Jeffersons, then you going to want to watch Unsung on TV One tonight at 10p. You will learn more about the groundbreaking show than you ever knew.

The episode features past interviews with the late Sherman Hemsley (George) and Isabel Sanford (Weezie) and new revelations from Marla Gibbs (Florence), Norman Lear (creator), Berlinda Tolbert (Jenny), Don B. Welch and Ernest L. Thomas (What's Happening!!).

You will learn things like which cast member did not want to leave All In The Family and what was said to convince them go. How Lear found his George Jefferson in Hemsley and how many seasons the producer extraordinaire had to wait for him to finally become the iconic character. Talking about iconic, how did that George Jefferson walk come about? The answer is surprising. Almost as much as which of the show's stars actually kept their job at an airline for several seasons and how the producers finally got them to quit. How Roxie Roker (Helen) reacted when they told her she was going to have to kiss a White man on the show? Did you know even ever after Zara Cully (Mama Jefferson) was diagnosed with lung cancer, she still wanted to be on the show. She remained on the series until her death in 1978. These are just a few of the many interesting tidbits you will learn about one of the greatest television shows ever created.

I have seen every episode at least 10 times and it never gets old. I will find myself having a new laugh every time I watch them. After viewing this Unsung, I want to rewatch the series again because I will be looking at it with different eyes and you will too.

---