BTWF: Kieran Culkin on Saturday Night Live
November 8th, 2021 under Before They Were Famous, Macaulay Culkin, Saturday Night Live. [ Comments: none ]
Before Kieran Culkin hosted Saturday Night Live, he appeared on the episode his brother Macaulay Culkin hosted. He looks the same now as he did when he was 9 years old in that 1991 episode.
To hear him talking about his SNL episode back in 1991, then click here!

---
Macaulay Culkin wins the best face mask award
October 7th, 2020 under Macaulay Culkin. [ Comments: none ]

Imagine walking down the street in Manhattan, and you see Macaulay Culkin walking towards you with a face mask of Kevin McCarthy's mouth on it from the iconic scene that made him famous? What would you do? You would go Home Alone and freak out because that is something that is too 2020 to comprehend.

---
Macaulay Culkin is living an American Horror Story
February 26th, 2020 under American Horror Story, Macaulay Culkin. [ Comments: none ]

Ryan Murphy announced today who is going to be on the tenth edition of American Horror Story, and somehow he got Macaulay Culkin to be on the horror series. That's right, Kevin McAlister is going to be screaming for Murphy now instead of at criminals or aftershave. He is not the only one, Evan Peters, Kathy Bates, Leslie Grossman, Billie Lourd, Sarah Paulson, Adina Porter, Lily Rabe, and Finn Wittrock will also be part of this season.
What it is about? When it will debut? What is the name of it? That we do not know. Yet, we will all be watching just to see what he does to Culkin.
When it comes to the actor, he had the best response to trending today over the news. He wrote, "just woke up and saw I was trending. Can someone explain what's going on? Did I die again??"
I wonder if that is a spoiler of what is going to happen to his character?

---
Macaulay Culkin responds to the Home Alone remake
August 8th, 2019 under Macaulay Culkin. [ Comments: none ]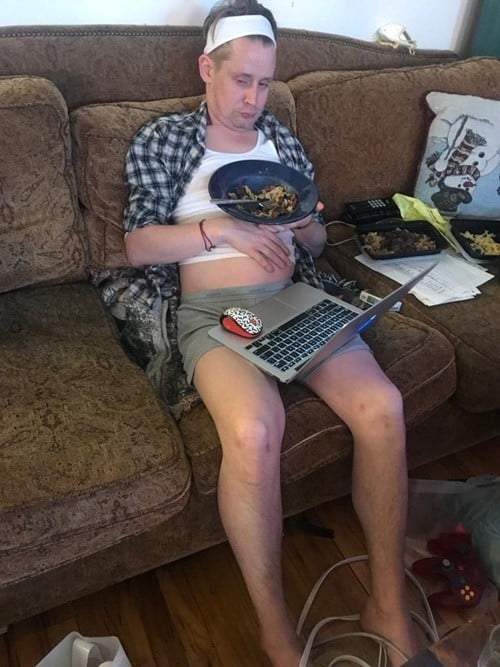 Disney announced yesterday that they are remaking Home Alone for their streaming app. Well, when Macaulay Culkin heard about that, he has an idea how they can do it.
He posted the above photo and said, "This is what an updated Home Alone would actually look like." I don't know about you, but I would rather see this version than whatever they have planned.
Seriously though, I hope they find a way to incorporate him in it.

---
Macaulay Culkin knows the only way he will be seen at the Oscars
February 25th, 2019 under Macaulay Culkin. [ Comments: none ]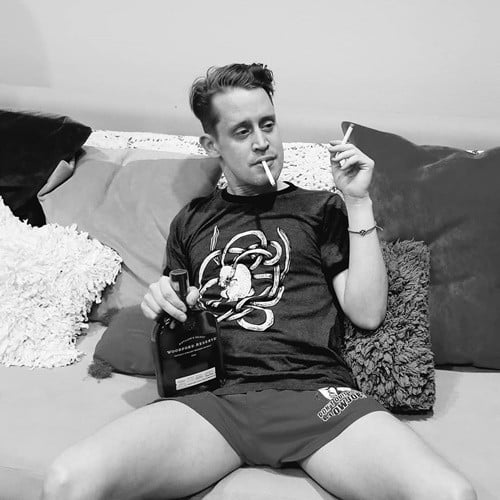 Macaulay Culkin posted the above photo and said, "I can't believe this is the 5th year in a row I'm not in the in-memoriam… And I've been trying so hard. #theoscars" If cigarettes and drinking won't get him there, he will try the oven. That was just one of the many things that he did when he was home alone watching the Oscars.
He also popped pimples, held his cat, played with Lego, took a bath and cooked himself. You know what he had more fun than we did watching the Oscars. It was a true snoozefest.
Next year, he should host a live event online as an alternate to the Academy Awards. I would watch that instead.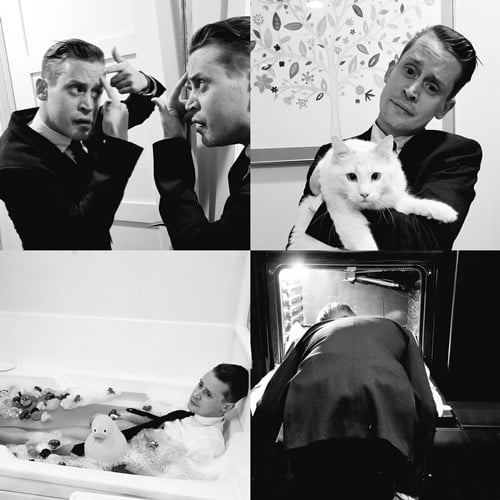 ---