Macaulay Culkin responds to the Home Alone remake
August 8th, 2019 under Macaulay Culkin. [ Comments:

none

]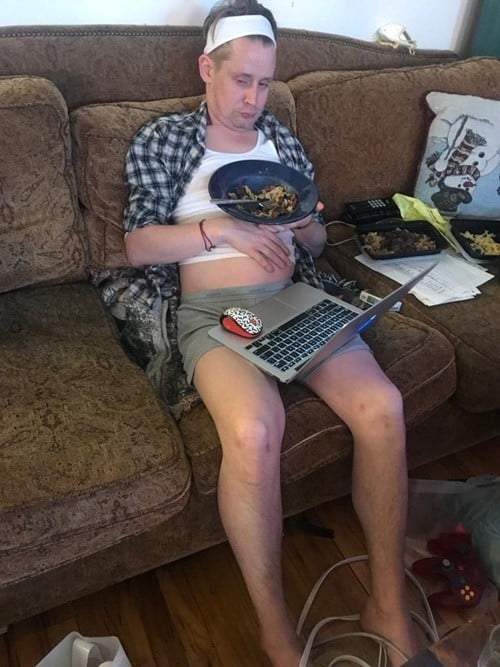 Disney announced yesterday that they are remaking Home Alone for their streaming app. Well, when Macaulay Culkin heard about that, he has an idea how they can do it.
He posted the above photo and said, "This is what an updated Home Alone would actually look like." I don't know about you, but I would rather see this version than whatever they have planned.
Seriously though, I hope they find a way to incorporate him in it.
---
Macaulay Culkin knows the only way he will be seen at the Oscars
February 25th, 2019 under Macaulay Culkin. [ Comments:

none

]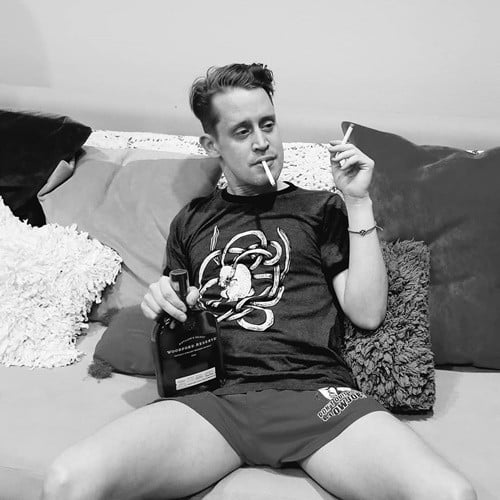 Macaulay Culkin posted the above photo and said, "I can't believe this is the 5th year in a row I'm not in the in-memoriam… And I've been trying so hard. #theoscars" If cigarettes and drinking won't get him there, he will try the oven. That was just one of the many things that he did when he was home alone watching the Oscars.
He also popped pimples, held his cat, played with Lego, took a bath and cooked himself. You know what he had more fun than we did watching the Oscars. It was a true snoozefest.
Next year, he should host a live event online as an alternate to the Academy Awards. I would watch that instead.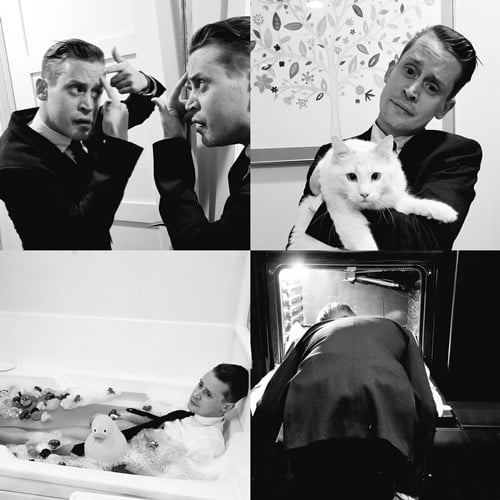 ---
Macaulay Culkin's new middle name is…
December 26th, 2018 under Macaulay Culkin. [ Comments:

none

]

Ever since 1980, Macaulay Culkin's middle name has been Carson, but that is going to change in 2019. He decided he wants a new one, so for the last month, he has been asking friends, family and fans to help him choose between Shark Week, Kieran, TheMcRibIsBack, Macaulay Culkin and Publicity Stunt.

By an overwhelming 60,990 votes on BunnyEars.com, Macaulay Culkin is the winner. Therefore from now on, he will be known as Macaulay Macaulay Culkin Culkin. I think he should have gone with Macaulay Culkin Macaulay Culkin, but that is me.

What do you think of his new full name? BTW I hate my middle name, so I am up for suggestions. Most people already think is The Bitch.
---
Macaulay Culkin is home, but not alone this time!
December 19th, 2018 under Macaulay Culkin. [ Comments:

none

]

Back in 1990, Macaulay Culkin's parents left him Home Alone. A lot has changed in 28 years, especially with technology. Now we have Google Assistant that makes it so you do not have to do anything for yourself. In fact, even if you are alone, you are not alone. Which is a good thing for Kevin McAllister because even when the bad guys think that he has a house full of people.
One thing that has no changed in almost 3 decades is how much Culkin still looks like that little kid we fell in love with all those years ago.
Let's all be honest with each other, this commercial is freaking awesome! How brilliantly did they nail recreating those scenes from the classic movie? To see the side-by-side comparisons, then click here!
---
Macaulay Culkin uses Home Alone to get laid when he is not home alone
November 29th, 2018 under Jimmy Fallon, Macaulay Culkin. [ Comments:

none

]

Tis the season for Home Alone to be airing all over the place, so much so even Macaulay Culkin cannot get away from it.
Some nights, around this time of the year, he will be home with his girlfriend of the time switching the channels and they will come upon it. Then he asks her if she wants to watch it with him, which of course she does. Does he mind watching it again with her? He told Jimmy Fallon on The Tonight Show, "Whatever gets her motor running."
He is not that sweet little kid Kevin McCallister anymore, so you can't be upset that he used what he learned from the bad guys to act like one. We all have a naughty side, even him.
---