Who is the biggest Diva in this photo?
December 20th, 2022 under Jane Seymour, Jennifer Coolidge, Liza Minnelli. [ Comments: 1 ]
It is Christmastime, so that means people are going to parties. Celebrities are no different than us. Well, their parties are way cooler than ours.
Don't believe me? Jane Seymour partied with Liza Minnelli and Jennifer Coolidge, and I got wasted with some Joe Schmoe.
Anyway, back to the legends. Which one do you think is the Queen of them all? Like I have to ask. It is Liza with a Z because the others would not be around if not for her and her Cabaret.

---
Liza Minnelli has the best reaction to a meme about her!
October 12th, 2022 under Liza Minnelli. [ Comments: none ]
Someone made a meme of the type of beards there are, and they included Liza Minnelli.
Is the woman who was married to at least one gay man and dated another insulted by it? Not at all because she said, "Glad to be of service."
And with that, there is a line of men outside her door wanting her to be their beard!
BTW Am I the only one who could hear her voice when they read the quote? Liza with a Z is a national treasure!

---
Liza Minnelli stops a health rumor in its tracks
March 17th, 2021 under Liza Minnelli. [ Comments: none ]

On March 12th, Liza Minnelli turned 75 years young. In honor of the occasion, she invited some vaccinated friends over to celebrate, and they did. The legendary singer even shared some videos from the party, and she looks fabulous!
However, the National Enquirer is supposedly going to do a story saying the opposite. Therefore, she took to social media, and nipped that false report in the butt.
"Hey Kids! On the heels of my swell birthday celebrations with close friends, I have heard that the National Enquirer (whose circulation must be down) intends to post another absurd story about me. They always quote an anonymous 'close friend' but never ever actually quote any of my real friends by name in any of their stories because they might get the truth," she wrote. "Please look at my recent Instagram/Facebook posts and tell me if you think I'm in bad shape, or not well and isolated from my friends. Meghan, I know how you feel honey! #NotGoingLikeElsie"
Seeing is believing, and I believe her over the Enquirer. Inquiring minds want to know…the truth!

---
Liza Minnelli and Joan Collins sing a duet
March 16th, 2021 under Joan Collins, Liza Minnelli. [ Comments: none ]

On March 12th, Liza Minnelli turned 75 years old, so she threw herself a little party. One of the guests was Joan Collins, so the two of them sang a duet as Michael Feinstein tickled the ivories.
When things get back to normaler, I hope that they take their show on the road. Could you imagine them doing a Cabaret act? The stories they will tell between songs are worth the cover charge.

---
Is Liza Minnelli really 73?
February 5th, 2020 under Liza Minnelli. [ Comments: none ]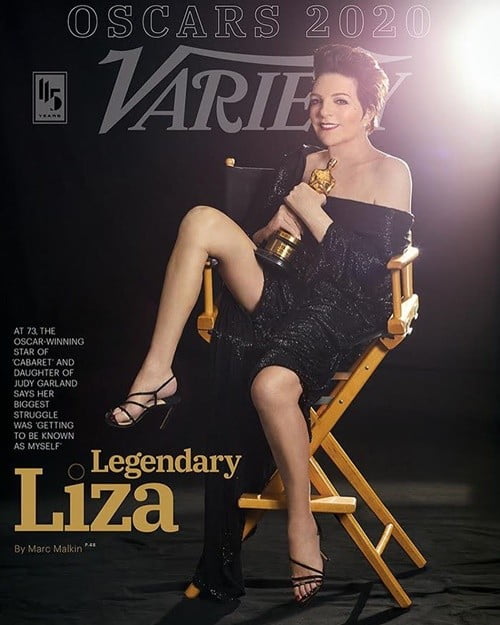 Liza Minnelli gave a rare interview with Variety, and she posed for the cover. I cannot get over how gorgeous and youthful the legend appears to be. She looks just like she did when she won the Oscar for Cabaret in 1973. That is why she is Liza with a Z; the Z is for sizzzzzzzzle!
The cover story was not only about the photograph, but it was also about the interview. The Hollywood legacy talked about her parents Judy Garland and Vincente Minnelli. She talked about how positive and encouraging they were with her. She had an amazing childhood because of how her parents raised her and not because of who they were.
She wanted to be a dancer, so they gave her the classes and let her move to NYC when she was just 16 years old. Shortly after she arrived there, she landed a Broadway show that earned her a Tony. At 19, she was the youngest Tony winner. When she won the Oscar, her father screamed so loud it gave her tinnitus. That is how proud he was of his little girl and the woman she became.
We hear stories all the time about the problems that Judy Garland had with her life, and it sounds like she was sad all the time. This interview paints a happy picture. It explains why her daughter always seems so vivacious. It is what she knows because that is what her parents showed her. As they she was brought up with love and light.

---