Kate Beckinsale is turning into a crazy cat lady
January 11th, 2021 under Kate Beckinsale. [ Comments:

4

]

Kate Beckinsale, like a lot of people, including me, has spent the last 9 months at home with her cats, and only her cats. Therefore, she is starting to pick up their mannerisms. Because what else can we do?
However, I have never tried to clean my butt like my furbaby. She is. So far, she is not successful. Yet, since we are still at least five months from getting the vaccine here in Los Angeles, she might finally be able to do it. And I might have mastered how to shake my butt and get men to smell it. Meow.

---
Kate Beckinsale's cats got married
July 2nd, 2020 under Kate Beckinsale. [ Comments:

4

]

Kate Beckinsale's cats decided that it is a nice day for a white wedding. Therefore, the proud furmom called her friend Jane Doe Latex to tell her the happy news. Her friend made Willow and Clive a gown and tux so that they could look their best for the big day! And they did.
Now, they are married until death they do part. Since, cats have 9 lives, I have a feeling they will be divorced before then. I wonder what latex attire they will wear for that day. Knowing what a tough feline Willow is, I am assuring that JDL will make her something for the dominatrix that she is.
Seriously, how marvelous are the bride and groom's outfits? They are so purrfect that my pussy cat wants one!

---
Kate Beckinsale sings Old MacDonald with her pussy
March 5th, 2020 under Kate Beckinsale. [ Comments:

1

]

Kate Beckinsale has a white Persian cat, who she says can be an "arse." I, on the other hand, think that Willow is meow-velous.
For example, here is a video of the kitty singing Old MacDonald Had a Farm with her furless mom, and the pussy was pitch purrfect. She honestly is a-meow-zing.
The two of them need to take their act on the road because this is hiss-terical. My cat and I would pay to see them perform live! My girl is already a fan. That was until I tried to recreate the video with her. That is when she showed me what Old MacDonald really does on the farm to the animals.

---
Bruno Mars' music makes for a good Soap Opera
March 15th, 2019 under Bruno Mars, James Corden, Kate Beckinsale, This Is Us. [ Comments:

none

]

James Corden and his staff from The Late Late Show took the lyrics from Bruno Mars' song and created a Soap Opera scene with the singer's words. Then they asked Kate Beckinsale and Milo Ventimiglia to star in it with the CBS late night host.
What we got is the best scene from a daytime drama in a long time. If only they did stuff like this on shows like The Bold and the Beautiful, more people would be watching. I miss when soaps were this good.
Ventimiglia missed his calling because he is natural for daytime TV. Don't you agree?

---
Is Kate Beckinsale really 45?
March 14th, 2019 under Are they really their age?, Kate Beckinsale. [ Comments:

none

]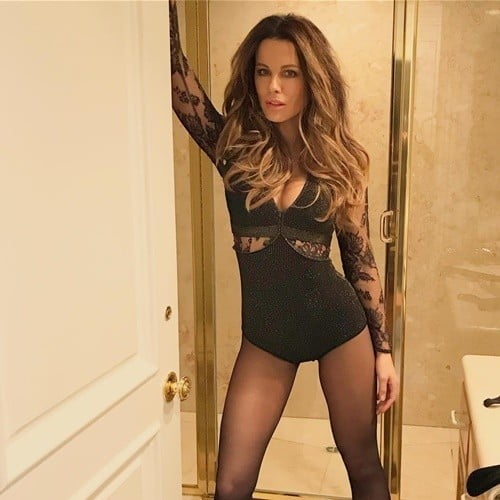 Kate Beckinsale shared a bathroom selfie in a teddy and you have to wonder if she is really 45 years old? I guess if you are dating a cub who is 20 years your minor, it takes years off of your looks. At least it does with the actress who had a, "Brief stint as bathroom attendant during which I handed out small towels and very brief inspirational dancercise tutorials."

---