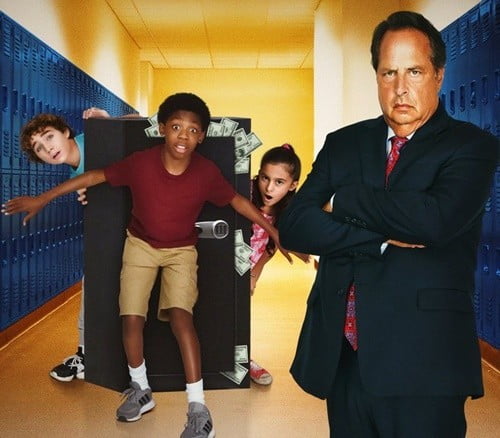 There are so many films out there these days, but there are very few the whole family can sit and watch together. Tales of a Fifth Grade Robin Hood is just that movie. And the best part is that you can stream it at home for free on Tubi TV.
Robin Hood (Chase Brown) is a fifth-grader who loves his school. So much so, he and his friends are raising money so that they can get the supplies they need for their classrooms.
Everyone is all for it, including their teacher Ms. Tuck (Jacquelin Arroyo), but Vice Principal Prince (Jon Lovitz). He wants the money for himself so that he can bribe the school board to make him the President.
When Robin finds out about his plan, he and his friends, Maria Fox (Iliana Isabella Perez) and John Little (Jayden Scala) are going to use their wits to catch Prince in the act.
They just have to outsmart Prince and his goons, including the school's bumbling security guard (Stephen Kramer Glickman).
Think of it like Home Alone with a lot of hijinx, but it takes place at a school. Are the bad guys smarter than a fifth grader? You will just have to watch this movie where you root for the good guys and hope they torture the bad guys as much as possible.
Lovitz plays the baddest guy, and he is so good at it. This is a role he was born to play. As a critic, I will say the star of The Critic and the movie don't stink.
Whether you have a family or not, you are going to love this film. Because we all had that one teacher that we wish we could have busted for being the awful person that they are. Since we couldn't, we can just imagine what it would've been like via Tales of a Fifth Grade Robin Hood.
Then when you are done, you can stream these back to school movies, the Monster High franchise, Zapped starring Zendaya, Karate Kid, Help I Shrunk My Teacher, Wheels on the Bus, Teen Star Academy, Jurassic School, Mr. Frog, Leo the Wildlife Ranger, and many more for free on Tubi TV.
In honor of kids finally getting back into the classroom, Tubi has teamed up with the Kids in Need Foundation, to provide vital school supplies and learning tools to under-resourced teachers and students nationwide. So not only are you watching kids go back to school, but you are helping them get the supplies they need.

---