John Schneider confirms he asked the judge to go to jail
July 20th, 2018 under John Schneider. [ Comments: none ]

Yesterday, The Blast reported that John Schneider asked the judge to send him to jail rather than pay his ex-wife spousal support. Today, he explained what really went down on Facebook.

He wrote, "This is only 'kind of right.' The third stipulation that would keep me out of jail (for 5 not 120 days) is totally impossible to do. You get no credit for partial compliance so I requested that 'Since I can't possibly comply with the suspended sentence stipulations I respectfully request that you send my to jail immediately in order to get this over with.'" Then he added, "Stay tuned for more shinannigans!"

The actor went to jail last month for not paying the money he owes his ex. But he was out before you could say Dukes of Hazzard. It will be interesting to what will happen this go around. Chances are he will not get out as quuickly.

---
John Schneider was sentenced to 3 days in jail
June 11th, 2018 under Arrested, John Schneider. [ Comments: none ]

John Sdelinquent/a> is going to jail and it not for something that Bo Duke would do. The actor was said to be deliquent on his spousal payments to his estranged wife, and the judge sentenced him to three days of jail according to TMZ.

The site reports that back in March, the judge told him to give his property to his wife and pay off the tax liens, which he reportedly has not done. Therefore, not only will he do jail time, he will also have to do 240 hours of community service.

2018 is not a good year for Smallville stars. As we know, Allison Mack is co-head of NXIVM and was responsible for branding members. Therefore, if you were on that show and want to stay out of jail, make sure not to get caught this year. Or ever!

---
A mini-Dukes of Hazzard reunion
January 21st, 2016 under John Schneider, Reunions. [ Comments: none ]

Bo and Daisy Duke aka John Schneider and Catherine Bach recently got together and the Duchess and one of The Dukes of Hazzard look as close as ever. Not only do they look as close, they look as good as they did when they did the show aired in the early '80s.
Since they look as close and as good as when the drama aired, someone needs to give them a reunion show. I think people would tune in. Wouldn't you?

---
Look who is back on Smallville!!!
August 31st, 2010 under John Schneider, The CW. [ Comments: 1 ]

Four years after John Schneider was killed off of Smallville, he will return as Jonathan Kent during the season premiere on September 24th. Seeing him together with Tom Welling makes me miss the days when he was on the show. I miss when Smallville was more about the Clark Kent with his family and friends as compared to last few seasons. So I am very curious how Bo Duke's return will change the feel of the final season of the show that had a really great run on The WB and The CW!

---
Bo Duke, Carlisle Cullen and The Hulk!!!
September 7th, 2009 under John Schneider, Twilight. [ Comments: none ]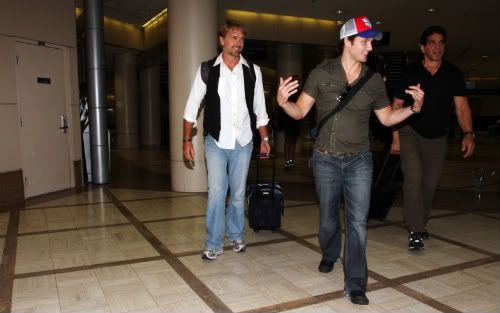 What an interesting flight it must've been to realize that Bo Duke, Carlisle Cullen and The Hulk aka John Schneider, Peter Facinelli and Lou Ferrigno were all on it together? So what were they are all doing on the same flight? The three of them were all coming back from
Dragon*Con
in Atlanta.
BTW what is up with Peter's pose is the second shot? Does he really think he is better than the two TV legends behind him? Whenever I see him, I think "Oh look, there is Mr Jennie Garth."

---