John Goodman says Katey Sagal is still shaken after being hit by a car
November 15th, 2021 under John Goodman. [ Comments: none ]
Exactly a month ago, Katey Sagal was hit by a car and taken to the hospital. She was released the next day, but we have not heard much about her condition since then.
Today, when John Goodman was on The Talk he gave an update on his television wife. The actor revealed that she wheeled her back onto The Conners set this past Friday. However, he did elaborate on what her injuries are. But he did add, "She looks great, but you can tell she's a little shaken up still." Hopefully, she will be better soon.
When Goodman was asked if there is TV magic between him and the actress, he said with a huge grin on his face, "Yes! Yes, it is." If you watch the sitcom, you can tell that the two of them have a lot of chemistry. It is the strongest part of the show.

---
BTWF: John Goodman in Eddie Macon's Run
January 21st, 2021 under Before They Were Famous, John Goodman. [ Comments: none ]
Before John Goodman was his boss on Roseanne, he already had that title in Eddie Macon's run. He looks the same now as he did when he was 30 in that 1983 movie.

---
Is Dan Conner ready to date again with Katey Sagal on The Conners?
September 9th, 2019 under John Goodman, Roseanne. [ Comments: none ]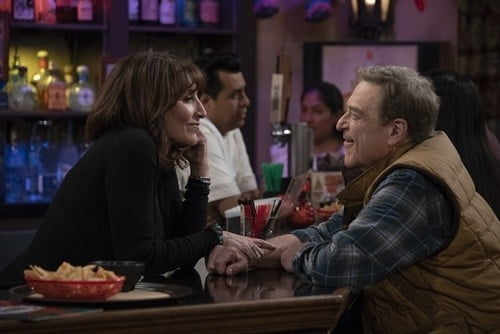 Last season, Katey Sagal guest-starred on The Conners as an old high school friend of Dan Conner's (John Goodman). He was not ready to date because it was so soon after Roseanne had died. This season, she will be back for a 10-episode arc on The Conners.
Which makes you wonder if she will be playing his love interest. ABC did not say that she is, but the press release did say, she "is catching up on lost time with him while in Lanford." What else can that mean?
She is not the only person returning to the show. Beverly Harris (Estelle Parsons) is back to torture her daughter Jackie (Laurie Metcalfe). Chuck Mitchell (James Pickens Jr.) is there comfort his friend and business buddy Dan. Finally, Darlene (Sara Gilbert) is still getting some from Ben (Jay R. Ferguson).
The Conners is back with all-new episodes on September 24th. Sagal joins for its third episode.

---
Is Dan moving on on The Conners? Black-ish goes to the movies!
December 11th, 2018 under ABC, Anthony Anderson, John Goodman, Roseanne. [ Comments: none ]

Tonight at 8p on The Conners, an old friend (Katey Sagal) comes to town and she eyes on Dan (John Goodman). Is he ready to move on Roseanne? How will his kids react to a woman flirting with their dad?

Meanwhile on the ABC sitcom, Harris (Emma Kenney) gets busted by the cops for underage drinking, and Becky (Lecy Goranson) is the one that is home when the police bring her home. They promise not to tell Darlene (Sara Gilbert) about it, but she finds out anyway. What happens next might put a permanent wedge between the two sisters.

Finally, who did Matthew Broderick piss off to get this role? I understand that they want to give Laurie Metcalf something to do, but this is just awful.

Then at 9p on Black-ish, it is Christmas at the Johnson household. They celebrate by going to movies. Bo (Tracee Ellis Ross) will see anything. The kids want to see the latest comic book movie. Dre (Anthony Anderson), on the other hand, wants to see the Rosa Parks biopic because he thinks his family should support African American movies.

Who do you think wins? After a long debate, Dre wins and his family loses. How will they get out of it? You have to watch the episode to see the takeaway lesson.

---
John Goodman has the best response to get people to watch The Conners
October 16th, 2018 under John Goodman, Michael Strahan. [ Comments: none ]

Tonight at 8p, Roseanne-less aka The Conners debuts on ABC. This morning John Goodman and Sara Gilbert talked about their show on Good Morning America. They did not say much about the changes because they cannot.
Then when Michael Strahan asked them what they would say to the skeptics to get them to watch, Goodman had the perfect answer. He said, "Don't cost nothing!" There you have it, your reason to watch.
But will you? I think their numbers will be huge tonight because of the curiosity factor. Then I expect the numbers to rapidly decline.

---